Pet owner sheepishly returns her cat burglar's swag
An embarrassed cat owner is returning items of clothing and toys that her cat has been stealing and bringing home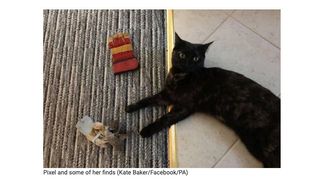 (Image credit: Kate Baker)
Pixel, a two-year-old cat burglar, has a penchant for gloves in particular, and has pinched so many that her owner has gathered them into a special plunder box.
Owner Kate Baker, from Hampshire in the UK, said there had been a surge in gloves being brought home by Pixel.
Mrs Baker posted on the Facebook group Spotted in Andover New to try and reunite the owners with the stolen gloves and other items.
She told PA: "Pixel will always bring us something every night: pine cones, huge carpets of moss, large feathers, blocks of wood – but when sheds are open and kids have toys out, she will go for more exciting things.
"I'd always planned on seeing if I could get them back to their owners, and left them in a pile; when my brother saw how much I'd accumulated he got the plunder box.
"When Pixel has brought us something she's particularly proud of, she has a unique wail of delight and will always leave her gifts on our landing."
Mrs Baker said many of the items had been returned, but Pixel was still on the hunt.
If you'd like to stop rogue moggies from burgling you home, consider installing the best microchip cat flap to keep them out!
Get the best advice, tips and top tech for your beloved Pets