Pit Bull who thinks he's a cat sparks debate on whether pets should be allowed on kitchen counters
Mako the Pit Bull thinks he's a cat and loves to imitate their behavior by jumping onto kitchen counters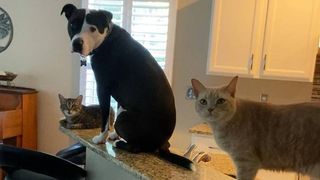 (Image credit: Mako_thecatdog / Instagram)
Mako the Pit Bull thinks he's a cat: he jumps on top of fridges, tables and kitchen counters just to hang out with his feline friends.
Adopted by Bethany and Samantha Castiller from a rescue shelter when he was around one year old, the exact origins of this social media star and his love of cats is a bit of a mystery.
"We don't know the exact details of his upbringing," Castiller wrote on Instagram. "He definitely likes to be around the cats though. And he doesn't bark or whimper, he just silently stares at us all the time."
For many pet owners who have both feline and canine companions in the house, a key concern is often whether dogs and cats living together can ever work out.
Traditionally seen as enemies of one another, their difficult relationship often boils down to basic predatory instinct: dogs chase smaller animals, and cats see dogs as a threat. Behaviorally too, there's often a clash: while cats love to lounge; dogs are usually jumping up and down in excitement.
In the case of Mako, however, the pair had nothing to worry about as this adorable Pit Bull loves to follow his furry housemates around and imitate their behavior meaning there's always plenty of funny footage for his owners to capture for social media.

In many of his videos, Mako the Cat Dog can be seen hopping onto elevated places that usually only cats can reach and copying their silent expression, leading his owners to surmise that he grew up around cats in his former home.
But while it's pretty comical to see the large Pit Bull try to launch himself onto the most unusual heights, many pet owners across social media have debated whether pets should ever be allowed on kitchen counters in the first place.
In a recent video, loved by over 2.4 million people on social media platform TikTok, Mako can be seen "just trying to fit in with his cat brothers" by sitting on top of the fridge and across kitchen counters.
"Neither the cat nor the dog should be on a surface (table/counter) where you eat," commented TikToker @mysticwomandc. "Cat steps in litter and on the floor. Would you eat on the floor?"
However, other pet owners disagreed in favor of free roaming. "What people don't understand is that, inside, home is a pet's whole life. It seems heartless to restrict them from living freely in the home", wrote @vianneyrios3.
Some TikTokers pointed out that when pets are left alone, there's a chance they'll be jumping onto kitchen surfaces when not watched. However, it was Mako's owners who had the final word.
Addressing the concerns on their TikTok channel @Bcatswizz Castiller wrote: "I personally don't mind my pets on counters but everyone has their own rules when it comes to their pets and that's ok."
Get the best advice, tips and top tech for your beloved Pets
Ashleigh is Digital Editor on PetsRadar. With over 8 years of experience in print and digital media, she has acted as an editorial lead on a variety of projects, with animal themes a keen interest. As an avid animal lover, you can often find Ashleigh checking out the newest trends in animal care or looking at cute cat videos on TikTok.