Watch: Roland the farting dog goes viral with his enormous flatulence
Roland the farting dog has caused quite a stir on TikTok with daily videos of him breaking wind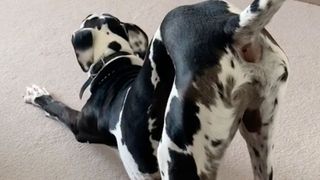 (Image credit: TikTok/rolandthefartingdog)
We all know our pets can cause a stench, from an excited pop to a silent but deadly gas cloud, but Roland the farting dog has made a name for himself with his loud and proud flatulence.
The Arizona Great Dane stretches out and lets a loud one rip so often that his owner Nicki Deutsch has begun filming it and uploading his yoga-posed poofs of wind onto his TikTok, @rolandthefartingdog (opens in new tab), dubbing them "Fart of the Day".
His mighty butt-burps have racked up thousands of views, with his most popular fluff reaching well over 5 million watchers.
But while his farts might have you in stitches, the cause of his never-ending wind wasn't so funny.
Nicky adopted the pooch back in 2020, but after a mere year Roland fell ill, his mystery sickness was found by vets to be caused by a cat toy, which blocked his intestines, resulting in some of them having to be removed along with the offending plaything.
Nicky revealed that following the life-saving surgery, he finally he finally had solid poo for the first time since she adopted him, "but the downside was that he started farting," she explains.
"They usually happen in the afternoon when he gets up from sleeping and he will always do a 'downward dog' yoga stretch before letting them out."
After noticing his gassy habit, Nicky decided to start uploading his post-nap ritual to TikTok.
"Within a week or two, he went viral – so I started doing a daily fart because it was funny." Nicky adds. "It's fun to read the comments about people having a bad day and that my dog is making them laugh."
So if you are having a bad day, head off to Roland's page and have a giggle. You're welcome.
Get the best advice, tips and top tech for your beloved Pets
Thank you for signing up to Petsradar. You will receive a verification email shortly.
There was a problem. Please refresh the page and try again.