Seven hilarious times pets interrupted working-from-home video calls
From news reporters to business meetings, pets just don't care about being professional…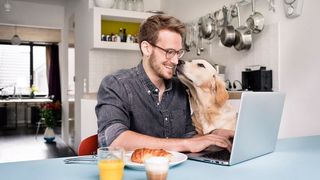 (Image credit: Getty)
A March New York Times piece opined that pet appearances on Zoom calls are a no-no, an opinion we firmly disagree with and one that our furry and feathery friends across the globe have thankfully routinely ignored. We all agree that 2020 has been tough and levity at any opportunity is very welcome, so enjoy this collection of our animal buddies reminding their owners who really rules the roost.
FOX WTVT's meteorologist Paul Dellegatto was filming a segment at his Florida home back in April when his golden retriever, Brody, decided it was his time in the spotlight.
His performance stole the show and earned him worldwide attention.
This is the best weather forecast in the history of television news pic.twitter.com/LhmoJDCkbZApril 30, 2020
John Nicolson MP was busy explaining strategies for improving children's literacy to fellow committee members. Enter Rocco the cat, or more specifically, Rocco's tail, to provide some much-needed levity.
What's more humiliating than sweating and grunting during a sit-up marathon? Having your friends tease you. What's worse than that? Having your parrot laugh hysterically through the entire workout. And that's exactly what Kelly Cameron had to put up with from his 30-year-old macaw, Emma. Credit to Cameron for pushing through…
Sometimes it's the animal you don't see. Adding to the challenging task of teaching a 2nd Grade class online, teacher Maria Morgan had to deal with her daughter bringing a surprise guest into her house. If the kids were paying attention before, they sure aren't now. Hats off to you, Maria…
Some pets don't demand the lead Zoom role, they can make a splash in seconds whether the director wants them to or not. Enter engineer Colin Welch's cat who derailed his online lecture in a record time of nine seconds.
When you start recording a midweek video update for the team and your cat comes in the window #workingfromhome pic.twitter.com/gN7cUeUvdwMarch 25, 2020
Rarely could the very Revd Dr Robert Willis, Dean of Canterbury be described as a cat-holic, but the co-presenter for his Zoom sermon may have given people paws for thought. Leo the cat didn't seem to mind the reverend's preaching as he helped himself to the church's milk offering, making for a fantastic clip that went viral across the world.
Chelsea and Norway football star Maria Thorisdóttir did her best to keep her athletic regimen consistent during the forced coronavirus off-season, but a new team-mate proved tricky to manage. Maria ultimately opted to make her retriever Theo part of her workout and shared the adorable footage on Instagram.
Get the best advice, tips and top tech for your beloved Pets