Teacher escapes Ukraine on foot to save his dog
British-born Gavin Guest refused to leave war-ridden Ukraine without his dog, so they both fled the Russian invasion on foot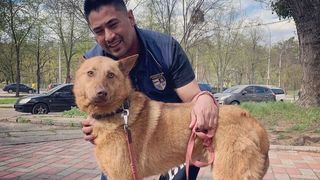 (Image credit: Facebook/Gavin Guest)
If you were trapped in Ukraine following Russia declaring war upon the country, would you leave your fur-baby behind? Of course you wouldn't, and neither would Gavin Guest, special educational needs co-ordinator at the British International School in Ukraine.
Originally from Sutton, Surrey, Gavin adopted Eli, a two-year-old West Siberian Laika mix, while living in his new found home and he was not going to leave him behind even once the war escalated.
Gavin spent weeks trying to organise a pet waiver to ensure special permission for Eli's safe passage to Britain after the Foreign Office advised all Brits to flee the Ukraine due to the threat of invasion, back on February 12.
However, the waivers take three months to come through, and after he didn't hear back before the Russians invaded, Gavin was forced to take matters into his own hands – namely, pick his dog up and carry him to the border himself.
While Gavin could have left the country alone, he couldn't have taken Eli with him, so he risked his own life in order to save his beloved pooch.
Gavin told The Mirror in an exclusive interview: "If I didn't have Eli I would have left when the UK announced all British nationals should come home last month. But it was never in question that I would have left the country without him."
Since rescuing Eli a year ago, the pup has become Gavin's best friend, "he was a dog in need and I was a person in need. We had just come out of Covid and he was good for my mental health."
"We could have left Ukraine a few weeks ago and this problem wouldn't have happened. But I was determined to get Eli out of the country and I'm very happy that I made the right decision.
"It was all worthwhile and if I had to do it again I would."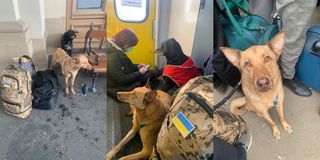 Eventually, Gavin, his co-worker and their hounds decided to drive the 500km to the Romanian border from their home in Kyiv, having heard that Romania was "more favourable with pets".
"There was a 12km queue of cars when we got there. We got out and walked to the border with our two dogs and all of the possessions we could carry," Gavin explained to The Mirror.
"There were women and children being squashed against the metal border gate. It was snowing, cold and chaotic. It was pandemonium. There must have been 5,000 people there and there was lots of screaming and pushing to get across. The guards were armed and shouting back."
While the British consulate in Romania has sent out a car to retrieve Gavin and his pals from the Ukrainian side of the border, they were stopped by the Ukrainian guards.
"They said a Romanian guard let them through into the 'dead zone', however the Ukrainian guards wouldn't let them through."
"The consulate said they were only 30 meters away from us," Gavin explained. "I couldn't understand it."
The duo and their dogs were forced to return another day and decided to re-attempt their escape on February 26. Unfortunately, things had only become stricter – men and older boys were now not allowed to leave Ukraine.
However, after finding an English speaker at the border, Gavin explained his situation:
"I told him 'I've been here for three days with two dogs, I can't keep coming to the front. They are rescue dogs and people are trampling on them'. He said no men could leave, and I said I understood. I asked him to let us know when it was our turn and he smiled and put his thumb up."
Thankfully, the Ukrainian refugees were on their side and begged the border control to let them leave, leading to them opening up a road block barrier and instructing them to go immediately.
"I walked through and then looked around to see the faces that had helped us. They were smiling and some people were clapping. It was so nice but I felt so sad and guilty."
What he witnessed at the border, Gavin says he won't forget:
"It has been mentally and physically draining," he explained. "What I saw at the border - the crying women and children - is something I never want to go through again."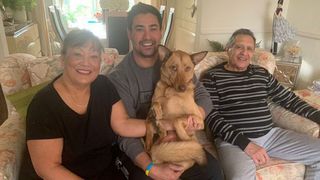 Once in Romania, Gavin was able to finally complete all of the paperwork to get his beloved Eli into the UK. Following this, the man and his dog boarded a train for Vienna, meeting a friend in the Austrian city on March 2 who drove the pair home to the UK, where they arrived safe and sound on March 3.
Gavin is still adamant he will be returning to his home in Ukraine once the threat has died down.
"I'm damned sure I'm going back, that is my home," he said. "I won't allow Putin to determine my future in terms of not going back to a city where the people are so amazing."
He says he will be leaving his precious Eli with his parents in the UK when he does return!
We all imagine grabbing our pets and saving them if the unimaginable happened, but the people of Ukraine are living that nightmare. The situation in Ukraine right now has left many people panic stricken and struggling to flee the war, many tragically having to abandon their pets.
Stray dogs and cats are wrapped up in the chaos and animal shelters are falling victim to enemy missiles. If you want to help, there are numerous charities including The International Fund for Animal Welfare, Four Paws and Humane Society International working within the Ukraine and along its borders in order to save pets and wild animals alike.
Get the best advice, tips and top tech for your beloved Pets