The bionic dog: How a bionic implant is giving this dog a normal happy life
Bionic dog Bear the German Shepherd is getting the life he deserves thanks to some clever tech and the kindness of the pet-loving community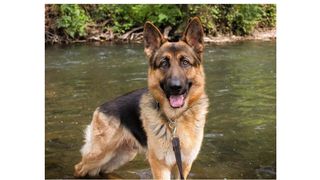 (Image credit: Leah Sheppard)
Leah Sheppard has always loved dogs. She had two Shih Tzus when she decided to add another dog to her family; this time, a German shepherd.
"A German shepherd was one breed I knew I always wanted to get at some point and when we saw him advertised, it just felt right. He was the only black and tan male in his litter and we fell in love with him instantly," she tells PetsRadar.
She brought Bear to her home in Wales in July 2018, when he was 10 weeks old. He seemed perfectly healthy at first, but Leah soon noticed he was clumsy and wobbly. She put it down to his long legs, but when he was around four months old, Bear was getting worse. He was becoming more tired, and was showing signs that something wasn't quite right with his hips.
"Shortly after we brought Bear home, we noticed that he was a particularly clumsy and wobbly puppy," Leah says.
"He would be abnormally tired after playing and would groan when standing up after he had been laying down for a while. This gradually became more and more obvious as the weeks went on and it was stopping him from being a typical, care-free puppy."
"He was very clumsy, he didn't like to play for long periods and after he did, he seemed to be quite uncomfortable. He also bunny hopped with his hind legs, stretched a lot and groaned when sitting down or standing up - as if he was an old dog and not a young pup."
By the time Bear was six months old, he was displaying several symptoms typical of hip dysplasia; a painful condition that causes one or both hip joints to develop abnormally so the ball and socket of the hip don't fit together properly.
"We requested an X-ray at our local vets and they told us that he had severe bilateral hip dysplasia (both hips) and that it was one of the worst cases they had ever seen.
"She advised us that to completely remove his pain, because hip dysplasia is often very painful, he would eventually need two total hip replacements as his hips would only worsen as he got older and bigger. They would never get better without intervention."
When Bear was one year old, he was scheduled to have his first surgery at a specialist vets. His hips had already deteriorated since his first examination, and if he didn't get the replacements, he would soon struggle to walk.
"That was really hard to hear, especially since he had his whole life ahead of him," Leah says.

The costs of the surgery would be an "eye-watering" £7,500 per hip, Leah says.
"At first, I really didn't think we would ever be able to find that amount of money. Bear's insurance didn't cover him for anywhere near what we needed, so it was a scary time. I really worried that we wouldn't be able to afford this for him and what his future would look like without it."
Bear had an Instagram page, where Leah documented his life, including his diagnosis.
"I was really overwhelmed by the support we had from his followers, one of them actually suggested we set up a GoFundMe page to help us raise the funds for his surgeries, which I did and it really took off.
"People were so incredibly generous. It completely restored my faith in humanity. Without their help and our amazing friends and family, I really don't think we could have afforded his operations, I am so grateful for everyone's kindness."
Bear had his left hip replacement shortly after his first birthday and had his right hip replaced several months later. The operations went well, and Bear has a new lease of life with his two bionic hips.
"His life has changed dramatically. He is 100% better now and much more mobile. Before he had the surgery, he was in constant pain, he couldn't run and play like normal dogs and he needed daily medication. Now, he's completely pain-free, his new bionic hips will last him his whole life and physically, he can do everything a normal dog can - and more. He can run and jump and play to his heart's content with no restriction. He will live a long and healthy life now."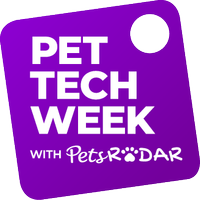 Pet Tech Week on PetsRadar
Pet Tech Week is brought to you by PetsRadar.com. Throughout this week we'll be showcasing the new tech that will make your pets happier and healthier. Whether you want a smart cat flap, a canine camera or the best vacuum cleaner for pet hair, we've got you covered.
Get the best advice, tips and top tech for your beloved Pets
Jessica is a freelance features journalist. When she isn't writing, she's chasing after strangers' dogs in the park.