Top 10 Cats on TV
From Sabrina's Salem to Game of Throne's Sir Pounce, here are the top 10 cats on TV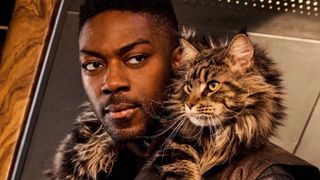 (Image credit: Eric's Laptop)
There are tons of animated or puppet cats on television, but who are the top ten cats on TV who are just as real as your pet feline?
While cats can be trained, they're harder to train than dogs, so it's not so often you see a real cat on television. Plus, the cost to hire and gainfully employ a trainer and handler for a few episodes might eat into the show's budget. But when you do see a real cat on television, it's certainly a magical (and often funny) experience.
So what are the top cats of television? In no particular order, here are ten of the best real felines from some of your favorite shows.
Salem - The Chilling Adventures of Sabrina
Considering the Salem from the original Sabrina television series was often a puppet, the Salem of the Netflix original series is worthy of his own entry. Salem is Sabrina's familiar, a special spirit she summons that acts as her equal, not her pet. He's a small black cat with yellow eyes and a tiny tuft of white hair on his chest, and he's adorable - even though his true form is a pretty horrifying demon. There are actually five different cats who play the very handsome Salem, and funnily enough actress Kiernan Shipka can't even cuddle them - she's super-allergic!
Rusty - Mission Impossible
A throwback episode of the Mission Impossible television series takes "cat burglar" to its logical conclusion - by using a cat named Rusty to steal a jade artefact. The best part of this episode is that Rusty is played by Orangey, a famous feline star who was in multiple TV shows and movies in the '50s and '60s. You might recognize Orangey from Breakfast at Tiffany's, or The Diary of Anne Frank. He even won two PATSY (Picture Animal Top Star of the Year) Awards!
Grudge - Star Trek Discovery
Meet the newest member of the #StarTrekFamily, @Grudge_Cat from #StarTrekDiscovery. #StarTrekDay pic.twitter.com/7K0eVq1BxCSeptember 8, 2020
We haven't even seen the third season of Star Trek: Discovery, but Grudge is already its star. Grudge is played by a two-year-old Maine Coon cat named Leeu, who is reportedly a "one-take wonder." The team at Star Trek: Discovery put out a casting call for a large cat, and Leeu is certainly that - Maine Coon males average at around 13 to 18 lbs, and Leeu is at the top end of that range! In the new season, Grudge is the best friend of new character Book, so expect to see a lot of him!
Ser Pounce - Game of Thrones
Oh Ser Pounce, we barely knew you. Tommen Baratheon's cat was only see on a single episode of Game of Thrones, but he instantly became a fan favorite - and the subject of much worry, as Tommen's horrible brother Joffrey used to threaten to kill him constantly before he died. Unfortunately, when Tommen died, it seemed unlikely we would ever see Ser Pounce again, especially since the Great Sept of Baelor exploded thanks to Cersei Lannister. Tommen actor Dean-Charles Chapman told The Huffington Post he hoped the cat "didn't get caught up in the blast" and would "move on with his life and get a girlfriend maybe," but it was later confirmed the handsome Ser Pounce was killed off-screen. The saddest Game of Thrones death, IMO.
Lucky - Alf
It's a shocker Lucky the Cat made it past one episode of the Alf TV series, as the alien from Melmac constantly wanted to eat them - they were a delicacy on his home planet, after all. There were several fake-out moments throughout the show were viewers were made to believe Alf finally ate Lucky, but he passes away of natural causes in the fourth season, and the Tanner family gets a new cat named Lucky 2.
The cats of Keeping up with the Kattarshians
If you weren't aware of the Icelandic online reality show called Keeping up with the Kattarshians, then you've been missing out. The show follows the lives of four kittens inhabiting a giant doll house fitted with cameras and was created in partnership with the Icelandic Cat Protection Society. Viewers can watch the rescue babies 24 hours a day, and even adopt them! Many of the cats have been rehomed from the show, and are replaced by another kitten who needs a home.
You can watch the show here.
Miss Kitty Fantastico - Buffy the Vampire Slayer
There's an adorable cat in in the hit series Buffy the Vampire Slayer. Miss Kitty Fantastico was a picture-perfect black-and-grey cat who was Tara and Willow's pet - the two secretly kept her in their college dorm, as pets weren't allowed. Kitty Fantastico was completely adorable, and was in several episodes of Buffy the Vampire Slayer, but three years after her debut it was implied by Dawn Summers that she accidentally killed her with a crossbow. I'm sorry, Kitty.
Fluffy - The Brady Bunch
I'm not sure what the Brady Bunch did with Fluffy when they "became a family," as the cat owned by Carol and her daughters is only seen in the pilot episode and never seen or mentioned again. She does look like she's loving her pink cat house though so here's hoping the dad just had an allergy and Fluffy went to a new home (where it was appreciated!)
Toonces the Driving Cat - Saturday Night Live
Now this one is just hilarious. Toonces the Driving Cat was a recurring SNL skit about a cat who could drive a car. While SNL used a puppet for the scenes in which Toonces is actually "driving" and using the wheel, there is an authentic cat in the driver's seat during the wildly catchy opening song. In the original May 20, 1989 sketch, Toonces was the family cat of Lyle (Steve Martin) and Brenda Clark (Victoria Jackson), but thereafter Lyle was played by Dana Carvey. Now wouldn't that be great if your cat could actually drive?
Spot - Star Trek the Next Generation
Spot was an adorable orange tabby cat who belonged to Data, living with him on the USS Enterprise. Spot would often jump up on Data's desk for pets, and he loved her so much he even wrote a poem about her called "Ode to Spot." He couldn't train her to stop bother him while working, though, and Spot was famously pick with what people she got along with - she scratched Commander Riker in the face once. Spot played a crucial role in saving the Enterprise when a strange airborne sickness caused all the living creatures aboard the ship to de-evolve - except her kittens, which were used as an antidote. She even survived the destruction of the Enterprise-D and was seen on Star Trek Generations and Start Trek Nemesis. We love spot!
Get the best advice, tips and top tech for your beloved Pets