You can now buy a barkuterie board loaded with healthy snacks for your dog
Who doesn't love to graze? Now, thanks to the ULTRA Barkuterie Board, your dog can too!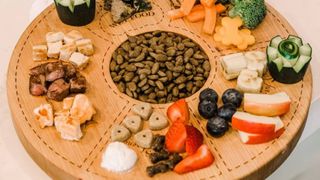 (Image credit: ULTRA)
You may have spotted the barkuterie board trend on TikTok over the last few months - and you might have even given it a go yourself - but now, you can actually buy a beautifully designed board specifically for dogs!
The ULTRA Barkturie Board (with 'barkuterie' being a play on words with 'charcuterie') takes inspiration from NUTRO ULTRA dry dog food, which has a designated space in the centre of the board.
With the help of this new board, owners can segment lots of different types of foods for the dogs to enjoy, ensuring that they receive all of the necessary nutrients, vitamins and protein from their food.
From fruits such as strawberries, blueberries, and bite-sized chunks of banana, to veggies including carrots and zucchini, as well as a spoonful of plain yogurt, there's lots of things you could put on there to treat your pooch.
To make the treats last even longer or if it's being enjoyed on a hot day, consider freezing some of the foods to provide your pet with a cooling, new texture.
Actress Haylie Duff - along with her two four-legged friends, Chicken and Birdie - has partnered with the brand to offer a unique, one-of-a-kind experience to win a virtual Barkuterie "eat-and-greet" along with their very own ULTRA Barkuterie Board.
"I'm excited to partner with the NUTRO ULTRA brand and I know Birdie and Chicken are thrilled, too", explained Duff. 'They have loved their ULTRA Barkuteria Board and I feel good knowing they're enjoying an assortment of premium, dog-friendly superfoods".
As with introducing any new food, it's best to consult your veterinary practice first to ensure that it is safe for your particular canine. You can also find out more about choosing healthy dog treats for your pooch with our expert guides, including our specific dietary articles on what fruit and vegetables dogs can eat alongside preparation advice below.
Get the best advice, tips and top tech for your beloved Pets
Chloe is a freelance writer, editor, and proofreader, who has more than ten years' experience in creating animal-focussed content. From National Geographic to Animal Planet, Chloe's passion for creating fact-filled features all about wildlife and the environment is evident. But it's not just wild animals that Chloe's fascinated by. Having written more than 75 articles for PetsRadar - and having her very own four-legged friend by her side - it's no wonder that her love of dogs (and, of course, cats) has grown exponentially.
Her website, www.chloemaywrites.com, and social media pages - @ChloeMayWrites on Instagram, Facebook, and Twitter - showcase her knowledge through daily facts and trivia tidbits. For example, did you know that snails have teeth?!