What is a Dorgi? Meet the newest canine breed on the block
"What is a Dorgi?" is shaping up to be the most popular pet parent question of the summer, we introduce you to the breed created by Queen Elizabeth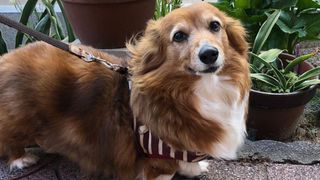 (Image credit: Instagram/enigma_raypon)
If you're a fan of Queen Elizabeth or have been following the news lately then you may have found yourself asking the question what is a Dorgi? Up until recently, most of us had never heard the word before, but when the Queen received two Dorgi puppies back in February, pet parents were keen to find out more.
Fergus, named after the Queen's late uncle, and Muick, named after a favorite spot near Balmoral Castle, were gifted to the Queen earlier this year while Prince Philip was in the hospital.
Sadly, little Fergus died at the age of five months from an unknown illness just a month after the death of the Duke of Edinburgh. The Queen's son, Prince Andrew, gifted a new Corgi puppy to his mother last week on what would have been his father's 100th birthday. The new addition joins Dorgi Muick and fellow Corgi Candy.
The Queen has owned 30 Corgi's over her lifetime, all of which are thought to have descended from the first Corgi she received on her 18th birthday. A keen breeder, she is thought to have been the one to introduce the Dorgi after breeding her Corgi Tiny with a Dachshund named Pipkin, which belonged to her sister, Princess Margaret.
Super cute and known to be extremely affectionate, loyal, energetic, and social, the Dorgi has a plump, long body with short legs and large, erect ears. Loving and devoted, they're highly intelligent and tend to be obedient and easy to train.
The Dorgi is a true companion dog, which is likely why the Queen is so fond of them. Following the death of Prince Philip, she's been spotted regularly walking her faithful friends around the grounds of Windsor Castle, where she's been living during the pandemic.
Up until recently, the Queen appeared reluctant to get any more pets, worried about outliving them and leaving them behind. But with so much heartache this year, it seems that being surrounded by canine companions is helping to bring some small moments of joy to a year that has been filled with sorrow.
Kathryn is a freelance writer with a passion for creating health and wellness, travel and wildlife content. Originally from New Zealand, her nomadic lifestyle has her currently fur baby-less. She scratches her pet parent itch by stealing frequent cuddles with any neighbourhood cat kind enough to indulge her.
Get the best advice, tips and top tech for your beloved Pets
Thank you for signing up to Petsradar. You will receive a verification email shortly.
There was a problem. Please refresh the page and try again.