Wonky-faced rescue cat takes social media by storm
Social media becomes obsessed with Peanut, the wonky-faced rescue cat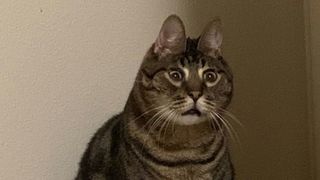 (Image credit: Sydney Benham)
The eight-year-old rescue cat was adopted by his owner, Sydney Benham from Michigan, three months ago.
"When I adopted him, the shelter said that it was a birth deformity", Sydney told UK news website Metro.co.uk. "The vet and the shelter said it doesn't affect him negatively at all, he just looks funny!"
Thankfully for Peanut, his unique looks didn't put Sydney off one bit - as soon as she laid eyes on him in the shelter, it was love at first sight.
"I fell in love immediately and knew I needed to take him home", explained Sydney. "He was the last one that needed to be adopted and I just couldn't leave him."
Peanut had been abandoned at the shelter after his previous owners, who were thought to have also had around eight other cats, passed away.
As well as his unique features, Peanut is also partially blind and deaf but that doesn't stop him from leading an otherwise healthy and happy life.
Last month, Sydney decided to set Peanut up with his very own Instagram and Tik Tok profile called @oldboypeanut and he's proving to be a fairly popular feline.
He has so far been compared to a rabbit, Garfield, Catbus, and Adam Driver. Either way, Sydney hopes that sharing Peanut's story will encourage other cat lovers to give all pets a chance, regardless of how they look.
Get the best advice, tips and top tech for your beloved Pets
Chloe is a freelance writer, editor, and proofreader, who has more than ten years' experience in creating animal-focussed content. From National Geographic to Animal Planet, Chloe's passion for creating fact-filled features all about wildlife and the environment is evident. But it's not just wild animals that Chloe's fascinated by. Having written more than 75 articles for PetsRadar - and having her very own four-legged friend by her side - it's no wonder that her love of dogs (and, of course, cats) has grown exponentially.
Her website, www.chloemaywrites.com, and social media pages - @ChloeMayWrites on Instagram, Facebook, and Twitter - showcase her knowledge through daily facts and trivia tidbits. For example, did you know that snails have teeth?!