Modern-looking and – crucially – quiet, the Petkit Smart Pet Drinking Fountain water dispenser is ideal for owners that want their cats and/or dogs to have access to fresh drinking water, day and night.
Pros
+

Extremely quiet

+

Features a warning light to highlight low water level
Cons
-

The power lead is shorter than expected

-

Poorly translated setup instructions can be tricky to understand
Why you can trust PetsRadar Our expert reviewers spend hours testing and comparing products and services so you can choose the best for you. Find out more about how we test.
In short, the Petkit Smart Pet Drinking Fountain is an all-in-one water filtration system. Using intelligent light technology, the fountain both filters the perfect amount of fresh drinking water into the top dish, and offers you, the owner, two settings to suit your pet's drinking habits.
Before the water is dispensed onto the tray, it is filtered through a triple purifying system – comprising a microscopic nylon strainer, an activated carbon filter, and ion-exchange resin. After all, filtered water isn't just great for satisfying your pet's thirst. When animals consume more water, it can help prevent nasty urine infections – or worse – kidney disease.
The Petkit Smart Pet Drinking Fountain is the modern alternative to the water bowl, offering your cats and dogs access to fresh, filtered water 24/7.
Petkit Smart Pet Drinking Fountain: Features
One of the main reasons to select the Petkit Smart Pet Drinking Fountain over other water dispensers is, without a doubt, how quiet it is. While there are many incredible pet-friendly qualities with the fountain, which we'll talk about below, as an owner there are few things more irritating than the constant whirr or drone of a device constantly operating in the background.
With this fountain, the pump is designed to be blissfully noiseless – with sound reports at less than 40 decibels (dB) per 50cm radius. By contrast, a fridge freezer is typically no louder than 47dB.
While the quiet pump has been designed with humans in mind, the filtration and purification system is wholly for the benefit of our cats and dogs.
In terms of purification, the fountain uses an activated carbon filter to reduce impurities in the water, and the introduction of an ion-exchange resin aims to capture any heavy metal ions in the water to help soften it for a better quality drink. Lastly, the system is built with a microscopic nylon strainer, ideal for catching any stray pet hairs, food residue or other nasties that have made their way into the water tank.
The drinking fountain itself has two modes – Smart Mode and Normal Mode. While Normal Mode has the fountain dish constantly full with water (great for pets that get thirsty at night), the Smart Mode uses light technology to assess how much water to allow to well depending on the time of day. Not only does this prevent undrunk water sitting in the well overnight, but saves energy too.
As for giving us owners a helping hand, the fountain will also remind you when you need to refill the water tank and change the filter.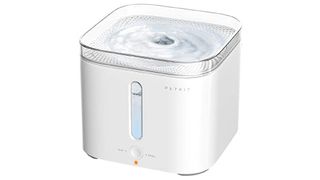 Petkit Smart Pet Drinking Fountain: User reviews
On the whole, the Petkit Smart Pet Drinking Fountain is received very well by its customers – by cats, dogs, and their owners!
Many customers unite under the common thread that it has become a genuinely useful addition to their home. As the water fountain automatically refills the water well, it has proven to be a hands-off way of ensuring that your pet has access to all the fresh water they need – something that's especially useful for a busy household.
Reviewers have also noted that the alert when the water level is low is very useful, providing a clear indicator to add more water to the tank rather than having to remember to physically check the tank throughout the day. Some owners have said that they prefer to wash and refill the tank before this point, but this very much feels down to personal preference.
Crucially, previous buyers have commented too on how quiet the water fountain is – a reassuring nod to those that are looking to place a unit in their main living spaces.
Some users have noted, however, that they found that the fountain comes with a very short mains socket power lead. This has proven to be a little troublesome when there have been no floor-level plug sockets near to where the pets have been used to drinking their water, and can take a few days of readjustment for them to reliably know where their drink is!
Additionally, it has been noted that the setup instructions aren't translated into English particularly brilliantly and it can cause a little confusion in the first instance – but rest assured, there is plenty of easily-accessible advice (including video walkthroughs) online.
Should you buy Petkit Smart Pet Drinking Fountain?
For a medium-price point, the Petkit Smart Pet Drinking Fountain can both offer you as the owner the reassurance that your pets aren't going to be thirsty – day or night – and the quality of the water your pets will drink will be far better than tap water that has been sat in a bowl for the past 12 hours.
Though there can be some pet confusion at first as to why their drinking water now comes from a white refilling machine, many reviewers say that it's encouraged their pets to drink more water – and that has no end of health benefits for our furry friends!
Amy is a freelance digital content specialist, with ten years of experience under her belt. Though her young daughter keeps her busy enough, we seem to be the unofficial foster home for many of the neighbourhood cats.