I tried some calming cat treats - find out what they did to my cat
If your cat is feeling anxious then, like us, you may want to try some calming cat treats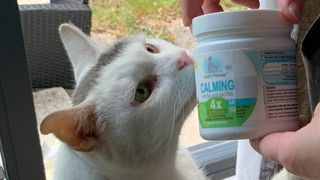 (Image credit: Future)
Kitties can become skittish and anxious, and calming cat treats claim to help them feel more at ease.
In the same way that calming cat collars seek to reassure cats and prevent them from displaying anxious behavior, these treats are designed to reduce or clear symptoms such as urine marking, hiding, fighting, upset stomachs and scratching. They're also used by many pet owners either daily or during times of great stress. But do they work?
To answer that, we put some products to the test with a cat who displays signs of anxiety from time to time, most often when a neighborhood moggy pays a visit.
We wanted to see if the treats could calm a scared cat or whether we'd simply be better continuing to discover how to calm a cat during periods of high anxiety through different means. We also wanted to share more information about what goes into the treats and whether or not they're desirable.
How do cat calming cat treats work?
The secret is in the ingredients, as you may expect. Among the most common in a calming cat treat is tryptophan – a natural amino acid found in many proteins. It's contained within turkey, for example, and it's known to reduce aggression among cats while also having a calming and stabilizing effect.
You may also find alpha-casozepine, a bioactive peptide, which studies have shown is effective at reducing anxious disorders such as social phobias in cats.
Herbs such as chamomile are also used (consider how we humans drink chamomile tea to help us relax) and you are likely to discover Vitamin B1 (or thiamine) as well as an amino acid called L-theanine too.
The latter is found in tea leaves and studies suggest it helps to improve "the undesirable manifestations of stress in cats in as soon as 15 days".
You may also find flower extracts, catnip and, to ensure a cat will actually eat, some nice flavors. And it's this combination of ingredients which work together to have an overall calming effect.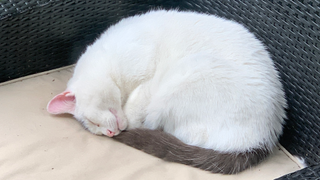 Are calming cat treats safe for cats?
This is crucial. You don't want to be getting on top of one issue only to discover you're inadvertently contributing to another one but the good news is that, yes, calming cat treats are safe for cats. The ingredients tend to be entirely natural and harmless and they're often consumed by humans, too.
Thiamine, for example, is an essential vitamin for cats and it must be part of their diet. Alpha-casozepine is derived from milk and studies show it's entirely effective, especially in making cats less fearful of strangers.
And don't worry about the milk connection in this case. Sure, you may be wondering should cats drink milk but alpha-casozepine is different to lactose. In short, you don't need to worry about calming cat treats.
Can a cat overdose on calming treats?
First things first, you should always read a packet carefully. Note how many times a day your cat should enjoy a calming cat treat and don't go over it.
That said, an overdose is entirely possible: you may forget how many treats you've given; a family member may not know you've given any and inadvertently double up on them; or a cat may have discovered the packet and decided to dip in.
For the most part, a cat is simply likely to feel lethargic or suffer from vomiting or diarrhea. The main concern is whether a treat ends ups exceeding safe levels of sodium.
If this is the case, a cat will become rather thirsty but there's a chance of worse symptoms such as tremors and heart issues. It's always better to be cautious if you're unsure and so we'd advice calling a vet if your cat has had more calming treats than mentioned on the packet.
We tested some leading calming cat treats - here's what we found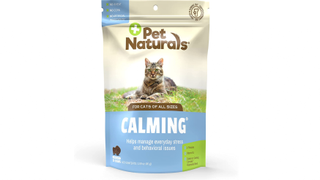 Pet Naturals Calming
Best cat calming treat chews
Enough for a month
Went down well with our cat
Veterinarian formulated
Slightly smelly but not overpowering
When we opened the packet, our cat tester, immediately perked up. He recognizes the crinkly sound of packets such as these and he always believes they may contain something he'll enjoy. Not so if it's a packet of pasta but very much so with Pet Naturals Calming chews.
There are 30 chews in this packet, each shaped like tiny fishes and filling the air with an meaty aroma. We assume that's the hydrolyzed chicken liver flavor filling the air. There's no actual meat in the pack as far as we can see from the list of ingredients.
What you do get per chew, however, is thiamine which has a calming effect on the central nervous system, L-Theanine which supports a chemical balance in the brain and Colostrum Calming Complex Biopeptide Blend which manages everyday stress.
Since only one chew is needed per day, one pack will last a month and it's fine if your pet is pregnant too. To our joy, Nova liked the taste, digested them without fuss and appeared more cuddly after a week or so. It was good to see that if a cat is particularly stressed, you can double or triple the dose. There's absolutely no danger in a tiny overdose and that put our mind at ease.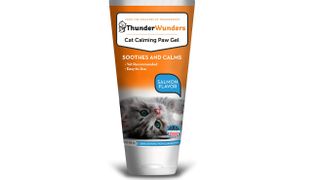 ThunderWunders Cat Calming Paw Gel
Best cat calming treat gel
Ideal for fussy eaters
Easy to apply
Has 100% satisfaction guarantee
You may prefer a chew
Rather than a chew, this calming treat comes in the form of a gel and it's particularly useful if you have a cat who struggles to try new things. The idea is that you apply about an inch of the gel on to a cat's paw and allow them to lick it off. Since it has a salmon flavor, this is very likely to happen sooner rather than later and so begins the benefits.
With tradesmen in the house, we tried this method to see if our cat would refrain from trying to dart out of the door at the sound of a heavy footstep. The gel went on easily, the cat licked and groomed and seemed to be relaxed and, over the days, grew less anxious – could that be because he was getting used to the situation, though? It's hard to tell, to be honest.
Even so, given other purchasers have gone as far as calling this gel magic, we're going to see it had an effect. It contains oat passion flower, chamomile and catnip extracts, so it feels rather natural. It also comes with a 100 percent satisfaction guarantee which certainly goes down a treat with us.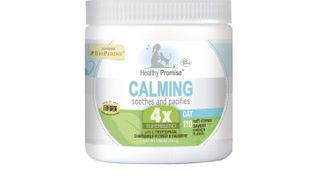 Healthy Promise Calming
Best calming cat treats for longevity
Good number of chews
Ideal for larger cats too
Includes an absorption aid
Cat took longer to try them
First of all, we like that these chews come in a tub. As it stands, our cat has yet to master the opening of a lid so there's next to no chance of him making his way inside and chewing on the lot at once. Second, we loved the fact there are 110 soft chews here ensuring there are going to be plenty on hand for those stressful situations.
There are four key ingredients here: L-Tryptophan, chamomile flower, thiamine mononitrate and BioPerine – a black pepper extract that has been shown to support the absorption of ingredients which makes for an effective product.
Our cat didn't hesitate to sniff these and give a general assessment over whether or not it should be consumed. He decided not to eat the first one, though, so threw it away and decided to try again the next day.
We had better luck this time. The chews are small enough to go down well and you can give one daily to cats who are 12 weeks or older (doubling the dose if they weigh more than 11 lbs). Tasting of chicken, they're made in the USA and we noticed that our cat was much calmer after having taken them.
Do cat calming treats actually work?
Based on our own observations, yes, cat calming treats do actually work. The studies of the various ingredients also support this so we'd very much recommend giving them a try if you have an anxious or stressed cat on your hands.
Even if you happen to be a pet parent to one of the calmest cat breeds, we'd say it's worth having calming treats in your cat cupboard. You just never know when you may need to reach for them.
Get the best advice, tips and top tech for your beloved Pets
David Crookes has been a journalist for more than 20 years and he has written for a host of magazines, newspapers, websites and books including World of Animals, BBC Earth, Dogs and Canines, Gadget and The Independent. Born in England, he lives in a household with two cats but he's also keenly interested in the differences between the huge number of dog breeds — in fact, you can read many of his breed guides here on PetsRadar. With a lifelong passion for technology, too, he's always on the lookout for useful devices that will allow people to spend more time with their pets.