10 best dog friendly beaches in the USA
The best dog friendly beaches in the USA offer open stretches for zoomies, waves to splash about in and a ready supply of poop bags - here's how to track them down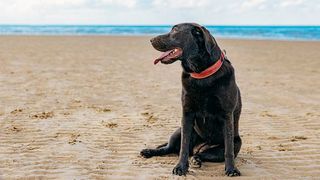 (Image credit: Getty Images)
We all love taking our canine companions to the beach, but finding a stretch of sand that welcomes dogs all year round or offers extra amenities for you and Fido can be challenging. So to save you and your pooch time and disappointment, we've rounded up 10 of the best dog friendly beaches in the USA where you can have a great day out together.
From beaches offering free poop bags and fresh drinking water to lakeside destinations that ensure all visiting pups are vaccinated and healthy - we've handpicked areas ideal for day visits or perfect for tacking onto a doggy camping trip.
Dogs love exploring stimulating new areas, and a beach offers one of the best open spaces for your pet to get out there and start investigating their new surroundings. They'll burn off extra energy, meet lots of new friends and enjoy splashing around in the surf.
Don't forget - keeping your dog cool and comfortable at the beach is essential. Learn more about how to deal with burnt paws, get the lowdown on dog sunscreen and pack a couple of these frozen doggy treats for your furry friend.
1. Wildwood Dog Beach, New Jersey
While some beaches allow dogs, others actively welcome them. In order to make the cut as one of our 'best beaches', these seaside destinations have had to offer something a bit extra for the vacationing hound!
Visiting dogs in the Wildwoods area can join their families on the beach for an energizing swim, or let off some energy at the dog park. (Leashes are required on the beach, optional at the park.) Fresh water and poop bags are available on site.
2. Jupiter Dog Beach, Florida
The town of Jupiter is home to one of Florida's few remaining dog friendly beaches and has been welcoming passing pooches since 1989.
There's a 2.5 mile stretch of open sand where your pup can play off leash to his heart's content. The town also provides poop bags at regular intervals along the beach.
Dog friendly all year round, reviewers also praise the large amount of free street parking and nearby dog-friendly restaurants.
3. Huntingdon Dog Beach, California
A 1.5 mile stretch of golden sand, Huntingdon Dog Beach is the perfect place for some canine capers. Pups are required to be leashed until they're actually on the sand, then it's leash optional.
On site facilities include poop bags, drinking fountains for both canine and human visitors and restrooms. Pay-for parking is available nearby at $2/hour.
Huntingdon also hosts dog-friendly events including the So Cal Corgi Beach Day (attended by over 1,200 Corgis in 2021!) and the Surf City Surf Dog competition, where canine competitors have 12 minutes to catch their top five waves.
4. Jennings Dog Beach, Connecticut
Jennings Beach is only open to dogs between October 1 and March 31, but offers some great scampering opportunities in season.
With 27 acres of sandy beach available, your canine companion will have the time of his life. The leash-optional beach is open from 10am to 8pm and there are restrooms and concession stands on site. Parking is free during dog friendly months.
5. Jekyll Island, Georgia
Forget a single beach – dogs are welcomed on most of Jekyll Island. Leashes are required on most of the southern beaches as they're home to wildlife including turtles and seabirds.
There's an off-leash area north of the South Dunes picnic area. Reviewers have praised the whole island for its dog friendliness and singled out Jekyll Island Beach, Driftwood Beach and Great Dunes Park as the places to visit.
6. Montrose Dog Beach, Illinois
Widely considered to be the best dog-friendly beach in Chicago, Montrose dog beach is on the shores of Lake Michigan, second largest of the Great Lakes. As it's fresh water, it's perfect for puppy paddling. Your dog will need a DFA (Dog Friendly Area) tag from a veterinarian to use the beach, even if you're only visiting.
This costs around $10 to $15 plus the cost of the veterinarian visit. This certifies that your dog is vaccinated and healthy, and helps keep the beach safe for everyone.
Open all year round from 6am to 11pm, there's an off-leash area and poop bags on site. The beach is run and maintained by a charitable organization, MonDog, who appreciate donations if you've enjoyed your day out.
7. Kennebunk Beaches, Maine
Kennebunk has several dog-friendly beaches including Gooch's, Middle, Mother's and a portion of Parson's. Access times change throughout the year though, so check before you travel.
From June 15 through Labor Day, dogs are only allowed on the beaches before 9AM and after 5PM. From the day after Labor Day to June 14 dogs have unlimited access. Leashes are optional, but dogs must be under voice control. There's also a dog park with fresh water and poop bags in Kennebunkport, perfect for some doggy socializing.
8. Double Bluff Beach, Washington
Double Bluff Beach is a paradise for pooches. There's a two-mile off-leash area and even a shower for washing off salty paws afterwards. Visiting humans aren't forgotten either, with picnic benches and a barbecue area.
The only downside is a lack of parking, so visitors are advised to go early in busy seasons. Reviews mention the soft sand and glorious views over Seattle and Mount Rainier.
9. Bald Head Island, North Carolina
Another island where dogs aren't limited to a single beach, Bald Head Island prides itself on its dog-friendly attitude. There are no cars on the island, only bicycles and golf carts, so walking is a relaxing experience.
There are 14 miles of beaches to explore, and the island's pet-friendly accommodation even supplies welcome packs of treats and a toy. Dogs are allowed off-leash all year round except during turtle nesting season, where it's on-leash from sunset to sunrise.
To reach the island, you'll have to take a pet-friendly ferry from Southport, a ride of approximately 20 minutes.
10. Cannon Beach, Oregon
Billed as 'one of the best places to be if you happen to be a canine', Cannon Beach is an off-leash dream for the active dog.
There are miles of sandy beaches and forest hiking trails, as well as dog-friendly restaurants and accommodation. Reviewers praise the area as 'truly pet friendly'.
Get the best advice, tips and top tech for your beloved Pets
Sara is a freelance journalist and copywriter of many years' experience with a lifelong love of animals. She's written for a range of magazines and websites on subjects varying from pet care to travel. A horse rider since the age of five, she's currently a full time pet slave to horse Blue and gorgeous, goofy English Springer Spaniel Olly. Adorable Olly has a huge sense of adventure and no sense of direction, keeping Sara on her toes.