Homemade dog food for sensitive stomachs: 6 mouth-watering meals
Packed full of flavor but gentle on the digestive system, our homemade dog food for sensitive stomachs ticks all the boxes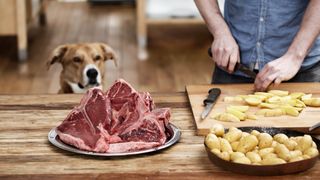 (Image credit: Getty Images)
Making your own homemade dog food for sensitive stomachs can be well worth the time and effort if you have a canine companion who suffers from regular digestive disturbances. While our guide to the best dog food for allergies is a great alternative to explore, one of the benefits of making your own food is that you know exactly what's going into your dog's tummy.
An upset stomach in dogs is a fairly common occurrence and one that most vets see on a regular basis. While often a virus or an ill-advised scavenging expedition are to blame, a small percentage of pups do suffer from food allergies and sensitivities that can cause uncomfortable symptoms like vomiting and diarrhea.
Food allergies in dogs often develop after prolonged exposure to one type of food. The most typical food allergens tend to be common proteins, such as beef and chicken, as well as ingredients such as wheat, milk, eggs, soybean, and corn. Your dog may have a single allergy, multiple allergies, or they may only be triggered when particular ingredients are combined together.
Because of this, we've included a range of different recipes below. All contain only one animal protein (these recipes are easier to digest) and while some have multiple vegetables, you can stick with one primary vegetable source if your dog finds dishes with more than that difficult to digest.
Before cooking up any of the below dishes and making changes to your dog's diet, we recommend you speak with your vet if you haven't already done so. They will be able to run tests to check to see what your dog is allergic to and offer advice and guidance on an appropriate meal plan.
1. Venison and vegetable stew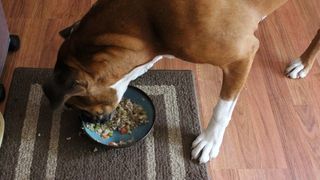 Ingredients:
4 cups of ground venison (or other protein source of your choice)
4 cups of low sodium broth
1/2 cup rolled oats
1/2 cup chopped green beans
1/2 cup chopped carrots
1/2 cup chopped broccoli
Instructions:
The first step is to brown the meat that you're using. You don't need to cook it all the way through, as you'll also be boiling the stew later. Cook the meat until it's about 3/4 done in a skillet. If you're using a lean meat, like venison, you'll want to add a bit of olive oil to the skillet to prevent sticking.
While the meat is cooking you'll need to chop the vegetables. I chose broccoli, carrots and green beans because they are all readily available in our garden right now. You can substitute for any veggies that you may already have in your fridge or that you can get at your local farmer's market.
Once your meat is cooked and the veggies are chopped, it's time to mix all the ingredients together in a large pot. Turn the burner to medium heat, and add the cooked meat, broth, vegetables and rolled oats to the pot.
Bring the mixture to a boil and then cook for 15 minutes, stirring occasionally. You'll notice that the veggies and oats soak up the broth. As you'll see in my video, the mixture starts out very runny, but thickens as it cooks.
Once the stew cools you can feed it to your pet immediately, or store it in the refrigerator in an airtight container for up to 5 days.
Recipe via topdogtips.com
2. Easy homemade dog food crockpot recipe with ground chicken
Ingredients:
3 lbs lean ground chicken
1 cup butternut squash I use frozen, precut
15 oz can kidney beans drained
1 cup peas
1 cup green beans
1 cup carrots sliced or diced
1 ½ cup uncooked rice
4 cups of water
Instructions:
Add 3 lbs lean ground chicken, 1 cup chopped butternut squash, 15 oz drained can of kidney beans, 1 cup peas, 1 cup green beans, 1 cup sliced carrots, 1 ½ uncooked white rice, and 4 cups of water to a crock pot.
Cook on high for 4 hours or low for 6 hours, stirring occasionally.
And voila, you're done!
Recipe via aforkstale.com
3. Beef and veggie dog food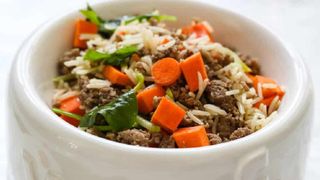 Ingredients:
3 pounds ground beef 7 cups cooked crumbled ground beef
2 cups brown rice or swap white rice
1 teaspoon sea salt
1 tablespoon butter
28 ounces beef stock (optional) + ½ cup water 28 oz = 3.5 cups, add ½ cup water for proper ratio to make rice
2 cups fresh carrots, shred or cut into small coins 2 large carrots
2 cups sweet potato, small cubes or shred 1 large sweet potato
2 cups fresh spinach (if your dog can tolerate three vegetables)
Instructions:
Make your rice according to packet instructions
Chop, shred, or process in a food processor all the veggies. My dog is a small dog and prefers the veggies finely shredded in a food processor.
Brown and crumble 3 lbs of ground beef in a large skillet. Place in a large bowl.
In a large cast iron pan or skillet, briefly saute carrots, broccoli, and sweet potato until just soft for a few minutes on medium.
Into the large bowl with ground beef, add warm rice, warm sauteed veggies, and fresh spinach. Mix well with a large spatula.
Portion 4-5 cups of Homemade Dog Food per zip lock back, and store in an airtight container or larger zip top bag in the freezer. Pull out one small bag per week, and reheat a serving for your dog in the microwave for 30 seconds. I sometimes sprinkle some dry dog food into the homemade food to stretch out my homemade dog food batch.
Recipe via delicioustable.com
4. Quick and easy limited ingredient dog food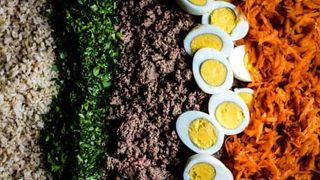 Ingredients:
6 cups cooked organic brown rice (3 cups uncooked rice)
2 pounds ground lean beef, cooked through, fat drained
4 hard boiled eggs, peeled and diced small
3 medium sized carrots, shredded or thinly sliced
¼ cup minced curly parsley
3 tablespoons of olive or safflower oil
Instructions:
Combine all of the ingredients together in a large container and stir to combine completely.
Store tightly sealed in the refrigerator in-between feedings.
Recipe via thismessisours.com
5. Homemade hamburger meal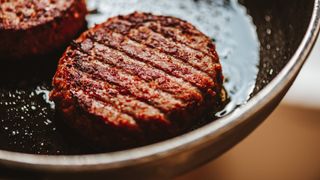 Ingredients:
1 cup of hamburger meat
1 tbsp. of canola oil
½ cup of cooked oatmeal
2 hard-boiled eggs
2 tbsp. of cottage cheese
3 tbsp. of beans
3 tbsp. of carrots
Instructions:
First, fry the hamburger meat in a skillet in canola oil.
When the meat is fried, add finely chopped hard-boiled eggs.
Add all the other ingredients to the mix and wait for it to cool down.
Note: Oats are a great addition to this meal because they are rich in nutrition. And while dogs don't usually care for them, they will gobble this meal up because of the hamburger meat.
Recipe via topdogtips.com
6. Chicken breasts with rice and pumpkin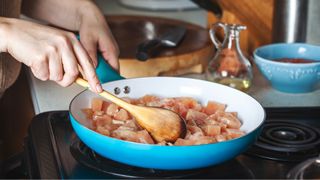 Ingredients:
1 ½ cups of white rice
½ cup of chicken breasts (skinless, boneless)
¼ cup of plain yogurt
¼ cup of canned pumpkin
½ cup of vegetable mix (optional)
Instructions:
Cook white rice according to the instructions on the box.
Put the chicken breasts in a large pot, cover them with water, and boil over medium heat.
Shred the chicken into pieces and mix it well with the rest of the ingredients in a medium-sized bowl.
Note: This is a simple recipe for bland food which is easy to digest. Yogurt can soothe the inflamed stomach, while canned pumpkin can help make your dog's bowel movements regular and firm up his stool because it is rich in fiber.
Recipe via topdogtips.com
Get the best advice, tips and top tech for your beloved Pets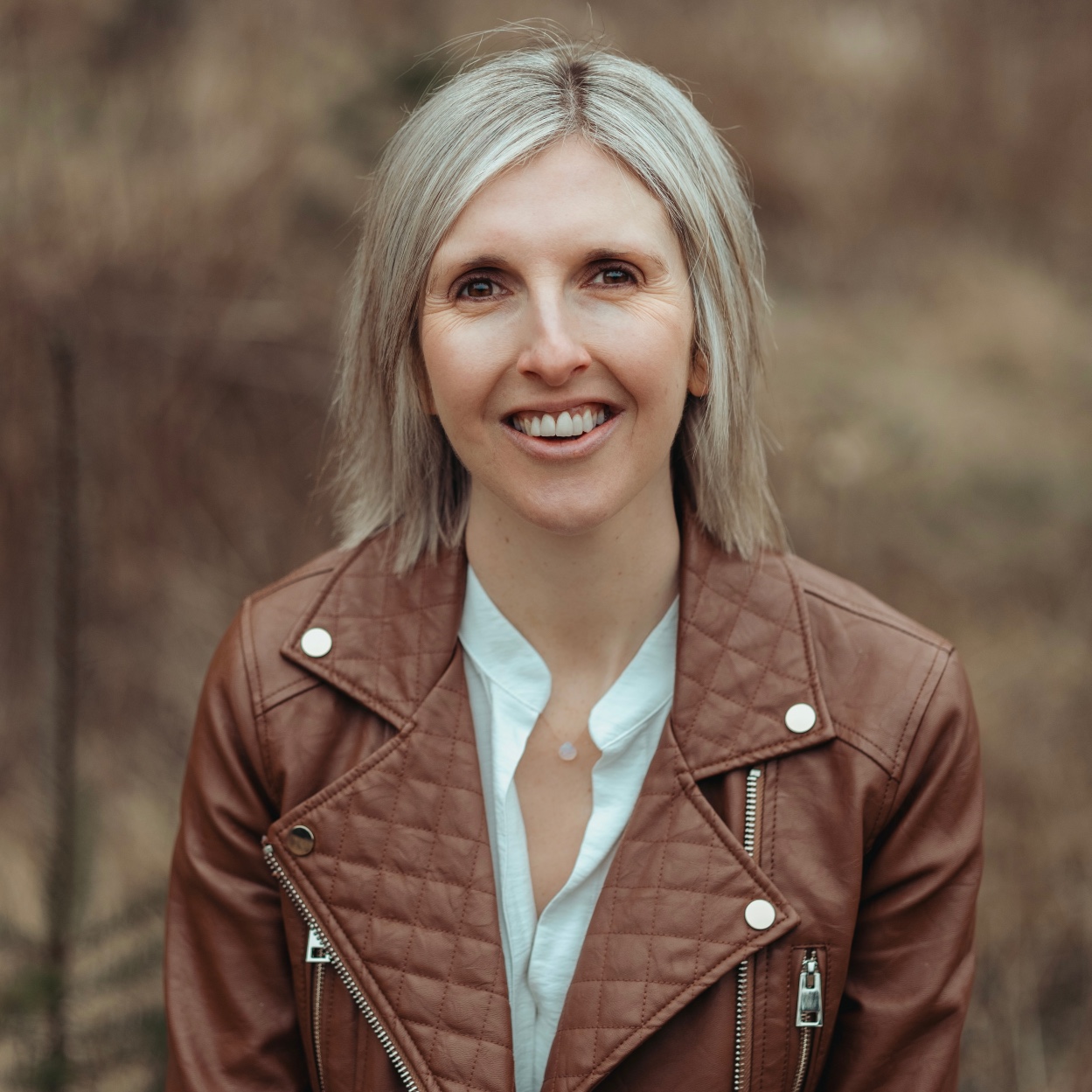 Kathryn is a freelance writer who has been a member of the PetsRadar family since it launched in 2020. Highly experienced in her field, she's driven by a desire to provide pet parents with accurate, timely, and informative content that enables them to provide their fur friends with everything they need to thrive. Kathryn works closely with vets and trainers to ensure all articles offer the most up-to-date information across a range of pet-related fields, from insights into health and behavior issues to tips on products and training. When she's not busy crafting the perfect sentence for her features, buying guides and news pieces, she can be found hanging out with her family (which includes one super sassy cat), drinking copious amounts of Jasmine tea and reading all the books.