5 lip-smacking homemade Halloween cat treats
Full of fishy flavors our feline friends love, these fang-tastic Halloween cat treats are sure to get your kitty's purr of approval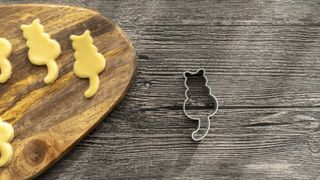 (Image credit: ASPCA Pet Insurance)
Whipping up a batch of Halloween cat treats is the perfect way to include your feline friend in all the fun of this spooky holiday. Not only do the treats in this guide look the part and taste great, but they're also healthy too - which means you can rest assured that you're giving your kitty something that's both delicious and nutritious.
While the best cat treats lining the supermarket shelves are ideal for dishing out on a day-to-day basis when you're wanting to reward your furkid for good behavior, use them as positive reinforcement during training, or simply say 'I love you', when it comes to the holiday season, something a little more special is called for.
That's where these lip-smacking homemade Halloween cat treats come in. Full of those fishy flavors our feline friends go nuts for, these recipes may be classed as treats but they're nutrient-dense and contain a range of essential vitamins, minerals and fatty acids that will ensure your kitty radiates health and vitality from the inside out.
Regardless of whether you have an outgoing kitty who is happy to strut their stuff in one of the best Halloween costumes for cats or you have a feline friend who would prefer to have a more low-key role in the upcoming festivities, these Halloween cat treats are sure to get a huge paws up.
1. Spooky cat biscuits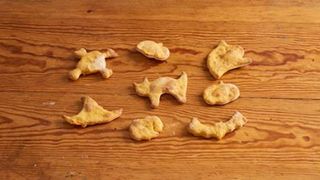 Ingredients:
1 salmon fillet
1 large egg
40g pumpkin
150g flour (plus extra for dusting)
2 tbsp water
Halloween-themed cookie cutters
Method:
Preheat the oven to 200°C/180°C fan, then cook the salmon for 30 minutes. At the same time, dice the pumpkin into small pieces and cook in the oven for about 20 minutes, until soft. When cooked, remove both from heat, but leave the oven on.
Flake the salmon into smaller pieces, then, in a blender, combine all the ingredients until the mix resembles a dough.
Dust a flat surface with flour and roll out the dough mix until about 1cm thick. Use small, Halloween-themed cookie cutters (we love bats, witches hats and pumpkins) to cut out biscuit shapes.
Place the biscuits on a baking paper-lined tray and bake for 20 minutes until firm to touch. Remove from the oven and leave to cool – then sit back and watch your cat enjoy!
Recipe via Petplan
2. Healthy pumpkin cat treats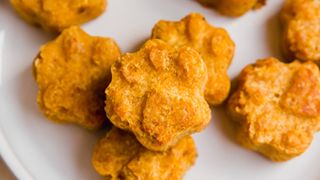 Ingredients:
1 4oz can of salmon, no salt or oil added
1/2 cup old fashioned oats
1/3 cup pumpkin puree
1 egg
2 tbsp avocado oil
Method:
Preheat the oven to 325 F.
Add the oats to a blender and blend into a fine flour.
Open the can of salmon and drain the excess liquid.
Combine the oat flour, salmon, pumpkin, egg, and avocado oil and mix well.
Form into small "cookies" (or use a silicone mold) and place on a baking sheet.
Bake in the preheated oven for 25-30 minutes or until firm.
Allow to cool before serving to your cat. Serve will supervised and break into smaller pieces if needed. Store in the fridge for 3-4 days.
Recipe via Unbound Wellness
3. Eerie egg muffins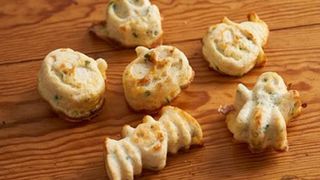 Ingredients:
1 small chicken breast
3 eggs
8 fine green beans
Halloween-shaped silicone tray
Method:
Cook the chicken breast at 200°C/180°C fan for around 25 minutes until done. Remove and leave to cool.
Meanwhile, boil the green beans for around five minutes until tender. Remove from heat.
Whisk the eggs in a bowl. When the beans and chicken are cool enough, slice them into small pieces and add to the egg. Stir well.
Using a small muffin tray (silicone molds make it easier to remove the finished product), carefully pour the mixture into each section until about three-quarters full. Add an extra Halloween touch by pouring the mixture into a Halloween-shaped silicone tray!
Place in the oven for 15-20 minutes until cooked through. If a skewer poked into the center of the muffins comes out clean, you'll know they're ready. Allow them to cool completely before sharing with your cat. They'll keep in an airtight container in the fridge for several days.
Recipe via Petplan
4. Cheesy cat treats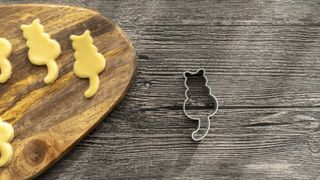 Ingredients:
¾ c. shredded cheddar cheese
¾ c. whole-wheat flour
¼ c. plain yogurt
¼ c. cornmeal
5 T. grated Parmesan cheese
Method:
Combine ingredients into a dough.
Roll it out to about 1/4 inch.
Cut into your choice of shapes and bake on a greased cookie sheet at 350° for about 25 minutes.
Recipe via ASPCA Pet Insurance
5. Scary cake pops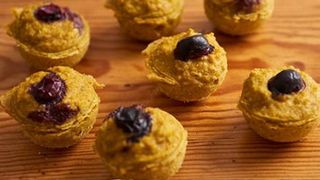 Ingredients:
1 large carrot
1 egg
1 tbsp olive oil
80g rolled oats
1 tsp catnip
1 handful blueberries (washed)
Cake pop tray
Method:
Preheat the oven to 200°C/180°C fan. Meanwhile, peel and wash the carrot, then finely grate.
In a blender, mix the grated carrot, egg, oats, oil and catnip until well combined.
Using damp hands so it doesn't stick, take about a tablespoon of mix and carefully roll it into a ball.
Place the balls into the holes in the cake pop tray. Using your little finger, gently make a small indent into the top center point of each ball. Carefully slice the blueberries in half, then place a half into the indent of each cake ball.
Bake in the oven for 15-20 minutes, until a skewer poked into the cake comes out clean. Leave to cool, then gently remove each cake ball from the tray for a devilishly delicious cat treat.
Recipe via Petplan
Get the best advice, tips and top tech for your beloved Pets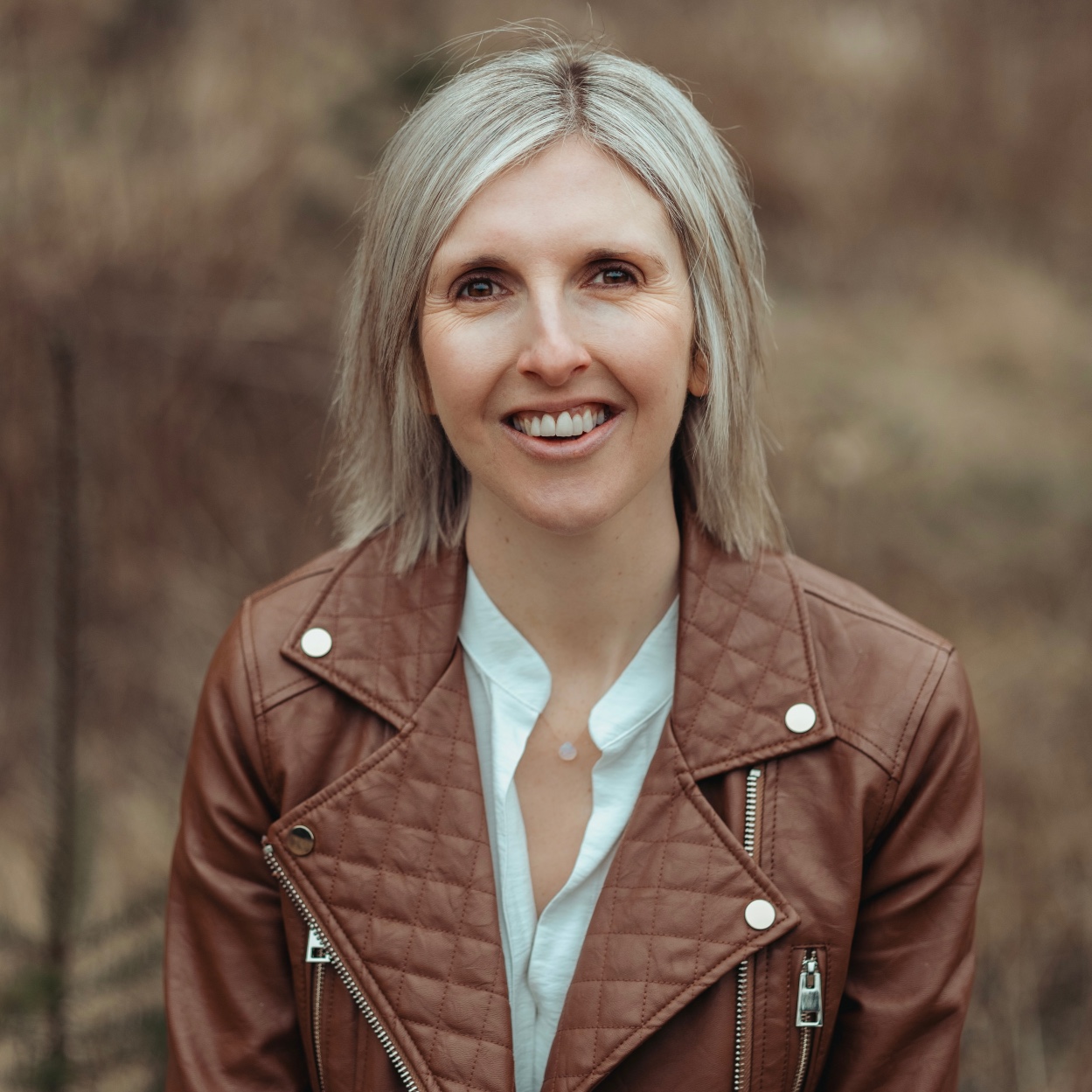 Kathryn is a freelance writer who has been a member of the PetsRadar family since it launched in 2020. Highly experienced in her field, she's driven by a desire to provide pet parents with accurate, timely, and informative content that enables them to provide their fur friends with everything they need to thrive. Kathryn works closely with vets and trainers to ensure all articles offer the most up-to-date information across a range of pet-related fields, from insights into health and behavior issues to tips on products and training. When she's not busy crafting the perfect sentence for her features, buying guides and news pieces, she can be found hanging out with her family (which includes one super sassy cat), drinking copious amounts of Jasmine tea and reading all the books.