Kong recipes: 50+ delicious Kong fillers
Get creative at home with these delicious Kong recipes for your pooch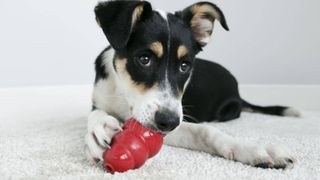 (Image credit: Kong)
Whether you've got a new puppy or a mature mutt in your household, having a few Kong recipes to hand is sure to make pet parenting that much easier.
One of the best dog toys out there, the classic Kong has become an increasingly popular item for canines, owing to its ability to stave off dog boredom and provide mental stimulation.
It's also one of the best teething toys for puppies; in addition to the adult-sized red version, you can also pick up a version in blue or pink that's created especially for younger canines.
Both types feature the ability to stuff the toy with gooey fillers making it just as creative for owner to stuff, as it for your canine chum to discover the contents.
If you're looking for inspiration on what to stuff your Kong with, we've rounded up over fifty Kong fillers you can experiment with at home, plus provided some wonderfully creative Kong recipes that you can put together quick enough to satisfy even the most eager of pups. You can also take a look at our vet's guide on how to use Kong toys.
Benefits of the Kong
Kong toys are excellent for keeping your dog busy and mentally stimulated. While all dogs love walks and interactive games, like fetch and tug-of-war, the reality is that we aren't always available to play with our dogs. Not only do we all need to leave our homes occasionally, but we're often busy and unavailable even while we are at home.
Taking a few minutes to stuff a Kong toy with food or treats can occupy your dog for a few minutes, or even a few hours. As your dog works to remove food or treats, he's expending excess energy. This can help alleviate boredom and anxiety. In some dogs with mild separation anxiety, a Kong toy can even prevent destructive behavior when the dog is left alone.
While the ability to entertain a dog that is left alone is a major benefit of a Kong toy, it isn't the only benefit. Some dog owners use a Kong toy, instead of a food bowl, to feed all of their dog's meals. These Kong recipes are an easy way to add more activity and excitement to your dog's day.
Kong fillers
There's numerous fillers you can add to your Kong, but you'll want to consider the overall calorie count, so opt for low quantities of an ingredient and cut back on the kibble where necessary in these Kong recipes.
A good rule of thumb is calculate the number of calories that you are giving as treats and decrease your dog's food correspondingly (based on the caloric density of your dog's food) when creating any of your own Kong recipes.
• Xylitol-free peanut butter
• Plain Yogurt
• Canned pumpkin puree
• Carrots
• Apple
• Blackberries
• Broccoli
• Eggs
• Cooked rice
• Cauliflower
• Kale
• Strawberries
• Watermelon (de-seeded)
• Canned dog food
• Kibble
• Chicken broth
• Beef broth
• Cheese
• Salmon
• Zucchini
• Ground turkey
• Kale
• Maple syrup
• Cinnamon
• Banana
• Dried sweet potato
• Melted coconut oil
• Applesauce
• Rolled oats
• Mint
• Parsley
• Cooked chicken
• Mashed potato
• Peas
• Orange
• Pineapple
• Dried cranberries
• Baby spinach
• Squash
• Honey (in moderation)
• Steak
• Low fat cream cheese
• Blueberries
• Natural baby food
• Asparagus
• Cauliflower
• Celery
• Flax seeds
• Green beans
• Cucumber
• Rutabaga
• Brussels sprouts
Kong recipes
If you're looking for a spot of inspiration on how to combine your fillers, look no further than these super simple Kong recipes. Often, you can just mix them in a bowl and serve. Adding any of the recipes to a freezer can provide extra challenge.
Turkey and kale Kong
Ingredients
• Generous pinch of chopped kale
• 1 tbsp Plain Greek yogurt
• 1 tbsp ground turkey
Method
• Add the yogurt, turkey and kale to a bowl and mix
• Spoon into your Kong and serve
Parsley, mint and yogurt Kong
Ingredients
• 1 cup plain yogurt
• 1/4 cup chopped mint
• 1/4 cup chopped parsley
• 1/2 cup diced apples
• Xylitol-free peanut butter spread
Method
• Mix all ingredients together in a bowl
• Add mixture to Kongs and serve
Recipe via Kong
Chicken and potato Kong
Ingredients
• 1/2 cup of cooked chicken
• 1/2 cup of mashed potato
• 1/4 cup frozen peas and carrots

Method
• Mix all ingredients together in a bowl
• Add mixture to Kongs and serve
Recipe via Kong
Homemade "Guacamole" Kong
Ingredients
• 1 tbsp seeds
• 4 slices of chopped banana
• 2 slices of cucumber
• 1 tbsp Plain Greek yogurt
• 1 tsp Chlorella
• 1 tsp wheat grass powder
Method
• In a mixing bowl, crush the seeds into a powder
• Add the banana for texture and mix into a paste-like consistency
• Add the slices of cucumber and mix
• Spoon the Plain Greek yogurt into the bowl and mix together
• Put Chlorella and wheat grass powder into the mixture and stir
• Place the mixture inside the Kongs and serve.
Recipe via Baxter and Benji / TikTok
Pumpkin and green bean Kong
Ingredients
• 1 tbsp pumpkin puree
• 1 tbsp pureed green beans
• 1 tbsp cottage cheese
Method
• Mix all ingredients together in a mixing bowl and spoon into your Kongs.
• Freeze or serve as it is.
Recipe via Kayla Kowalski / TikTok
Get the best advice, tips and top tech for your beloved Pets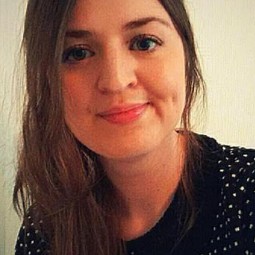 Ashleigh is Digital Editor on PetsRadar. With over 8 years of experience in print and digital media, she has acted as an editorial lead on a variety of projects, with animal themes a keen interest. As an avid animal lover, you can often find Ashleigh checking out the newest trends in animal care or looking at cute cat videos on TikTok.