How to use Kong toys: A vet's guide
Tips on how to use Kong toys to enrich your dog's day and provide mental stimulation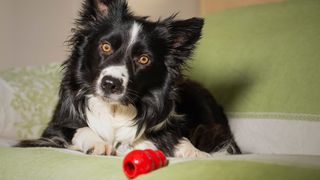 (Image credit: Getty Images)
While most dog owners have heard of Kong toys, how familiar are you with how to use Kong toys to entertain your dog? Kongs rank highly in any list of the best dog toys, and their wide variety of uses make them an excellent choice for almost any dog.
Kongs are hollow toys, made of rubber. Some are soft enough for teething puppies, while others are designed for vigorous chewers. They can be stuffed with a variety of dog treats or food items for your dog to enjoy; after use, they can easily be cleaned in the dishwasher. Kong toys are available in a variety of sizes, ranging from extra-small sizes for toy breeds, to extra-extra-large sizes for very large dogs. Fortunately, there's a Kong toy to fit the needs of nearly any dog.
Benefits of using a Kong toy
All dogs need mental stimulation and enrichment. In a perfect world, we would all take our dogs for long walks and play interactive games, such as fetch and tug-of-war, multiple times daily. Unfortunately, the reality of life is that we aren't always available to do those things as often as we (or our dogs) would like. Even when we're at home, we're not always available to provide our dogs with attention. As I'm writing this article, my dog is enjoying a nap – but what if he wanted to play instead? That's where a Kong toy can help. Kong toys keep your dog busy and mentally stimulated, even when you're unavailable for interactive play.
Taking just a few minutes to stuff a Kong toy with food or treats can occupy your dog for several hours, depending on your dog's personality and interest level. As your dog works to remove food or treats from the Kong toy, he's expending excess energy. Not only does this help reduce boredom, it can also help alleviate anxiety. In some dogs with mild separation anxiety, a Kong toy can help prevent destructive behavior simply by giving the dog a source of entertainment and an outlet for his energy while left at home alone.
While the gift of independent play is a major benefit of a Kong toy, it isn't the only benefit. Some people feed their dog's daily meals from a Kong toy, instead of a food bowl. This can be especially beneficial when striving to help your dog lose weight. Feeding meals from a Kong toy instead of a food bowl will add a bit more physical activity to your dog's day, while also helping a small portion of food last longer for your dog.
Are Kong toys safe?
Kong toys are designed to be strong and relatively indestructible, so leaving a Kong toy as a special treat when your dog is home alone is pretty common among dog owners. However, the unattended use of Kong toys (or any toy, for that matter) is never completely risk-free. Although it's rare, some dogs manage to chew off fragments of Kong toys and swallow them. If this happens to your dog, you could find yourself facing an emergency veterinary visit and maybe even emergency surgery.
Before leaving your dog alone with a Kong toy, consider your dog's chewing style and personality. Is your dog a vigorous chewer with a reputation for destruction? In that case, don't allow access to any toys, including a Kong, while he is unattended. Vigorous chewers should be given access to a Kong toy only when they can be closely watched, so you can take it away at the first sign of a problem. If your dog is an average chewer, however, you probably have little reason for concern. (Again, though, it's important to remember that the risk is never zero!)
Next, consider the size and shape of your Kong toy. Is it large enough for your dog? If a large dog is given a Kong toy designed for small dogs, the risk of ingestion goes up significantly. An appropriately-sized Kong toy, however, will be difficult to swallow. Use the size guide as a general guideline when purchasing a new toy for your dog. Then, watch your dog as he plays with his Kong toy, ensuring that the toy cannot fit entirely within your dog's mouth.
Finally, inspect your dog's Kong toy daily. If you see cracks in the rubber or other signs of aging or wear, it's time to replace the toy. A toy that is beginning to break down heightens the risk of your dog tearing off a bit of rubber and swallowing it.
What to put in Kong toys
There are many ways that you can stuff your dog's Kong toy. Hard treats can be wedged inside of the Kong, requiring your dog to bounce or jostle it to dispense treats. You can also smear a soft treat on the inside surfaces of the Kong, allowing your dog to use his tongue to lick the treats clean. Use trial and error to see which type of treat your dog prefers.
There are a number of treats specifically designed for use in Kong toys. These include both hard treats, such as KONG Ziggies, and soft or creamy treats, such as KONG Easy Treat. You can also think outside the box, using other soft or crunchy treats that you may have at home.
When it comes to soft treats for spreading, common options include:
Peanut butter (avoid sugar-free peanut butter, which may contain xylitol)
Yogurt
Canned pumpkin
Canned dog food
Cream cheese
Applesauce
You can even freeze liquid inside a Kong toy, as a special treat during the warm summer months. (You will want your dog to enjoy this treat outside, though, because it will be messy!) Seal the holes in each end of your dog's Kong toy with peanut butter, then fill the center of the toy with chicken or beef broth. Place the toy in the freezer overnight to make your dog his very own pupsicle!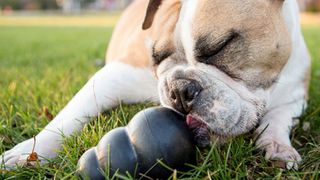 Calories count, even in a Kong toy
As you experiment with treats and foods in your dog's Kong toy, you need to ensure that you aren't providing your dog with too many calories. The last thing you want is for your new enrichment to cause obesity! Try to keep your dog's daily caloric intake relatively constant, even with the addition of these new treats.

If you're adding dry dog food (kibble) to your dog's Kong toy, be sure to remove that kibble from your dog's daily food allotment. If you are adding other treats, calculate how many calories you're giving in the form of treats and decrease your dog's food correspondingly. With a bit of trial and error, you should be able to find a balance that allows your dog to maintain a healthy weight while still enjoying his Kong toy.
Keep in mind that at least 90% of your dog's calories should come from a well-balanced dog food. If your dog receives too many calories from treats, he will be less likely to eat his dog food. This can result in vitamin and mineral deficiencies.
Be flexible and experiment
Now that you know how to use Kong toys, it's time to try one out with your canine companion! Pick a Kong toy that is the appropriate size and consistency for your dog, as well as a couple of different fillings. Experiment and see which fillings are the most appealing to your dog. Does your dog prefer hard, crunchy treats that he can remove by bouncing and tossing the Kong toy, or sticky treats that he can lick from the toy? If you try a variety of options, your dog should let you know his preference!
Get the best advice, tips and top tech for your beloved Pets
Dr. Barnette is a graduate of the University of Florida, where she received both her B.S. in Zoology and her Doctor of Veterinary Medicine (DVM). She has 15 years of clinical experience as a small animal veterinarian, treating dogs, cats, and occasional exotic patients. She now works as a freelance veterinary writer, creating educational content for veterinarians, veterinary team members, and dedicated pet owners. Dr. Barnette lives in southwest Florida with her husband and daughter (plus two cats, a dog, and a rescued dove!) and enjoys kayaking, biking, and hiking. Learn more about Dr. Barnette at www.linkedin.com/in/catherinebarnette.