Neutering your pet: 11 tips from a vet that will make it easier for both of you
Are you neutering your pet? Read this article for our vet's advice!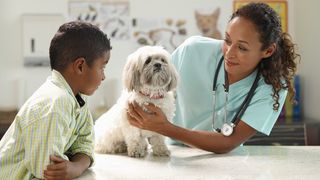 (Image credit: Getty)
Neutering is a common elective procedure that between 50-70% of pets in the US and UK will go through. In boys, neutering (medically known as 'castration') involves removing the testicles. In girls, neutering is also called 'spaying' (medically 'ovariohysterectomy' or 'ovariectomy' depending on the exact procedure performed) and involves removing the ovaries, with or without the uterus. After surgery your pet will need to wear an Elizabethan collar or head cone and we've compiled a list of six head cone alternatives should your pet need one.
Neutering is a simple surgical procedure with lots of benefits for population control, and also has health benefits for your pet. But it is still surgery, and you might be worrying about how to help your pet cope. These tips from a vet will help!
Neutering: In advance
1. DO discuss any fears you have about neutering your pet with your vet
If you're worried about neutering your pet, you should talk to your vet or veterinary nurse/tech. They'll be more than happy to go through the risks and benefits with you. They can also go through what happens on the day – it's essential that you're comfortable with the procedure before it starts. Depending on your clinic, the operation can vary, too. If you want to consider a keyhole spay, or ask for the incision to be done in a certain way, you should discuss this with the practice well in advance, as not all clinics will give you the ability to choose.
2. DO discuss the 'optional extras' with your vet before the day
Depending where you're getting your pet neutered, the level of care can vary substantially. Low-cost clinics will keep prices down by keeping equipment and drug use to a minimum, whilst high-tech clinics can use drug combinations of up to ten drugs. Pre-op blood tests and intravenous fluids are often not included in the price of surgery, so you should check what is and isn't included and decide whether you want to 'add on' these extras. Pain relief for 24 hours is included as routine, but some places will charge you extra for pain relief to go home with, so check this as well. Most pets should get pain relief for at least three days. Check our guide to the best pet insurance for advice on what cover you can expect from different policies.
3. DO ensure your pet is the correct weight
Obesity is a real problem for pets. And when pets undergo surgery, obesity can make it much harder for the surgeon, and much more dangerous for your pet. Medications can behave strangely when there is excess fat in the body, meaning your pet may be less stable under the anaesthetic. Excess fat also means it's hard to find the blood vessels and everything is more slippery, so there's a much higher chance of your pet developing a bleed. In addition, the ovaries/testicles use a lot of energy, and once your pet is neutered their metabolism is going to drop in response – it's easier to get that weight off pre-op!
Neutering: Before the op
4. DON'T make major changes to your pet's diet or routine
Try not to make major changes to your pet's diet for the five days before the surgery (for rabbits, don't make changes for 14 days!). The last thing your pet needs is gastric upset from a sudden diet change, as this can upset their anaesthetic or even have them turned away from the vet's office due to the increased risks of infection. Similarly, keep their routine as normal as possible to avoid hidden stress and anxiety causing a problem.
5. DO follow your vet's pre-op instructions for withholding food and water
Occasionally, pets vomit under an anaesthetic. This vomiting is risky, because the pet isn't able to swallow to stop them inhaling the vomit. To reduce the risk of vomiting, your vet will normally recommend food is withheld from your pet for some time before the surgery, whilst water is not restricted. Usual guidance is to remove food from the evening before the operation, but you should follow your vet's instructions as this will vary with the vet's operating times, and the size, age, and breed of your pet. Rabbits should never have food withheld.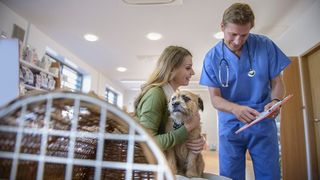 6. DO Turn up to your appointment on time, and leave plenty of time to chat
Your pet will normally be admitted by a nurse/tech or a vet. You'll need to sign a form and confirm that the nil-by-mouth instructions have been followed. Most clinics will ask you to arrange a pick-up time, and they'll also want to check emergency contact numbers. If there are optional extras, such as intravenous fluids, you can discuss your wishes with your vet at this time. Make sure you're on time for your appointment and not rushing straight off to work, as it's a legal requirement that you have this discussion with the veterinary practice to ensure you understand what it is you're consenting to.
Neutering: Post-operative care
7. DO follow the surgeon's instructions for rest at home
Most pets will be on restricted exercise for several days post-procedure to reduce swelling. This means your dog will not be allowed out on walks and should only go into the garden on a short leash so they can't run around. If your dog is high-energy, they may be better rested in a crate so they can't damage themselves running around the house. You may want to invest in some puzzle feeders and other ways to keep your pet occupied without running around.
8. DO prevent your pet from interfering with their wound
It's a myth that your pet's mouth is antibacterial. Any interfering with the wound, including licking, scratching, chewing and biting should be prevented. Infected wounds may require further surgery, more expense, and more pain for your pet. Most clinics include the price of a plastic Elizabethan collar with their surgery, as these are highly effective. However, other options are available, including medical pet suits (recovery suits) and comfy collars (Comfy Cones). If you think your pet will struggle with a plastic collar, make sure to purchase these in the right size in advance.
9. DO give your pet their medications as described
If your pet has been given medications to go home with, ensure you give them according to the instructions you've been given. Your vet will usually recommend giving the pain relief for a minimum of three days – stick to this, even if your pet seems fine. Animals are good at hiding pain! Conversely, never double-up the dose if you think your pet is still painful or give it more frequently than advised, as this can cause serious side effects. Call your vet for advice, they'll be able to prescribe you further pain relief.
10. DON'T miss your post-operative checks
Post-op checks after neutering are usually included in the price of the surgery, so make sure to use them! Although it feels like a faff to drag your pet back to the vets, it is important that they get checked over. Things are picked up on the post-op checks that may have otherwise been missed, such as swelling, pain, or early signs of infection. And it's not just about the wound – the post-op check is a chance for your dog to have another positive experience with their vet. A quick check and a treat helps to continue building a positive association, even after the scary visit last time!
11. DO phone your vet if you have any concerns
Most importantly, call your vet for advice if you have any concerns. I've regularly seen pets for their three-day follow up and the wound is coming open or the pet seems in pain, and the owners say they didn't want to bother me because they had an appointment booked. The post-operative checks are supposed to be to check everything is going well, but if you think it isn't, don't wait until the check-up, call your vet and get an appointment sooner.
Post-op protection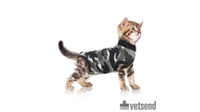 Recovery Suit - $29.00
Sometimes, a medical suit is a better option than a plastic surgical collar, especially for cats. This suit is designed to prevent interference with surgical wounds.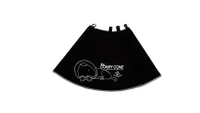 Comfy Cone - $21.72
These comfy collars are a good alternative to a plastic collar for some pets and some surgeries – check with your vet if you're not sure if it's right for your pet.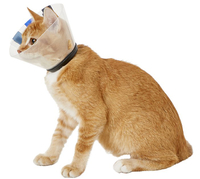 Kong EZ Clear Collar - $11.46
Plastic cones are very effective at preventing wound interference after neutering and are used by most veterinary clinics.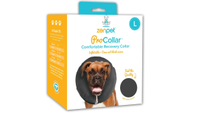 Inflatable Recovery Dog and Cat Collar - $18.99
For some dogs and some surgeries, these inflatable collars work well. Talk to your vet if you aren't sure whether this will work for your pet's neutering procedure.
Neutering your pet: preparation is key!
Neutering is a common procedure, and the vast majority of operations go ahead without a hitch. Making sure you're prepared for your pet's surgery in advance is important, so if you have any further questions, call your vet and make an appointment to discuss your concerns.
Get the best advice, tips and top tech for your beloved Pets
After graduating as a veterinarian from the University of Nottingham, Dr Joanna Woodnutt went on to practice companion animal medicine in the Midlands. She quickly developed a love of consulting and helping clients with medical problems such as dermatology, behaviour and nutrition - anything that involved helping clients understand their pets better. Jo started writing about pet health in 2017, realising that it meant she could help even more pet parents. Since then, she has written for countless online and print publications and is a regular contributor for Edition Dog Magazine. Jo now lives in the Channel Islands with her husband Ian and terrier Pixie, and they are expecting their first child very soon.