Best scales for pets: Check and monitor their weight at home
If you're weighing up the best scales for pets, here's a guide to the best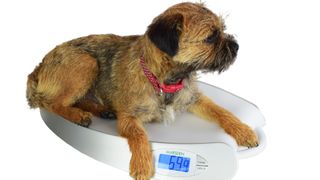 (Image credit: Getty Images)
The best scales for pets can be a surprisingly handy piece of kit. If dogs are a man's best friend, then vets are a dog's worst enemy. For some pets, it's easier and more convenient to check and monitor their weight from home.
There are many reasons you might want to keep an eye on your pet's weight, which can sometimes be the first and only sign that they're unwell. As nature goes, animals in the wild make efforts to hide injuries and sickness because otherwise they'd be more vulnerable to potential predators, so there's every chance your pet is plodding on just fine when they may actually need medical attention. Call it an evolutionary hangover.
Perhaps you need to monitor your pet's weight as you change their diet or introduce new medication, where the dosage and strength has been prescribed on their exact weight. Perhaps you want to keep a closer eye on your pet during pregnancy, control their weight due to them being overweight, measure growth, or ensure they're maintaining their weight during periods of change, such as if a new pet with eyes bigger than their own food bowl is introduced to the home
Whatever the reason – you want to make sure you get the best weighting scales for your pet, so you can get an accurate result. This buyer's guide will help inform you of the range of weighing scales for pets that are on the market, and give you an idea of what will be best for your pet, including scales for smaller pets, bigger pets, and nervous pets who won't stand still.
PetsRadar's pick of the best scales for pets
Why you can trust PetsRadar Our expert reviewers spend hours testing and comparing products and services so you can choose the best for you. Find out more about how we test.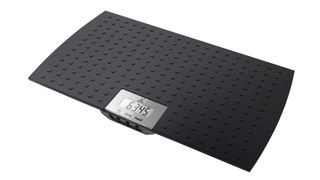 W.C Redmon Precision Digital Pet Scales
A highly rated and popular option for a precise weigh-in
Specifications
Minimum weight capacity:
1 to 1.5-lbs
Reasons to buy
+
Easy-to-read digital display
+
Non-slip mat
Reasons to avoid
-
Not the best design for holding on to nervous dogs
The Redmon Precision Digital Pet Scales are aimed at groomers and vets, but are popular with regular pet owners, too, particularly dogs of all shapes and sizes.
These scales have a slim design, with a non-slip rubberized mat to keep your pet firmly in place while they get weighed.
They have several features that help to make the weigh-in easier, including delta weight calculation, previous weight memory, and a low-battery indicator to remind you when the batteries need changing (these particular scales require two AAA alkaline batteries).
The maximum weight capacity of this large scale is a whopping 225 lbs, with a minimum weight capacity of 1 to1.5 pounds; it also measures in kgs, so whether you're imperial or metric, these scales will make sense. They measure 28 inches in length, 16 inches wide and 1.75 inches in height, so you'll definitely need somewhere to store them.
These scales are one of the most popular and well-rated online, and have a reputation for being precise.
However, despite the non-slip mat, there are definitely other scales that will better accommodate more wriggly and nervous pooches. One online reviewer warns that, while the scales are fine for calmer dogs, if your dog is particularly energetic, it might not be the best product for you, as it might be difficult to keep them on the scales long enough to get a precise and accurate measure.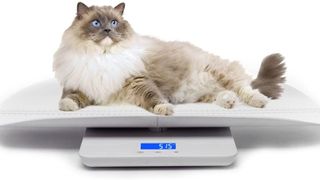 Mindpet-med Digital Pet Scale
An affordable weighing scale for pets, with various helpful functions
Specifications
Designed for:
Smaller pets
Measures in:
lbs/kgs/oz **
Takes:
AAA alkaline batteries**
Reasons to buy
+
Highly rated online
+
Reasonably priced
Reasons to avoid
-
Not suitable for larger pets
These sleek weighing scales are smaller than the Redmon scales, but claim to be able to hold up to 220 pounds. They're suitable for young and small pets, including kittens and puppies, as well as fully grown dogs and cats.
For their reasonable price, these scales offer high precision, with four precise sensors. They're are designed with a 60cm-long tray that's easy to take off to wipe and clean, with have a swivel lock on the tray to hold it in place. This also makes it easier to store away.
The LCD display features a helpful blue backlight, offering high contrast for a clear reading, even in the dark. You can get the readings in pounds, kilograms, or ounces, depending on your preference. They also have a tare feature, which allows you to subtract weight from the measurement to make room for additional weight, such as a collar or cone.
Another helpful feature is the hold function, which keeps the accurate reading on the display for pets that like to move around – especially important for curious pups and kittens. Just make sure to place the scales on an even, hard surface, such as lino or wood floor or a table, rather than carpet.
The design is undoubtedly sleek, but it probably isn't the best for pets who really don't like weigh-in day, which is something to be mindful of.
The Mindpet Med scales require two AAA alkaline batteries, and come with a one-year warranty.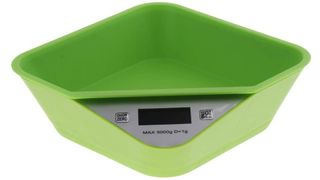 Prettyia Multi-Function Digital Pet Scale
For the miniature mammal/rodent
Specifications
Designed for:
Small animals
Power:
: Two AAA batteries
Reasons to buy
+
Handy bowl design
+
Reasonably priced
Reasons to avoid
-
Not an established, well-known brand
You could choose the best, most expensive weighting scales in the world, with the flashiest, most up to date technology, but if you can't get your pet to stay on them for a second, they're useless.
It's rare to find a set of weighing scales that can contain an animal who won't sit still. That's where the Prettyia digital scales come in. They have a bowl design that will make life so much easier if you're trying to measure a small animal that wants to run away, such as a hamster, gerbil, bird, guinea pig, rabbit, or even a small kitten or puppy.
You can even pop some food in the bowl, or your pet's favorite treat, if they need a happy distraction while you set things up.
These scales come with a tray that's easy to wipe clean – helpful if your pet is prone to nervous accidents – and a HD LCD display. They also have a four-point, high-precision sensor to get your pet's weight down to the last gram – or ounce or pound, depending on your preference.
It will also shut down automatically when not in use, in case you were distracted by getting your pet back to its cage and forgot to turn it off. The scales come in either white, green, or black, so there's slightly more aesthetic choice than with most scales.
How to choose the best weighing scales for pets
When it comes to weighing your pets, you want to make the process as quick and easy as possible for even the most relaxed and easy pet. After all, the scales are no match for their warm and comfortable spot on the sofa.
There are a number of factors to consider before choosing a set of weighing scales. They're quite an investment, so it will be worth it to take your time and consider what you need.
It's wise to not only consider the size and temperament of your pet when choosing which weighing scales to purchase, but it's also worth considering how often you'll be using the scale and for what purposes. This will help determine the sizes of the scales you'll need – larger scales may come with more option and flexibility, but you'll need to have somewhere you can store them.
Smaller and portable scales will be better suited to those who only need to weigh their pets every now and again, and want the option to store them away in-between weighs.
There are many options on the market, and different models vary hugely in price. It's best to go for a trusted and established brand, preferably one that has links with veterinary practices, especially if you're looking for precise measuring.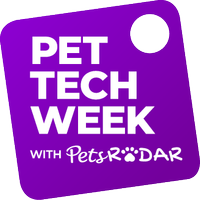 Pet Tech Week on T3
Pet Tech Week is brought to you in association with our new sister site PetsRadar.com. PetsRadar.com is a new pathway to healthy, happy pets that offers a unique combination of trusted advice and the best deals on top pet products – check it out today at www.petsradar.com.
Get the best advice, tips and top tech for your beloved Pets
Jessica is a freelance features journalist. When she isn't writing, she's chasing after strangers' dogs in the park.