21 pet photography ideas to inspire you all-year round
These pet photography ideas will help you create a special memory for Valentine's Day, Easter, Halloween and Christmas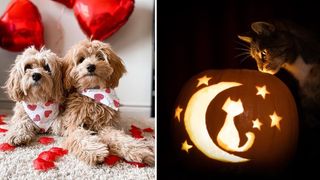 (Image credit: Instagram / @millie_and_minnie / @dustyandmira)
Including your pets in all your celebrations is a great way to make them feel like part of the family. These inspiring pet photography ideas will not only light up your social media feed, but creating special photoshoots can also help you produce lovely mementos for other members of your family.
Whether it's creating a bespoke pet Valentine's Day card, turning your pooch into a bunny for Easter or dressing them up for the Christmas season, we've got some great ideas here for you to save up and use throughout the year.
Whether you're a pro or completely new to photography, we've also included some simple yet effective tips to help you get started. For more in-depth advice, check out our guide to how to take great pet photos and be sure to review safety advice around dressing up your pet before you get snap happy.
Since a lot of holidays are centered around food, don't feel you need to leave your pet out of it; see our seasonal treat recipe posts for more holiday inspiration including delicious dog treat recipes for Valentine's Day and spooktacular homemade Halloween cat treats.
Eggstraordinary
Season: Easter Cost: Inexpensive
Posing your pooch(es) around a basket of Easter-themed goodies makes for a cute Easter-themed picture, as shown in this adorable photoshoot by Corgithas. Just be sure to keep an eye on any chocolate in the vicinity of your pup as it's highly toxic to dogs.
Pet Presents
Season: Christmas Cost: Inexpensive
Surrounding your pet with presents, in front of an out of focus Christmas tree is a simple, yet effective approach in this fabulously festive photoshoot by bonusbunnies
Be My Valentine
Season: Valentine's Day Cost: Inexpensive
Cavapoochonolive has matched their bandana to the Valentine's Day treats in front of them. Make sure if you use chocolate for props that it's either dog-safe chocolate or you keep a close eye on them to make sure they don't ingest it.
Trick or Treat
Season: Halloween Cost: Moderate - High
In this spooktacular photo by @caratan1023, it's Halloween outfits for everybody! If you've got multiple pets in your household be sure to capture them on camera together.
Two's Company
Season: Valentine's Day Cost: Inexpensive
Millie and Minnie prove that Valentine's Day shoots work especially well if you have two dogs (or you can borrow somebody else's). Look for cute bandanas, and try sprinkling rose petals for an extra cute edge.
Easter Bucket
Season: Easter Cost: Moderate - high
This sweet photoshoot by Oh.so.goby suggests turning your pooch into your very own Easter bunny, with themed decorations really setting off the look.
Twinkle Twinkle
Season: Christmas Cost: Inexpensive
Take inspiration from fra_sintini and try draping battery-operated lights over your pet for a cute look. Only do this with very calm animals who you know won't chew the cable. Never leave them unsupervised with Christmas lights.
Pumpkin Pie
Season: Halloween Cost: Inexpensive
The obvious choice for Halloween - gather together a group of pumpkins, place your pooch in front of them - job done! murphy_thegoldenboy shows just how effective this can look.
Balloon Fun
Season: Valentine's Day Cost: Inexpensive
Like @adventures.of.aya.and.shaka, experimenting with image manipulation software, such as Photoshop, is a good way to include less than pet friendly elements with pictures of your beloved animals.
Dress Up Time
Season: Easter Cost: Inexpensive
Why not create a photoshoot with an Easter-bunny outfit like @lola_the_pugalier_walker ? Ensure it's comfortable, loose and doesn't restrict movement for long periods of time.
Carrot Cat
Season: Easter Cost: Inexpensive
Simple and stylish, this feline photoshoot by @sweet.lilhoney uses chic Easter-themed props, including a basket, to create a themed look.
Dog Reindeer
Season: Christmas Cost: Inexpensive
goldenboy_bravo proves that investing in a simple set of antlers for the Christmas period is a fun way to Christmas up any pooch.
Ghoulish
Season: Halloween Cost: Inexpensive
Chances are you've already got some towels or blankets with holes in if you've got a dog… use them to create a ghost-like effect like @gruffyglp.
Table Manners
Season: Valentine's Day Cost: Inexpensive
This gorgeous furry friend is ready and waiting for his valentine to come home for a special dinner in this simple photoshoot by Miles Durkee.
Waiting for Santa
Season: Christmas Cost: Inexpensive
A wistful looking out of the window (perhaps for Santa Paws?) while next to the Christmas tree shot is an easy yet effective idea by Bean Chi Weenie
Will You Be My Valentine?
Season: Valentine's Day Cost: Inexpensive
This super-cute doggy is sure to have all the lovers swooning with his offering of a Valentine's rose. Make sure you use a plastic rose to avoid sharp thorns in your dog's mouth like @rupert_the_bear_and_friends
Halloweenie
Season: Halloween Cost: Inexpensive
This spooktacular photoshoot by @dachshundgeranma sees an adorable sausage dog dressed like a pumpkin. Enough said.
Smell the Roses
Season: Valentine's Day Cost: Inexpensive
A simple idea, but well-executed from Albalone Pet Studio. This Valentine's Day photoshoot is a good way to include both your dog-love and your human-love.
Hats Off
Season: Christmas Cost: Inexpensive
This fun and festive photoshoot by @psieseje features a santa hat, a santa sack, and a willing pooch… Merry Christmas!
Bunnylicious
Season: Valentine's Day Cost: Inexpensive
Two bunnies placed together inside a heart shape (in this case, made from feathers) makes for a cute Valentine's idea by @rabbiandhiskittys
Cat O'Lantern
Season: Halloween Cost: Inexpensive
Dusty & Mira show how effective it is to capture your inquisitive pets above a lit pumpkin - use a battery operated light inside the pumpkin for safety, rather than a candle.
How to take the best shots for your pet photoshoot
1. Turn it into a game (and stock up on the treats)
Bonding with your pet via daily playtime is a must. Why not turn your photoshoot into a game and make it as fun as possible, trying not to worry too much about the end results. Make sure you have plenty of treats to tempt your pet to look at the camera.
2. Always put your pet first
Although it can be tempting to dress up our pets and make them pose in all manner of ways, if your pet's just not into it, please don't force them. You'll probably find if you're relaxed and enjoying yourself, your pet will happily play along, but remember to stop if they're clearly under stress.
3. Avoid harsh light and flashes
You need good light for good photographs, so it makes sense to try and carry out your photoshoot in a well-lit room, preferably with lots of natural light. Avoid using strong flashes or shining bright lights in your pet's face.
4. Get down to their level
The best pet photography results usually come from getting down to your pet's level. Put yourself on the same level as them and see your photography rise up a notch.
5. Be patient
Never work with children or animals goes the old adage. Photography is no different - it can be frustrating at times if your pet isn't doing exactly what you want them to do. Try to keep, calm and patient at all times - for everybody's sake.
Get the best advice, tips and top tech for your beloved Pets
Amy Davies is a freelance writer and photographer with over 15 years experience. She has a degree in journalism from Cardiff University and has written about a huge variety of topics over the years. These days she mostly specialises in technology and pets, writing across a number of different titles including TechRadar, Stuff, Expert Reviews, T3, Digital Camera World, and of course PetsRadar. She lives in Cardiff with her dog, Lola, a rescue miniature dachshund.