Five delicious dog treat recipes for Valentine's Day
These scrumptious dog treat recipes will make your furkids' tastebuds swoon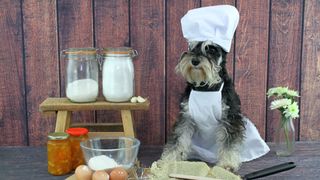 (Image credit: Getty Images)
When looking for dog treat recipes, you will likely want something that's quick and easy, but still says I love you! Thankfully, we've found recipes that tick all those boxes. Making your own homemade dog treats this Valentine's Day can be the perfect way of letting your precious pooch know just how much they mean to you.
Valentine's Day is definitely going to the dogs this year, and while your pup has their own love language, there's no quicker way to their heart than through their stomach. With that in mind, here are our favorite dog treat recipes that'll let you bake some love into the air this Sunday. If you're short on time, take a look at our guide to the best dog treats for some ready-made options.
1. Red Velvet Cupcakes for Dogs
Author: Kiki Kane
Prep time: 15 minutes
Baking time: 20 minutes
Makes 48 mini cupcakes
Ingredients for the cupcakes:
1 beet (or about ¾ cups worth)
¼ cup of strawberries (about 3 large strawberries)
½ cup of applesauce
⅓ cup of nonfat yogurt
2 eggs
2 cups of oat flour (blitz rolled oats in the food processor to make your own)
¼ cup of carob powder
1 teaspoon of baking powder
For the frosting:
3 tablespoons of non-fat yogurt
1 teaspoon of cornstarch
1 block of Neufchatel non-fat cream cheese
¼ cup strawberries or blueberries for color and flavor if you like
1 teaspoon of vanilla extract
Instructions
Preheat oven to 350°.
Roughly dice beet and place in the bowl of your food processor.
Add the applesauce and yogurt, and blend until smooth.
Add eggs and pulse until just combined.
Add the dry ingredients and pulse until just incorporated.
Pipe or spoon batter into mini cupcake pans, making sure the tops are rounded and smooth and there are no bubbles.
Bake for 20 minutes, or until a toothpick comes out clean.
Cool completely before frosting.
For the frosting:
Place the cream cheese and yogurt in the bowl of your mixer, and whip on medium until nice and fluffy.
Add cornstarch and vanilla, and mix until combined.
Add frosting to a piping bag, and swirl it up to your heart's content.
You can decorate your creations with freeze-dried fruit bits or dog treats to be healthy.
2. Sweet Pooch Pancakes
Author: Rachael Ray
Prep time: 15 minutes
Baking time: 5 minutes
Makes 16 pancakes
Ingredients
2 large eggs
1 cup milk
1 1/2 tablespoons butter, melted, or vegetable oil
1 tablespoon honey
1 cup whole wheat flour
1/2 cup all-purpose flour
1 teaspoon baking powder
1/2 teaspoon ground cinnamon
Cooking spray
2 cups sliced banana, berries, and mango
1 cup plain yogurt
Instructions
Preheat a griddle or large nonstick skillet over medium heat.
In a medium bowl, whisk together the eggs, milk, butter, and honey.
Gently whisk in the 2 flours, the baking powder, and cinnamon.
Spray the griddle with cooking spray. Drop the batter, 2 tablespoons at a time, onto the greased griddle. Cook until bubbles begin to form and break, about 3 minutes.
Press a few pieces of fruit into each pancake, then flip and cook until brown on the bottom, about 2 minutes.
Drizzle with the yogurt and top with the remaining fruit.
3. Cranberry Hearts
Author: Sarah Dickerson
Prep time: 10 minutes
Baking time: 15 - 18 minutes
Makes 20 hearts
Ingredients
2 free range eggs
1 and 1/2 cups almond flour
1 tablespoon coconut oil
3-4 tablespoons of coconut flour
1/2 cup dried cranberries
Instructions
Preheat oven to 165°C.
Beat 2 eggs and set aside.
Combine your almond flour, coconut oil, and dried cranberries together in a bowl.
Once combined, pour in the eggs and mix together with your hands. The dough will be very wet.
Begin adding in your coconut flour one tablespoon at a time, mixing in each one after it has been added. You want to achieve a consistency that is easy to roll and not super sticky. This will require between 3-4 tablespoons depending on your brand of flour and the size of your eggs. The dough should easily form a ball.
Roll out your dough and cut out the treats using bite-sized cookie cutters. Hearts are perfect for Valentine's Day. Tip: Sprinkle a little coconut flour on top of your dough to keep it from sticking to the cookie cutters.
Place your treats on a cookie sheet lined with parchment paper. Bake in the oven for 15-18 minutes or until crisp.
Makes approximately 20 treats (dependent on the size of the cutter). Let cool before giving to your pooch. Enjoy!
4. Easy No-Bake Strawberry Yogurt Dog Treats
Author: Kiki Kane
Total time: 10 minutes
Makes 20 balls
Ingredients
1 ½ cups oat flour (pulverize rolled oats in the food processor to make your own)
1 cup coconut flour
1 cup plain nonfat yogurt
⅓ cup strawberries (about 4 large)
1 tbsp coconut oil
1 teaspoon of vanilla extract
2 tablespoons of dried pomegranate seeds (you can skip this ingredient if you can't find them in your store)
¼ cup shredded unsweetened coconut flakes
Instructions
Combine all ingredients in the bowl of your food processor and pulse until combined.
Form balls by the handful, or make whatever size works the best for your dog.
Squeeze tightly!
Chill before serving for best consistency.
Feeling fancy? You can roll these in more unsweetened coconut flakes for a fluffy effect.
5. Cinnamon Bun Bites
Author: Rebecca Endicott
Prep time: 15 minutes
Baking time: 20 minutes
Ingredients
2 cups whole-wheat flour
1 teaspoon of baking powder
1/2 cup water
1 egg
1/4 cup canola oil
2 tablespoons of honey
1 teaspoon of cinnamon
1 cup cream cheese
1 additional tablespoon of water
Instructions
Combine flour, baking powder, 1/2 cup of water, egg, and canola oil. Whisk thoroughly together until dough forms.
Roll dough out flat on a floured surface.
Drizzle honey evenly across the surface of the dough. Top with an even layer of cinnamon.
Roll the dough up tightly lengthwise, and cut into inch-thick slices.
Place slices on a lined baking sheet and bake 15 minutes at 350 °F.
Meanwhile, combine cream cheese and 1 tablespoon of water. Heat for 30-60 seconds, then whisk together.
When cinnamon bites are ready, drizzle with cream cheese mixture.
Serve and watch your pup enjoy!
Kathryn is a freelance writer with a passion for creating health and wellness, travel and wildlife content. Originally from New Zealand, her nomadic lifestyle has her currently fur baby-less. She scratches her pet parent itch by stealing frequent cuddles with any neighbourhood cat kind enough to indulge her.
Get the best advice, tips and top tech for your beloved Pets
Thank you for signing up to Petsradar. You will receive a verification email shortly.
There was a problem. Please refresh the page and try again.