8 delicious dog treat recipes for Valentine's Day
These scrumptious dog treat recipes will have your foodie furkid salivating in anticipation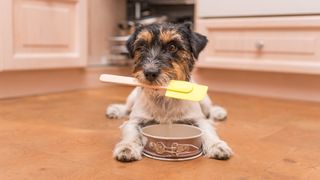 (Image credit: Getty Images)
With Valentine's Day just around the corner, these dog treat recipes are the perfect way to spoil your forever friend and show them some love. Whether they're peanut butter fiends or like their treats to come in the form of honey and banana pancakes, you'll find something here to suit every sweet-toothed foodie fur baby.
Making your own homemade dog treats can be a great way of showing your canine companion just how much they mean to you, and unlike store-bought treats, you can also control what goes into them, making it easy to avoid any ingredients your pet might be sensitive too.
And if you're worried about spoiling your pup with treats this Valentine's Day, don't be. As long as their usual daily diet consists of the best dog food, you can ensure they're getting all the vitamins and minerals they need to thrive. The odd special food item here and there won't do them any harm and besides, it's the holiday of love, and what better way to say 'I love you' than with food!
Plus, if your dog's love language happens to be gifts, then there's no quicker way to their heart than through their stomach, although we're pretty sure your pup is going to adore these delicious treats regardless of whether food or hugs is their preferred way to be shown affection.
So, without further ado, it's time to pop on that apron, get out those baking pans and whip up a batch or two of these mouthwatering morsels. Don't have time to bake? No worries, our guide to the best dog treats has got you covered with some fantastic ready-made options.
1. Carob Pup Cups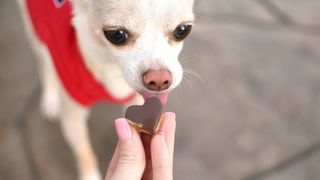 Ingredients:
1 tablespoons carob chips, divided in half
2 teaspoons coconut oil, divided in half
2 tablespoons natural peanut butter
Instructions:
Fill a saucepan 1/3 way full with water and bring to a boil.
Once water reaches a rolling boil, turn it down to a simmer.
Place a heatproof bowl on top of the saucepan. It should fit tightly on top of the saucepan and shouldn't touch the water. Make sure no steam gets into the bowl – it will ruin your melt.
Put the first half of carob chips and coconut oil into the bowl. After a couple of minutes, start to mix them around. Continue mixing until ingredients reach a smooth consistency and there are no more lumps.
Pour melted carob into an icing bag and add a thin layer into a heart-shaped mold.
Freeze for 5 minutes to set.
In the meantime, lightly melt peanut butter until it's a thinner consistency. You can either do this in a double boiler or the microwave.
Pour peanut butter into an icing bag and add a thin layer into a heart-shaped mold.
Freeze for 10 minutes to set.
Repeat the carob melting process with the second half of carob chips and coconut oil.
Pour melted carob into an icing bag and add a final layer of carob into a heart-shaped mold.
Freeze for 2 hours, or until completely set.
Recipe courtesy of prouddogmom.com
2. DIY Valentine's Day Pup Cakes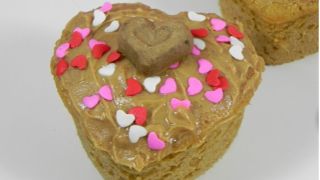 Ingredients:
Instructions:
Mix the Puppy Cake mix as stated in the directions on the box
Pour mixture into a heart shaped pan
Bake for 20-25 minutes at 350 degrees
Allow the pup cakes to cool before applying frosting and decorations
Frost your pup cakes using the frosting that came with the Puppy Cake mix or use peanut butter
Decorate the pup cakes using Cookie Crunchie hearts and/or dog-friendly sprinkles
Recipe courtesy of irresistablepets.net
3. Cran-Pumpkin Peanut Butter Oatmeal Dog Treats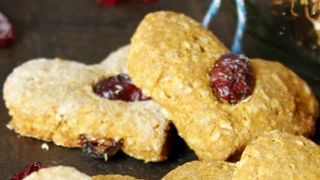 Ingredients:
1 1/2 cups of whole wheat flour
1 1/2 cups of Oatmeal flour - simply place 1 1/2 cups of regular oatmeal in the food processor and grind till fine
1/2 – 1 cup of dried cranberries
1 cup of pure packed pumpkin
2 large eggs
1/2 cup peanut butter of your choice
1 tablespoon of organic brown sugar (optional)
Instructions:
Use a standing mixer, crack your two eggs into the mixing bowl and beat for about 1 minute
Add the packed pumpkin, mix for a minute and then add your peanut butter and beat till everything is nice and creamy
Slowly add your flours and the dried cranberries until you get a nice thick…not too sticky…not too dry dough…one that is perfect for rolling. If the dough is a bit too sticky, just add a touch more flour and if it is too dry, add a little bit more peanut butter or a little bit of milk.
Flour your work area and take the dough out of the bowl and put it on the floured surface…cut in half…and roll the dough to approximately 1/4″ thickness and then cut away with your favorite cookie cutter.
Gather the scraps and roll them out and start cutting out shapes till all the dough is used.
Line 2 cookie trays with parchment paper and load them up with the treats. You can place them close together since they do not rise. Bake in a 350 oven for 30 minutes, depending on your oven a few minutes more or less. We made them crunchy and it took exactly 33 minutes.
Let cool and then let the pups at them. They will last in a well sealed container for about 10 days. If you know you are not going to use them, pack them up in freezer bags and place them in the freezer and just take them out as needed. They'll last in the freezer for up to six months.
Recipe courtesy of thecottagemarket.com
4. Red Velvet Cupcakes for Dogs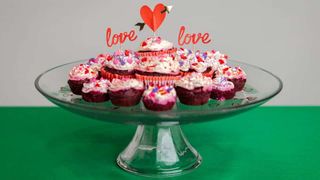 Ingredients:
1 beet (or about ¾ cups worth)
¼ cup of strawberries (about 3 large strawberries)
½ cup of applesauce
⅓ cup of nonfat yogurt
2 eggs
2 cups of oat flour (blitz rolled oats in the food processor to make your own)
¼ cup of carob powder
1 teaspoon of baking powder
For the frosting:
3 tablespoons of non-fat yogurt
1 teaspoon of cornstarch
1 block of Neufchatel non-fat cream cheese
¼ cup strawberries or blueberries for color and flavor if you like
1 teaspoon of vanilla extract
Instructions
Preheat oven to 350°.
Roughly dice beet and place in the bowl of your food processor.
Add the applesauce and yogurt, and blend until smooth.
Add eggs and pulse until just combined.
Add the dry ingredients and pulse until just incorporated.
Pipe or spoon batter into mini cupcake pans, making sure the tops are rounded and smooth and there are no bubbles.
Bake for 20 minutes, or until a toothpick comes out clean.
Cool completely before frosting.
For the frosting:
Place the cream cheese and yogurt in the bowl of your mixer, and whip on medium until nice and fluffy.
Add cornstarch and vanilla, and mix until combined.
Add frosting to a piping bag, and swirl it up to your heart's content.
You can decorate your creations with freeze-dried fruit bits or dog treats to be healthy.
Recipe courtesy of Kiki Kane at Rover.com
2. Sweet Pooch Pancakes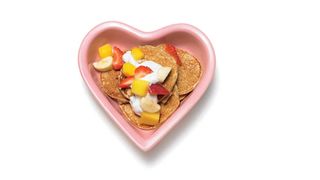 Ingredients:
2 large eggs
1 cup milk
1 1/2 tablespoons butter, melted, or vegetable oil
1 tablespoon honey
1 cup whole wheat flour
1/2 cup all-purpose flour
1 teaspoon baking powder
1/2 teaspoon ground cinnamon
Cooking spray
2 cups sliced banana, berries, and mango
1 cup plain yogurt
Instructions:
Preheat a griddle or large nonstick skillet over medium heat.
In a medium bowl, whisk together the eggs, milk, butter, and honey.
Gently whisk in the 2 flours, the baking powder, and cinnamon.
Spray the griddle with cooking spray. Drop the batter, 2 tablespoons at a time, onto the greased griddle. Cook until bubbles begin to form and break, about 3 minutes.
Press a few pieces of fruit into each pancake, then flip and cook until brown on the bottom, about 2 minutes.
Drizzle with the yogurt and top with the remaining fruit.
Recipe courtesy of rachaelraymag.com
6. Cranberry Hearts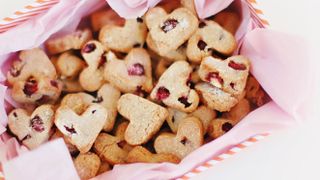 Ingredients:
2 free range eggs
1 and 1/2 cups almond flour
1 tablespoon coconut oil
3-4 tablespoons of coconut flour
1/2 cup dried cranberries
Instructions:
Preheat oven to 165°C.
Beat 2 eggs and set aside.
Combine your almond flour, coconut oil, and dried cranberries together in a bowl.
Once combined, pour in the eggs and mix together with your hands. The dough will be very wet.
Begin adding in your coconut flour one tablespoon at a time, mixing in each one after it has been added. You want to achieve a consistency that is easy to roll and not super sticky. This will require between 3-4 tablespoons depending on your brand of flour and the size of your eggs. The dough should easily form a ball.
Roll out your dough and cut out the treats using bite-sized cookie cutters. Hearts are perfect for Valentine's Day. Tip: Sprinkle a little coconut flour on top of your dough to keep it from sticking to the cookie cutters.
Place your treats on a cookie sheet lined with parchment paper. Bake in the oven for 15-18 minutes or until crisp.
Makes approximately 20 treats (dependent on the size of the cutter). Let cool before giving to your pooch. Enjoy!
Recipe courtesy of prettyfluffy.com
7. Easy No-Bake Strawberry Yogurt Dog Treats
Ingredients:
1 ½ cups oat flour (pulverize rolled oats in the food processor to make your own)
1 cup coconut flour
1 cup plain nonfat yogurt
⅓ cup strawberries (about 4 large)
1 tbsp coconut oil
1 teaspoon of vanilla extract
2 tablespoons of dried pomegranate seeds (you can skip this ingredient if you can't find them in your store)
¼ cup shredded unsweetened coconut flakes
Instructions:
Combine all ingredients in the bowl of your food processor and pulse until combined.
Form balls by the handful, or make whatever size works the best for your dog.
Squeeze tightly!
Chill before serving for best consistency.
Feeling fancy? You can roll these in more unsweetened coconut flakes for a fluffy effect.
Recipe courtesy of Kiki Kane at Rover.com
8. Cinnamon Bun Bites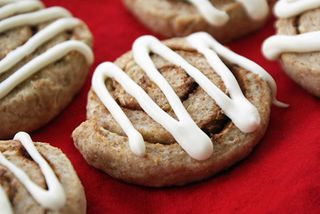 Ingredients:
2 cups whole-wheat flour
1 teaspoon of baking powder
1/2 cup water
1 egg
1/4 cup canola oil
2 tablespoons of honey
1 teaspoon of cinnamon
1 cup cream cheese
1 additional tablespoon of water
Instructions:
Combine flour, baking powder, 1/2 cup of water, egg, and canola oil. Whisk thoroughly together until dough forms.
Roll dough out flat on a floured surface.
Drizzle honey evenly across the surface of the dough. Top with an even layer of cinnamon.
Roll the dough up tightly lengthwise, and cut into inch-thick slices.
Place slices on a lined baking sheet and bake 15 minutes at 350 °F.
Meanwhile, combine cream cheese and 1 tablespoon of water. Heat for 30-60 seconds, then whisk together.
When cinnamon bites are ready, drizzle with cream cheese mixture.
Serve and watch your pup enjoy!
Recipe courtesy of littlethings.com
Get the best advice, tips and top tech for your beloved Pets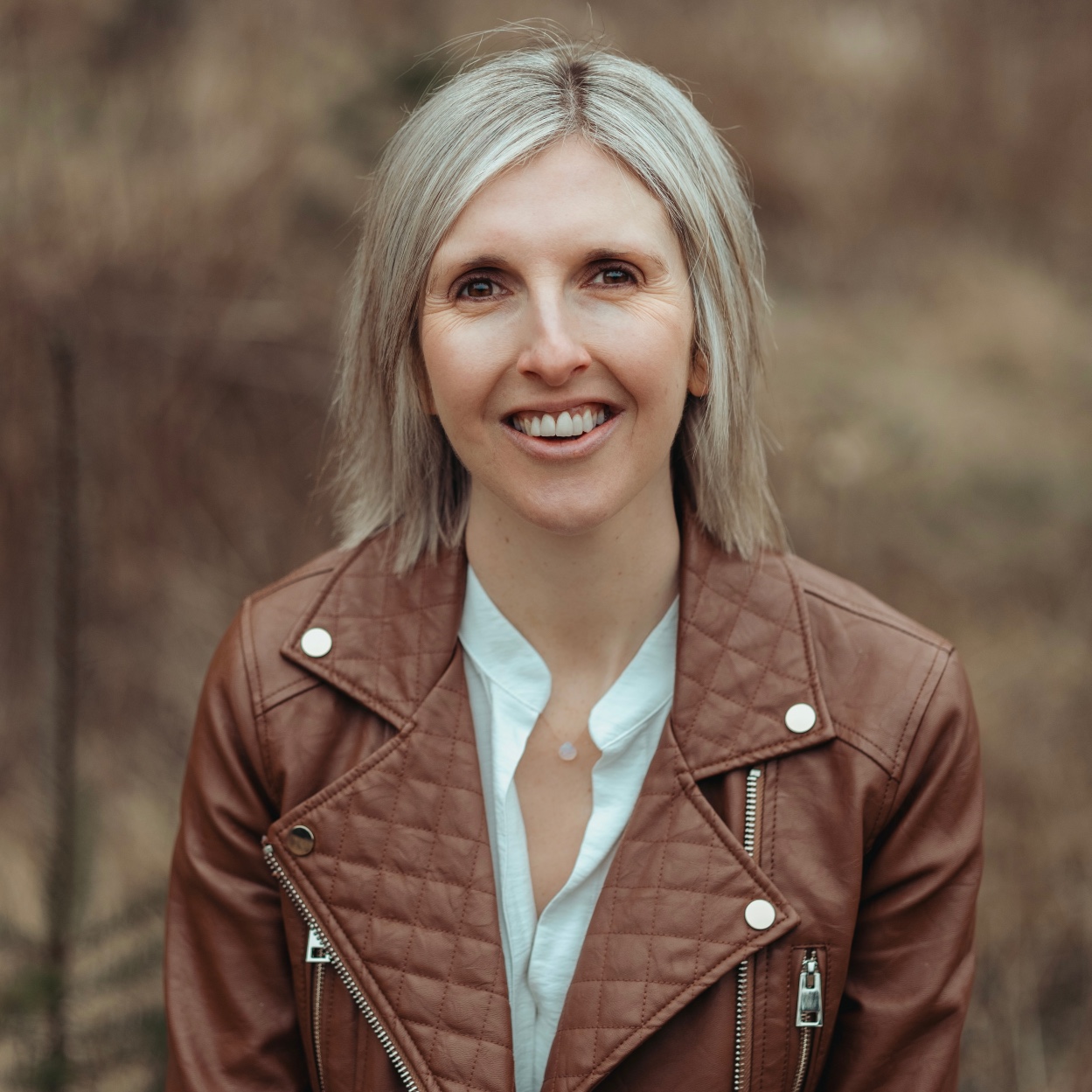 Kathryn is a freelance writer who has been a member of the PetsRadar family since it launched in 2020. Highly experienced in her field, she's driven by a desire to provide pet parents with accurate, timely, and informative content that enables them to provide their fur friends with everything they need to thrive. Kathryn works closely with vets and trainers to ensure all articles offer the most up-to-date information across a range of pet-related fields, from insights into health and behavior issues to tips on products and training. When she's not busy crafting the perfect sentence for her features, buying guides and news pieces, she can be found hanging out with her family (which includes one super sassy cat), drinking copious amounts of Jasmine tea and reading all the books.