DIY peanut butter dog treats your pooch will love
These pawsome DIY peanut butter dog treats can be whipped up in under 30 minutes and make the perfect delicious and nutritious reward for your canine companion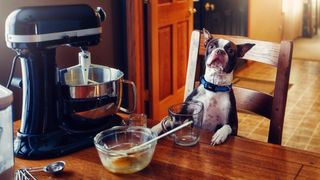 (Image credit: Getty Images)
These DIY peanut butter dog treats will have your mutt's mouth watering and best of all? They're healthy, inexpensive, and can be whipped up in under 30 minutes.
While peanut butter is often thought of as a food that just us two-legged folks go nuts for (pun intended!), it turns out that our canine companions are pretty crazy about the creamy stuff too. However, before you go reaching for your nearest jar of gooey goodness, it's important to note that your dog needs a special type of dog-friendly peanut butter to enjoy this popular dog treat.
Opt for xylitol-free peanut butter to ensure your pup can eat their delicious snack, as the one found in our kitchen can be highly toxic to dogs. You can often find suitable peanut butter replacements in online pet stores; be sure to search for dog-friendly or xylitol-free peanut butter for products that are specifically designed for our canine companions.
Thinking about low or free from additives is another handy point to consider, and always make sure you feed your pooch any treat in moderation and in small quantities. After all, we want to ensure our friend is always in their best health!
PetsRadar's favorite DIY peanut butter dog treats...
1. Peanut butter and pumpkin dog treats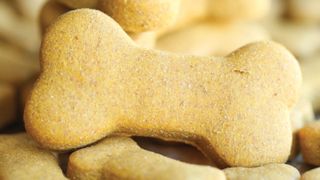 Ingredients:
⅔ cup pumpkin puree
¼ cup xylitol-free peanut butter
2 large eggs
2½ - 3 cups wholewheat flour
Method:
Preheat oven to 350 degrees F. Line a baking sheet with parchment paper or a silicone baking mat; set aside.
In the bowl of an electric mixer fitted with the paddle attachment, beat pumpkin puree, peanut butter, and eggs on medium-high until well combined, about 1-2 minutes. Gradually add 2½ cups flour at low speed, beating just until incorporated. Add an additional ¼ cup flour at a time just until the dough is no longer sticky.
Working on a lightly floured surface, knead the dough 3-4 times until it comes together. Using a rolling pin, roll the dough to ¼-inch thickness. Using cookie cutters, cut out desired shapes and place them onto the prepared baking sheet.
Place into oven and bake until the edges are golden brown, about 20-25 minutes – the longer they bake, the crunchier they'll be, so feel free to adjust the time to suit your pup's preferences.
Let cool completely.
2. No-bake honey oat peanut butter dog treats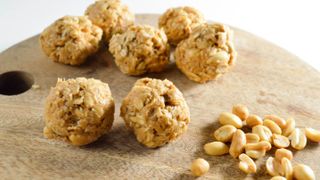 Ingredients:
1 cup oats
½ cup xylitol-free peanut butter
⅓ cup honey
⅓ cup peanuts
Method:
Stir all of the ingredients together in a large bowl.
Chill the mixture for about half an hour.
Using your hands or a spoon, scoop out a bit of the mixture and roll it into a 1-inch ball.
Repeat the process until all the mixture is used up.
Serve immediately or store in an airtight container in your fridge for up to a week.
3. Peanut butter treats with coconut oil drizzle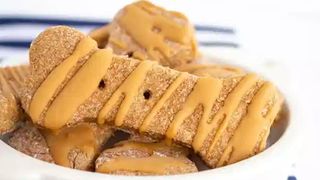 Ingredients for the treats:
1 cup creamy xylitol-free peanut butter
2 large eggs
2½ cups wholewheat flour
¾ cup water or broth
Ingredients for the drizzle:
1½ tablespoons coconut oil
¼ cup xylitol-free peanut butter
Method for the treats:
Preheat oven to 350 degrees F. Line a cookie sheet with parchment paper.
In a large mixing bowl, add peanut butter and eggs. Beat with a hand mixer until combined.
Add in the whole wheat flour and water and beat until the dough forms a ball.
Dust your work surface with whole wheat flour.
Roll the dough out to a ¼-inch thickness.
Cut out with the cookie cutter and place an inch apart on the prepared cookie sheet. They won't spread.
Press holes into the cookie using a fork or a skewer.
Bake for 18 minutes or until the edges are golden brown. This will depend on the size of your cookie cutter. Mine was 3¼-inch long.
Store in an airtight container. The cookies freeze well after being baked and will last up to 3 months in the freezer.
Method for the drizzle:
In a small microwave-safe bowl, add in the peanut butter and coconut oil. Microwave for 30 seconds and stir to combine. It should be a runny consistency but thick enough so it doesn't thin out and not hold its shape.
Lay the dog bones out on wax paper.
Use a spoon or add the drizzle to the sandwich bag and cut a small hole in the corner, drizzle the glaze over top of each dog treat.
4. Peanut butter cinnamon molasses dog treats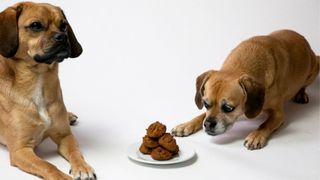 Ingredients:
½ cup unsweetened and unsalted xylitol-free peanut butter
¼ cup unsweetened apple sauce
½ cup filtered water
1 tbsp unsulphured molasses
¾ cup chickpea flour
½ cup + 2 tbsp millet flour
1 tbsp ground flaxseed
2½ tsp baking powder
1 tsp cinnamon
Method:
Preheat the oven to 375 degrees F.
Line a large baking sheet with parchment paper and set it aside.
In a large bowl, combine the peanut butter, apple sauce, water, and molasses.
Add in the chickpea and millet flours, ground flaxseed, baking powder, and cinnamon. Stir until well-combined.
Allow the batter to sit for 5 minutes.
Using a cookie dough scoop (about 1½ – 2 tablespoons), spoon the dough onto the prepared baking sheet.
Bake the treats for 20 minutes, until lightly browned.
Remove the treats from the oven and allow them to cool completely.
Give your dog a cookie and a big hug. Leftovers can be stored in an airtight container in the fridge or freezer.
Get the best advice, tips and top tech for your beloved Pets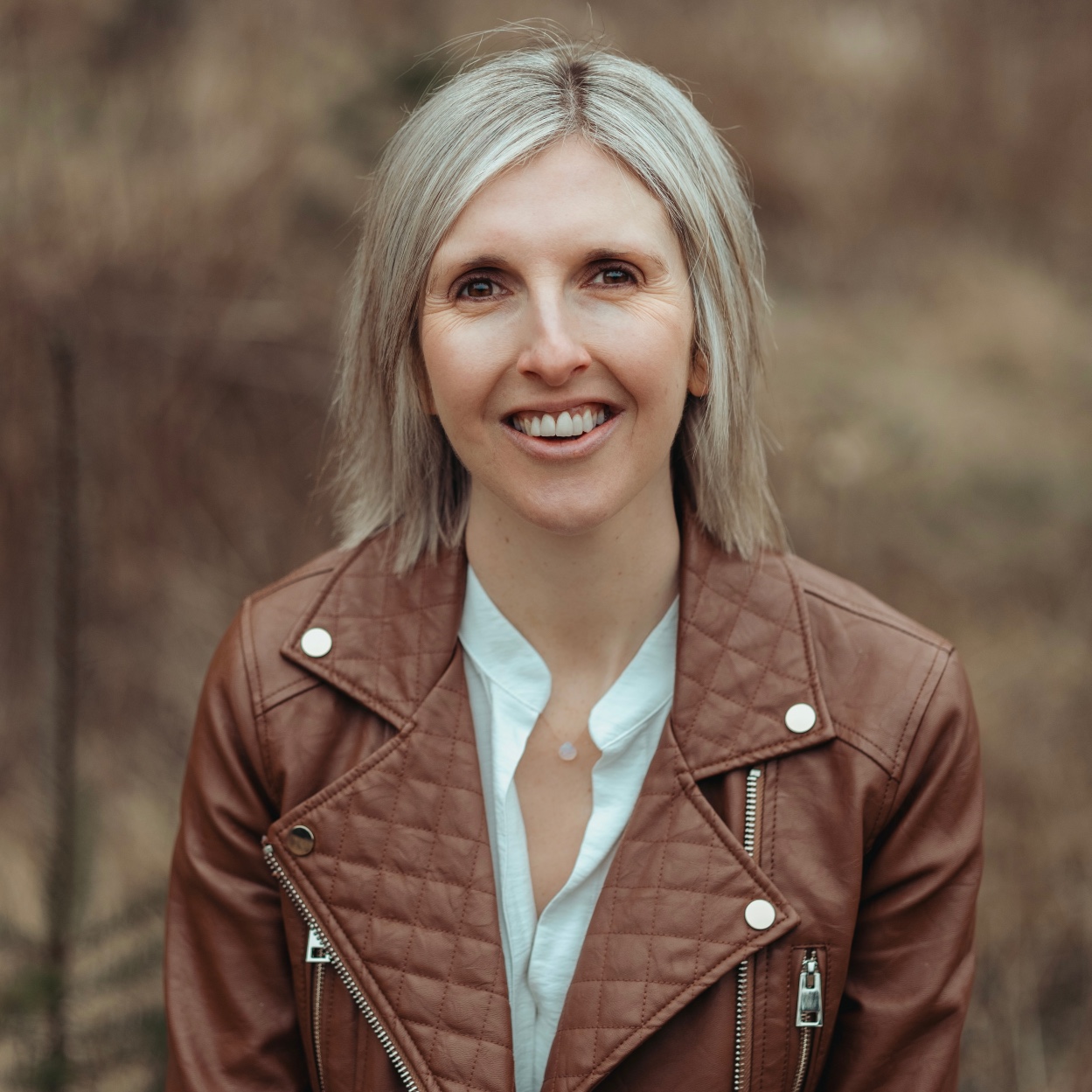 Kathryn is a freelance writer who has been a member of the PetsRadar family since it launched in 2020. Highly experienced in her field, she's driven by a desire to provide pet parents with accurate, timely, and informative content that enables them to provide their fur friends with everything they need to thrive. Kathryn works closely with vets and trainers to ensure all articles offer the most up-to-date information across a range of pet-related fields, from insights into health and behavior issues to tips on products and training. When she's not busy crafting the perfect sentence for her features, buying guides and news pieces, she can be found hanging out with her family (which includes one super sassy cat), drinking copious amounts of Jasmine tea and reading all the books.