Purina vs. Royal Canin dog food: Which one should you pick?
It's Purina vs. Royal Canin dog food in the ring as we find out which of these brands will win the gold medal in canine chow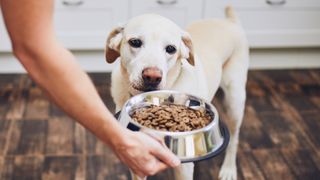 (Image credit: Getty Images)
When it comes to Purina vs. Royal Canin dog food, trying to decide which one to go for is a common dilemma amongst pet parents. Both are firm favorites with our canine companions when it comes to flavor and, thankfully, they're also right up there when it comes to delivering high-quality nutrition too.
Purina and Royal Canin have each had a consistently solid reputation over the years for producing the best dog food that money can buy. And while it's great to have two stellar brands offering up a range of delicious and nutritious options, it can make trying to choose between the two more than a little challenging.
To help you out, we've examined the dog food ingredients contained in the Purina and Royal Canin lines and explored the advantages and disadvantages of each brand. Below, you'll find everything you need to know to help you make the right decision about which of these two heavyweights is worthy of a spot in your foodie fur baby's bowl.
About Purina
Purina have been at the forefront of pet nutrition since they first came into existence over 90 years ago, and since then, they've gone from strength to strength, forming a range of collaborative partnerships and creating innovative recipes that have led them to become leaders in the pet food industry.
When shopping the Purina range, you'll notice there are eight different brands that come under their umbrella, each one of which has been designed to meet a range of different health needs and household budgets. As well as catering to adult dogs, they have a great range of products targeted at puppies and seniors, so there's something to suit every age and stage.
What's good about Purina?
First up, we love the range of products produced by Purina, with a variety of different brands spread across the price spectrum, ensuring there's something for every taste bud and bank balance. The affordable Alpo range for example features an abundance of extra gravy in its wet food dishes, perfect for pups that love a rich, meaty and moisture-rich meal.
Take a step up from Alpro and you'll be greeted by the ever-popular Purina Beyond range, which is a real favorite amongst pet parents who have a doggy suffering from allergy issues or a sensitive stomach. Grain-free and made from natural ingredients, both the kibble and wet food dishes contain nourishing proteins and vegetables that are incredibly gentle on the digestive system.
At the top of the range sits the creme de la creme of canine nutrition, the stellar Purina ONE and Purina Pro Plan lines which feature real meat as the first ingredient and do away with a lot of the fillers and artificial colors, flavors and preservatives that you'll find in the more inexpensive formulas.
Pro Plan is the most expensive of the two and it's one of the go-to choices for specialized nutrition. Whether your dog is struggling with their weight or needs a sport and performance blend for their increased activity levels, Purina Pro Plan has got you covered.
What's not so good about Purina?
There's no denying Purina's solid reputation, which is incredibly well deserved and the sheer array of products across their eight lines is nothing short of impressive. That being said, we do feel that the quality isn't always as good as we'd expect from a brand of this standing, particularly across their cheaper lines.
Some of the ingredients they choose to use are highly controversial, particularly things like meat and poultry by-products and artificial colors and dyes, all of which provide no nutritional value for your dog. We understand that these are used to keep prices down, but it does substantially affect the quality of the end product.
An overuse of soybean, corn, and wheat meal as fillers has also caused us to raise an eyebrow as there are brands on the market these days that are proving that these ingredients are unnecessary. If you have a dog with allergies or sensitivities, we recommend you read the ingredient list carefully before purchasing to ensure it's suitable for your pup.
Purina: The verdict
While some of Purina's products do have some drawbacks that are well worth considering, overall we feel that this brand is doing a great job of trying to offer a range of wet and dry formulas that is both highly nutritious and delicious.
They've also really considered the financial side of things, offering eight different ranges to suit every budget. This means that even if you can't stretch to the Purina ONE or Pro Plan lines, you can still serve your dog up a quality meal without having to make any sacrifices where their health is concerned.
While they do compromise somewhat on ingredient choice in order to keep their prices down, their blends still provide plenty of flavor and all the necessary vitamins and minerals your hound needs to stay healthy. All in all, Purina's dishes are complete and balanced and get the paws up from most pups, ticking all the important boxes you'd want a pet food to tick.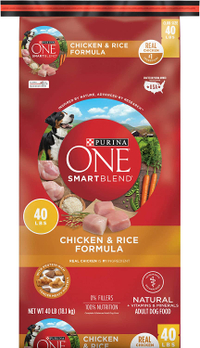 Purina ONE SmartBlend Natural Adult Chicken & Rice Dry Dog Food
This dual-defence antioxidant blend is ideal for supporting a strong immune system and with plenty of glucosamine, it's great for building and maintaining healthy joints. Protein-rich, these tender and meaty morsels have a crunchy texture your dog will love.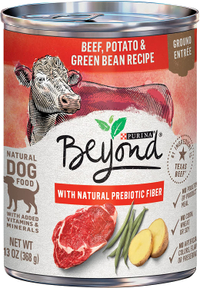 Purina Beyond Grain Free, Natural, Adult Ground Entrée Wet Dog Food
If you're after a grain-free formula that's gentle on the digestive system and made from natural ingredients with no artificial colors, flavors, or preservatives, then this dish made from real-meat is a great choice. Nutritious and delicious, it's ideal for dogs with allergies.
About Royal Canin
Since they first burst onto the scene more than 50 years ago, Royal Canin have continually proven that they're a force to be reckoned with, positioning themselves at the top of the pet food chain and maintaining a consistently high level of quality that has seen them become one of the most trusted brands in the world.
Partnering with leading scientific, veterinary, and behavioral experts, Royal Canin collaborates extensively with those in the know to create targeted nutrition to suit every breed and health need. They may not offer as big a range as some other brands, but what they slightly lack in quantity they more than make up for in quality.
Royal Canin is the front runner when it comes to creating innovative blends and their recognition of how the smallest nutritional differences can affect a dog's health has earned them a stellar and well-deserved reputation.
What's good about Royal Canin?
Royal Canin may not have as many lines as Purina does, but there's no denying that when it comes to quality, they're hard to beat. Offering both retail and vet products, their dishes have been created using extensive scientific research to ensure each wet and dry dish delivers the precise blend of antioxidants, vitamins, fiber, prebiotics and minerals that your dog needs to thrive.
Many of their formulas are also crafted to be breed-specific, which means that dogs that are known to have sensitive stomachs, such as German Shepherds, only consume meals with highly digestible proteins and specific soothing fibers. This is one of the things that sets Royal Canin apart and makes them well worth considering if you're looking for a dish that has been tailored to specifically suit your breed of dog.
And it's not just at the nutritional level that their recipes are formulated, their dry kibble has also been shaped and structured to suit the uniquely shaped jaws and eating behavior of each breed. This is important as smaller dogs do best with smaller kibble that's easier for their tiny teeth to manage, while bigger breeds enjoy crunching on something a little more substantial.
As we mentioned earlier, you'll find two kinds of products in the Royal Canin range - those that they call their 'retail products' and those they label as 'vet products'. As you've probably guessed, their retail products are widely available and this is where you'll find breed-specific recipes, with both wet and dry ranges.
Their vet products offer more targeted nutritional support for dogs with health conditions, such as gastrointestinal problems and diabetes. While some online retailers do stock some of these products, they've been designed to help with very specific health issues, so we recommend you consult with a vet first who will be able to let you know if the dish you're considering is suitable for your dog.
What's not so good about Royal Canin?
While Royal Canin has a lot going for it, there are a few disadvantages that are worth considering before you decide whether this is the brand for you. The most glaring of these is the price - Royal Canin are one of the most expensive brands on the block, and although it's definitely a case of getting what you pay for, if you're on a tight budget, we recommend shopping around for a more affordable option.
There are some additional issues, namely the use of animal by-products and the high carbohydrate content in a lot of their products, which is the result of the addition of grain-based fillers, such as rice. This won't be a problem if your dog is super active, but if you have a sedentary or overweight pup, it would be worth taking a look at some lower carb options.
Royal Canin: The verdict
Pet parents rate Royal Canin highly and it's not unusual for this brand to come close to reaching the coveted 5-stars across major online retailers. And for good reason - this is a solid science-backed company that puts a lot of research into their recipes and the breadth of their range is impressive.
Yes, there are some issues with the carbohydrate content and with the higher price tag we feel the ingredient quality could be better at times, but all-in-all Royal Canin offers nutritionally complete dishes that have been well formulated and are sure to keep most hounds happy and healthy.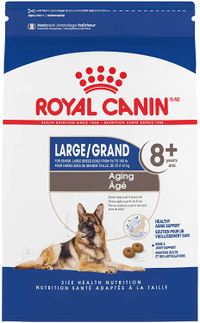 Royal Canin Large Ageing 8+ Dry Dog Food
Look after your large and ageing dog with targeted nutrition for breeds weighing between 56-100lbs. Supports long life vitality with an exclusive blend of antioxidants made for healthy aging and promotes joint and bone health. The large kibble is easy to chew and perfect for the jaws of senior dogs.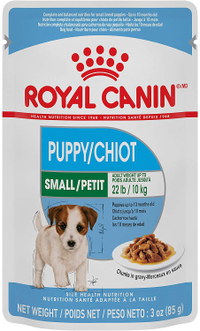 Royal Canin Puppy Small Breed Chunks in Gravy Pouch
If you have a small breed puppy that's under 10 months of age and are looking for a formula that will support their growth and developing immune system, this wet formula ticks all the boxes. With a complex blend of antioxidants and quality ingredients that aid digestion, it's ideal for supporting the high-energy needs of small breed puppies.
For more content like this, check out our guide to Pedigree vs Purina dog food, where we put another two popular brands to the test.
Get the best advice, tips and top tech for your beloved Pets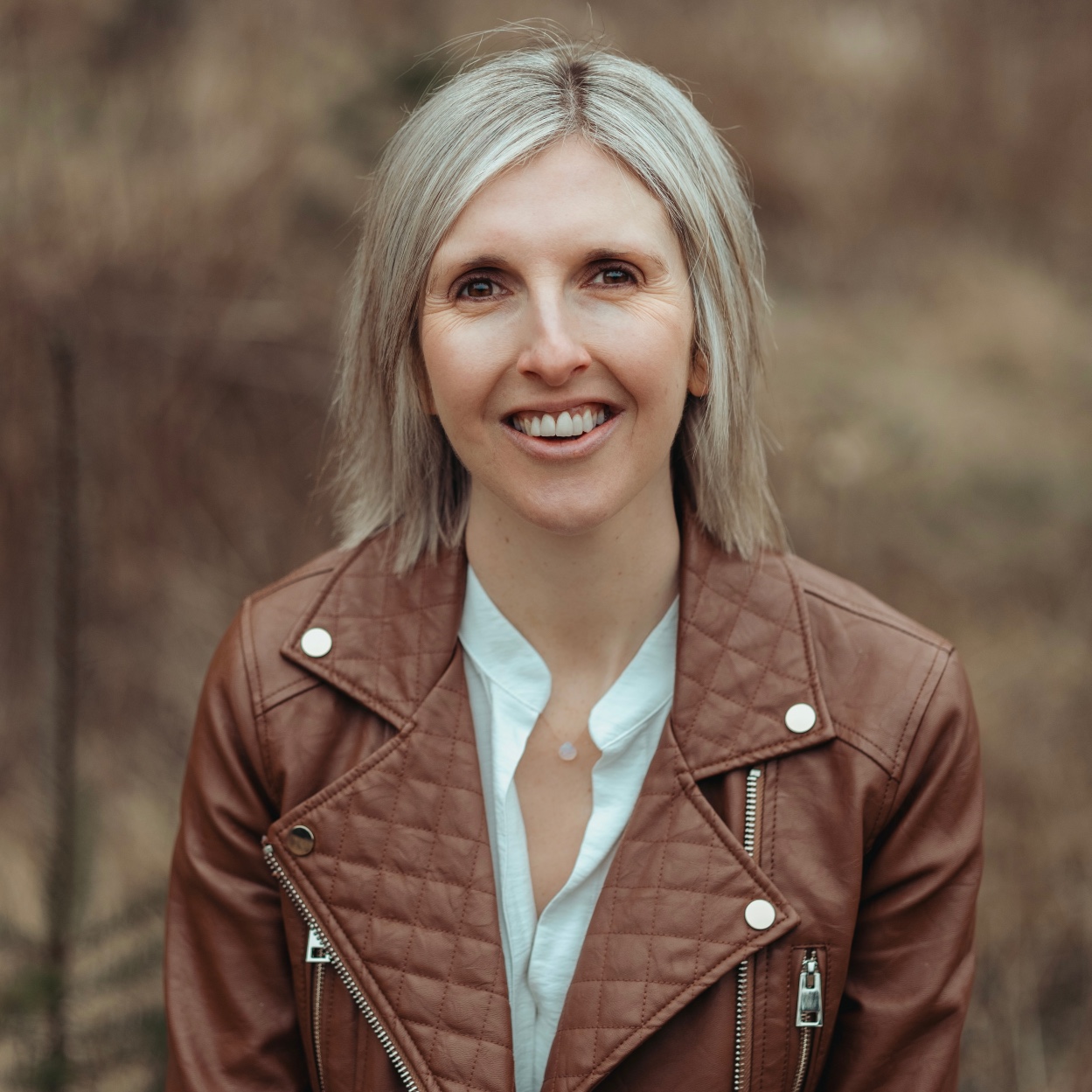 Kathryn is a freelance writer who has spent the past three years dividing her writing time between her two great loves - pets and health and wellness. When she's not busy crafting the perfect sentence for her features, buying guides and news pieces, she can be found hanging out with a very mischievous Cocker Spaniel and a super sassy cat, drinking copious amounts of Jasmine tea and reading all the books.