Purina vs. Royal Canin dog food: Which one should you pick?
By Kathryn Rosenberg published
Purina vs. Royal Canin dog food sees two big brands battling it out for first place in our canine chow competition, but is one truly better than the other? We investigate.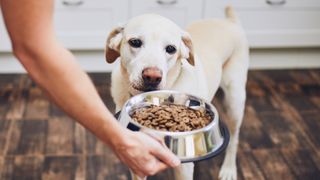 (Image credit: Getty Images)
This week in the ring it's Purina vs. Royal Canin dog food, duking it out to see which food brand reigns supreme. Don't worry, it won't be as messy as it sounds!
When it comes to the best dog food, Purina and Royal Canin are at the top of our list. Both brands have excellent reputations and offer a wide range of products, and their delicious flavors are sure to get your furkid's tail wagging.
Whether you're after the best dry dog food or the best wet dog food, Purina and Royal Canin are brands worth considering. But is one better than the other? Let's find out!
About Purina
For over 90 years, Purina has been pushing pet nutrition forward with its innovative recipes and collaborative partnerships with animal welfare organizations earning them an enviable reputation as one of the best and most affordable pet food companies in existence.
Eight different brands come under the Purina umbrella and each one has been specially designed to meet a range of different needs. Not only that, but Purina caters to puppies through to senior dogs, so there's something to suit every age and stage.
What's good about Purina?
First up, we love the range of products produced by Purina, with a variety of different brands spread across the price spectrum, ensuring there's something for taste bud and bank balance. The affordable Alpo range for example features an abundance of extra gravy in its wet food dishes, perfect for pups that love a rich, meaty and moisture-rich meal.
Then there's the ever-popular Purina Beyond which features nourishing recipes, many of which are grain-free and made from natural ingredients. These are ideal if your dog suffers from allergies as they feature all of the vitamins and minerals your pup needs to thrive with none of the nasties that can aggravate the skin and digestive system.
Perhaps the most well-known of the bunch is their Purina ONE and Purina Pro Plan lines, both of which deserve mentioning here. Purina ONE features real meat as the first ingredient and comes in a highly digestible formula that supports whole-body health.
Pro Plan is at the expensive end of Purina's offerings and it's one of the go-to choices for specialized nutrition. Whether your dog is struggling with their weight or needs a sport and performance blend for their increased activity levels, Purina Pro Plan has got you covered.
What's not so good about Purina?
There's no denying that Purina tends to have a good reputation and the breadth of choice is impressive. That being said, the quality is not always as good as we'd expect from this well-known brand.
Some of the ingredients are controversial, especially the use of meat and poultry by-products. And instead of using vegetables, such as beetroot, to get a natural coloring, many of Purina's products opt for artificial colors or dyes, which aren't a great choice when it comes to health.
An overuse of soybean, corn, and wheat meal as fillers has also caused us to raise an eyebrow as there are brands on the market these days that are proving that these ingredients are unnecessary.
If you have a dog with allergies or sensitivities, we recommend you read the ingredient list carefully before purchasing to ensure it's suitable for your pup.
Purina: The verdict
There are going to be pros and cons with any formula you choose but overall, Purina is a solid brand that's trying to offer products that keep both pet parents and their furkids happy.
While they do compromise somewhat on ingredient choice in order to keep their prices down, their blends still provide plenty of flavor and all the necessary vitamins and minerals your hound needs to stay healthy.
Purina ONE SmartBlend Natural Adult Chicken & Rice Dry Dog Food
This dual-defence antioxidant blend is ideal for supporting a strong immune system and with plenty of glucosamine, it's great for building and maintaining healthy joints. Protein-rich, these tender and meaty morsels have a crunchy texture your dog will love.
Purina Beyond Grain Free, Natural, Adult Ground Entrée Wet Dog Food
If you're after a grain-free formula that's gentle on the digestive system and made from natural ingredients with no artificial colors, flavors, or preservatives, then this dish made from real-meat is a great choice. Nutritious and delicious, it's ideal for dogs with allergies.
About Royal Canin
Since its inception more than 50 years ago, Royal Canin has been working hard to make nutrition a dog's first medicine. Striving to understand the unique needs of our furkids has led Royal Canin to collaborate with leading scientific, veterinary, and behavioral experts to create formulas that are tailored for every health need.
Royal Canin is the front runner when it comes to creating innovative blends and their recognition of how the smallest nutritional differences can affect a dog's health has earned them a stellar and well-deserved reputation.
What's good about Royal Canin?
First of all, the Royal Canin range is extensive and the quality is of a good standard. We love that every recipe uses science to ensure that it delivers the precise blend of antioxidants, vitamins, fiber, prebiotics and minerals that a dog needs to thrive.
Many of their formulas are also crafted to be breed-specific, which means that dogs that are known to have sensitive stomachs, such as German Shepherds, only consume meals with highly digestible proteins and specific soothing fibers.
And it's not just at the nutritional level that their recipes are formulated, their dry kibble has also been shaped and structured to suit the uniquely shaped jaws and eating behavior of each breed.
You'll find two kinds of products in the Royal Canin range - those that they call their 'retail products' and those they label as 'vet products'. As you've probably guessed, their retail products are widely available and this is where you'll find breed-specific recipes, with both wet and dry ranges.
Their vet products offer more targeted nutritional support for dogs with health conditions, such as gastrointestinal problems and diabetes. While some online retailers do stock some of these products, they've been designed to help with very specific health issues, so we recommend you consult with a vet first.
What's not so good about Royal Canin?
There's no getting around it, Royal Canin is not the cheapest brand on the block, but then that's probably not going to come as a huge surprise given the amount of science-backed research that goes into creating their recipes.
Aside from that drawback, there are a few more worth noting. Like Purina, some animal by-products do slip into their formulas and most of their recipes contain grains to boost the protein and fiber count.
A lot of the Royal Canin products tend to be fairly high in carbohydrates, which is likely the result of the amount of rice and grain-based fillers that are used. It's something to be mindful of, especially if you have an overweight dog so be sure to check this out before purchasing.
Royal Canin: The verdict
Pet parents rate Royal Canin highly and it's not unusual for this brand to come close to reaching the coveted 5-stars across major online retailers. And for good reason - this is a solid science-backed company that puts a lot of research into their recipes and the breadth of their range is impressive.
Yes, there are some issues with the carbohydrate content and with the higher price tag we feel the ingredient quality could be better at times, but all-in-all Royal Canin offers nutritionally complete dishes that have been well formulated and are sure to keep most hounds happy and healthy.
Royal Canin Large Ageing 8+ Dry Dog Food
Look after your large and ageing dog with targeted nutrition for breeds weighing between 56-100lbs. Supports long life vitality with an exclusive blend of antioxidants made for healthy aging and promotes joint and bone health. The large kibble is easy to chew and perfect for the jaws of senior dogs.
Royal Canin Puppy Small Breed Chunks in Gravy Pouch
If you have a small breed puppy that's under 10 months of age and are looking for a formula that will support their growth and developing immune system, this wet formula ticks all the boxes. With a complex blend of antioxidants and quality ingredients that aid digestion, it's ideal for supporting the high-energy needs of small breed puppies.
Kathryn is a freelance writer who has spent the past two years dividing her writing time between her two great loves - pets and health and wellness. When she's not busy crafting the perfect sentence for her features, buying guides and news pieces, she can be found hanging out with one very mischievous Cocker Spaniel, drinking copious amounts of Jasmine tea and attempting to set numerous world records for the longest ever FaceTime calls with her family back home in NZ.
Get the best advice, tips and top tech for your beloved Pets
Thank you for signing up to Petsradar. You will receive a verification email shortly.
There was a problem. Please refresh the page and try again.