Best tactical dog harness: Get your pet pooch the perfect multi-functional outdoor vest
Love walking, hiking, or hunting? Get the best tactical dog harness so you don't have to leave your four-legged friend at home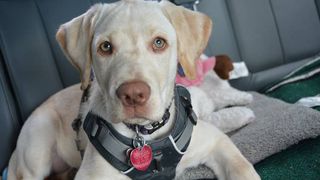 (Image credit: Getty Images)
If you're a dog owner who loves the great outdoors then you need to think about getting your canine companion the best tactical dog harness out there, so they can join you on your adventures. Your average dog collar and leash, or even the best dog harnesses, just won't cut it, especially if you have a dog that likes to pull.
Tactical dog harnesses are designed to give you maximum control over your pet pooch, but at the same time keep them comfortable when out walking, running, hiking, or trekking in the hills. They typically come with double D-rings for short and long leash walking and have single or double handles so you can pick up your pet pooch and move them – or simply hold them in position if they are trying to chase something.
But they aren't just simple control devices that help keep your fur friend under control, they are multi-functional devices. Tactical harnesses are commonly based on devices worn by service dogs, such as police dogs, and they employ a MOLLE (Modular Lightweight Load-carrying Equipment) system. This allows for the attachment of velcro pouches to store essential equipment and snacks, which makes them great for long walks or hiking. The system is also used for patches to inform people of their purpose, for example, 'Police', or more informal messages like 'My name is Dexter'.
Here, we have put together a collection of tactical dog harnesses from the lightweight to the heavy-duty, from the big to the small, to help you find the perfect fit for your four-legged friend.
ICEFANG Tactical Dog Harness

Best overall tactical dog harness
Size: Medium, Large, X-Large | Color: Black, Brown, Green, Orange, Gray | Weight: 1.83 pounds | Material: Nylon | Closure type: Buckle
Super strong stitching
Adjustable straps for a secure fit
Plenty of padding for comfort
Multiple hook and loop panels
No small sizes
Only one handle
If you love the great outdoors and love to go walking or hiking with your canine companion, then you need a harness that can keep up. That's exactly what you get with this tactical harness from ICEFANG. It is strong, sturdy, and offers good all-round body protection for your dog, but you won't find it in small sizes – this harness is made for medium-sized breeds and beyond.
The smallest option in the ICEFANG range is the medium which offers a neck opening of 16-22 inches and a chest fit of 25-31 inches. You also need to measure the waist for the best fit. The XL size offers a neck opening of 20-29 inches and a chest fit between 31-40 inches. You don't need to worry too much about the weight of your dog, if the harness fits it will be more than strong enough for your needs.
Weighing nearly 2lbs, this isn't a lightweight harness but it is easy to get on and it is fully adjustable to make sure that you get a secure and comfortable fit. A six-buckle system means you get a really good fit around the neck and the body. The two metal neck buckles in the shoulder position are combined with super strong X-in-box stitching and can withstand a lot of pulling, basically more than your dog can manage. The other four buckles again have super strong X-in-box stitching and clip in over a padded underbelly section that ensures your pet pooch is comfortable.
To keep control of your fur friend there are a couple of heavy-duty V-rings, one near the neck and one at the back, so you can use a short or long leash. The rest of the harness dedicates itself to hook and loop panels so you can velcro MOLLE and PAL pouches to carry a lot of gear. There is a small panel at the front, a large panel on the top, and multiple strips on each side. More than enough for your adventure needs.
Auroth Tactical Dog Harness

Best budget tactical dog harness
Size: S, M, L, XL | Color: Black, Yellow, Blue, Pink, PUrple, Camo (various) | Weight: 1.12 pounds | Material: Breathable Air Mesh/Soft Padded Cotton | Closure type: Buckle
Fluorescent edging
Cool camo colors
Made from strong durable nylon
Good range of sizes
Not a lot of body protection
If you want a heavy-duty, hard-working harness that won't break the bank, then this offering from Auroth ticks all the right boxes. The vest is made from durable 900D Nylon – a material typically used in luggage and backpack production, so you know it's tough. That makes it useful for much more than just taking your pet pooch for a walk. To up the durability stakes, sturdy stitching makes the harness a strong reliable vest for most adventures.
The straps are strong, comfortable, and functional but don't go big on body protection. They are narrow compared with a lot of tactical harnesses and there isn't a large back area. This means you only get two one-inch strips of MOLLE for your dog to carry and store gear. Ideal for a small selection of pouches. A clip front and back are ideal for keeping your dog under control when on the leash and the handle is strong enough when needed.
Size-wise, there are four different options that cover a whole host of breeds. The small option is ideal for corgis, terriers, small bulldogs, and any breed weighing between 18-35lbs. But if you have an XS breed such as chihuahua and dachshund you will need to look at an alternative harness specially designed for small breeds. The XL option is a good choice for owners of Alaskan malamute, Irish wolfhound, sheepdog, and breeds weighing up to 135lbs.
But the harness isn't just about strength and size, it also offers serious style at the same time. There are 12 colors to choose from, with some cool camo variations including pink, purple, and woodland. The fluorescent edging looks good but also has the more serious job of making sure that you can see your dog in the dark.
OneTigris Service Dog Harness
Best urban tactical dog harness
Size: Small, Medium | Color: Black, Brown, Red | Weight: 13.4 ounces | Material: Nylon | Closure type: Buckle
Lightweight
Detachable front strap
Can add compatible assistance harnesses
Ideal for dog walking and short hikes
Three colors
Only small and medium sizes
No grab handle
Not looking for a heavy-duty, all-terrain, military-style tactical dog harness. Do you want something a little less intense for walking around the neighborhood, taking short hikes, or a quick walk by the local lake? Then this lightweight tactical dog vest is ideal for the more casual dog walking adventurer.
Aimed at small and medium dogs owners, there are only two sizes available. Both options work with a neck girth of 16-30 inches and their chest girth sizes are also similar with one allowing 17-35 inches and the other 17-38.5 inches. The back sizes differ, with the small measuring 9.5 inches and the medium 13 inches.
The design is somewhere between a full tactical harness and a dog walking harness or vest, so it doesn't give full body protection like other harnesses, but offers just enough for walks and short hikes. Its hook and loop system, where you can velcro pouches for storage, is limited but capable of giving enough room for the essentials you need when out.
A useful feature is the detachable padded front strap if you want to pair up the harness with a compatible assistance harness. Keeping the front strap company is a belly strap that is adjustable for a secure fit, but this lacks any decent padding, so might be uncomfortable for your dog on longer walks.
One downside is there is no grab handle to pick up your pet pooch, However, a couple of D-rings are included at the front end of the harness to attach your own handle, but this does mean you will have to purchase one separately.
Forestpaw Tactical Dog Vest Harness

Best complete tactical dog harness
Size: Medium, Large | Color: Coyote Brown | Weight: 2.2 Pounds | Material: Cotton | Closure type: Buckle
Heavy-duty collar
Three reflective flag patches
Includes two 6x6 inch pouches
Two-handled dog leash
Breathable inner mesh
Not cheap
Medium and large sizes only
Only one color
If you want a harness that comes with all the accessories straight out of the box then this tactical dog vest from Forestpaw could just be what you are looking for. You won't have to worry that the pouches you want are compatible, you won't have the hassle of buying from numerous stores and everything will be delivered in one single package so you and your pet pooch are ready to set off as soon as it arrives.
The set includes one military dog vest harness, two backpack pouches, one tactical training dog collar with a quick-release buckle, one adjustable bungee training dog leash with two padded handles, and three reflective flag patches. Pretty much everything you need to get started.
The harness, which is separate from the collar, is made from cotton and has a breathable inner mesh for strength and comfort. Two strong metal buckles sit at the front and are both capable of bearing 1000lbs. And to ensure a good secure fit, four adjustable straps with plastic quick-release buckles hold the harness in place.
On top of the harness, there are two D-rings for taking control of your dog and a handle, which is used with a handle on the collar – ideal if you need to pick up or maneuver your pet pooch. On the sides, the MOLLE system is designed for attaching the included pouches, which measure 6x6 inches, and three reflective patches. But once these are attached, you won't have room for any other pouches.
Elsewhere, there is a heavy-duty military collar with a quick-release buckle that's padded to ensure comfort when training or walking your dog with the accompanying leash. This is adjustable, made from strong nylon webbing, and has two padded handles so you can quickly switch to a short lead if needed. It also has a handy D-ring, which is useful for attaching a poop bag dispenser.
Julius-K9 IDC Powerharness for Dogs

Best stylish tactical dog harness
Size: XS, S, M, L, XL, 2XL | Color: Black, Ameri-canis, Aquamarine, Blue, Red, Orange, Camo | Weight: X | Material: Cotton | Closure type: Buckle
Good range of colors and patterns
Easy to get on and off
Comfortable and durable
Quick-release buckle
Sizes for almost every breed
Not machine washable
No front clip
If you want a stylish harness that will draw admiring glances as you walk around the neighborhood, this range from Julius could be just what you are looking for. You get to choose from a wide range of colors and patterns, so you can make a real statement or blend into the background the choice is yours. Feeling patriotic? Check out the Ameri-canis design in red, white, and blue with stars. Want a standout color? Then try Aquamarine or UV Orange. Want to keep it simple, then go for classic black.
If you want to pimp up the harness a little more, there are a couple of free custom patches. Customize them with your pet's name, or a phone number if they get lost. Or be a little more adventurous and a personal message – there's a maximum of 20 characters and various letter colors, so use your imagination.
But the Julius isn't all style, there's plenty of substance too. For starters, there's a wide range of sizes, making the harness good for almost every dog breed. The XS size is ideal for 9-16lbs, while the largest in the range, 2XL, can accommodate dog breeds around 155lbs.
A strong, sturdy construction gives great durability and reliability, complemented by a quick release buckle which makes it easy to get on and off. For safety and to make sure that your pet pooch will be seen in the dark the harness has a host of reflective elements to make this happen. The single strap has a tough durable integrated handle, for when you need to take over from a leash.
The harness isn't really built for long outdoor adventures where you need storage like other tactical harnesses. This is an urban harness that does the daily walk and a little more. But what it does do, it does really well.
Tactical Dog Harness for XXS Puppy Dog

Best extra small tactical dog harness
Size: XXS | Color: Black, Brown | Weight: 6.2 ounces | Material: Nylon | Closure type: Buckle
Perfect for XXS breeds
MOLLE- friendly
Two colours
Lightweight
Only two colours
Big, strong dogs straining at the leash carrying packs of heavy gear are the common conception of a tactical dog harness. But don't worry if you have an extra small breed, they haven't been forgotten. The name OneTigris BEAST MOJO tactical dog harness might lull you into a false sense of thinking, but this harness is the perfect option for your tiny canine companion.
Weighing in at a mere 175g, the harness is ideal for small breeds such as chihuahua, Maltese, and miniature pinscher up to around 8lbs. But this is only a guideline, so you will need to make sure that you measure your pet pooch. The three critical measurements are the neck girth, which accommodates 8-13 inches; chest girth of 12-18 inches, and a back length of 7 inches. Make sure you follow the instructions on where you need to measure to get it right.
Available in either black or brown, the harness is made of a tough, durable high-strength nylon, which also makes it showerproof for those rainy days. The mini-sized vest has a front slip-in design which makes it easy to get over your pet pooch's head. There's a soft comfortable cover that stops the neck strap chafing and your fur friend from getting irritated and wanting to get out of the harness. An adjustable UTX-Duraflex quick release buckle makes it simple to tighten the under-body strap for a secure fit.
Elsewhere on the main body of the harness, there's a couple of stainless steel D-rings, perfect for clipping on a leash and a strong durable handle when you need to pick up your fur friend and tuck them under your arm or put them in your backpack. The harness is MOLLE-friendly with a couple of velcro strips ready to add some storage. Just don't make it too heavy for your tiny friend, they won't appreciate it.
How to choose the best tactical dog harness
Why you can trust PetsRadar Our expert reviewers spend hours testing and comparing products and services so you can choose the best for you. Find out more about how we test.
Size and fit
The most important factors when looking to purchase a tactical dog harness are size and fit. First, you need to make sure that you are getting the right size. Ideally, look for a harness that is made for your breed. Most manufacturers will give details of the different sizes for different parts of the body, such as chest and girth. Make sure you pay special attention to these and match them to the different parts when you measure your dog. If one size matches but the other doesn't look for a different option. Most harnesses are adjustable so this will help with the fit. But if in doubt contact the manufacturer and read any reviews for more information.
Pocket and patches
Tactical harnesses are often used for outdoor activities, so you'll need to consider the carrying and storage capabilities of a harness. MOLLE (Modular Lightweight Load-carrying Equipment) compatible vests offer the most versatile storage option. These typically attach to the harness with velcro, but you may have to buy the carry pouches separately. The alternative is to buy a saddlebag-style harness, but these don't offer the same sort of versatility. Check whether the harness has space for patches, these are ideal if you have a working dog. But it is a great opportunity to add personalized patches as well.
Carry handles
At some point, you might need to get hold of your tactical harness to lift your dog or simply hold them in place. So ideally you need a sturdy handle. If you have a larger dog, look for a harness with two handles for greater control and handling.
Get the best advice, tips and top tech for your beloved Pets
Steve Jenkins is a freelance content creator and long-time journalist with more than 20 years in the industry. He has written for numerous titles covering tech to pets, with his latest faithful hound always by his side. When not walking his dog, or discussing who's best - cats or dogs? Loud guitars, AFC Bournemouth, Photoshop, and trying to save the world take up the rest of this time.