Best cat shampoo: Keep your cat clean and stop them scratching
The best cat shampoo will freshen up your cat's fur and soothe itchy skin with hypoallergenic and waterless formulas to suit every feline friend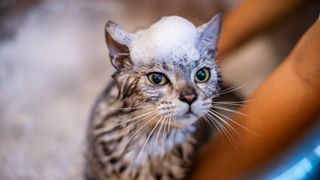 (Image credit: Getty Images)
The best cat shampoo is the perfect addition to your kitty's beauty routine, helping to make their endless grooming task that little bit easier. Whether they've rubbed up against something greasy or they've been rolling around in the dirt, bathing them with a shampoo especially designed for cats will get them sparkling clean again in no time.
The question 'do cats need baths?' tends to pop up a lot and the short answer to that is generally no. Unlike dogs, cats don't need to be regularly bathed as they do a great job of cleaning themselves, but occasionally they can get themselves into a mess that all the licking in the world won't get them out of - that's when a cat shampoo can come in handy.
It's important to steer clear of human shampoos, which have been designed to suit the pH balance of our skin and can be harsh and drying when used on your kitty. Instead, opt for a shampoo that's been formulated for felines and go for a simple ingredient list that doesn't contain a long list of chemicals.
The exception to this might be if your kitty has a bad flea infestation and you're needing to use a flea shampoo in conjunction with one of the best flea treatments for cats. If that's the case, we recommend consulting with your vet who will be able to advise you on the safest flea shampoo and the most appropriate course of action.
Consider your cat's skin when choosing a shampoo and whether they have any known allergies. If their coat tends to be coarse and their skin dry, you might like to select a formula that has nourishing ingredients, such as oatmeal and aloe vera. It's well known that our feline friends don't love the water like dogs do, so if there's not chance of getting your kitty in the bath, you might like to choose a waterless formula.
Below you'll find our roundup of the best cat shampoo, including hypoallergenic and antifungal formulas. Now all you need to do is grab your reluctant feline fur baby and get lathering!
Burt's Bees for Cats Hypoallergenic Cat Shampoo
Size: 10 fl.oz | Weight: 12 ounces | Type: Wet | Conditioner: Yes | Hypoallergenic: Yes
Natural ingredients
Mild shampoo
100% pet safe
Doesn't lather very well
Don't want chemicals in your cat shampoo? Looking for an eco-friendly natural cat shampoo that' s good for the environment and good for your cat? Then this shampoo should have enough to keep you and your cat happy.
Burt's Bees like to tap into nature's power and use some of the best ingredients nature has to offer, plus, their products are fully recyclable so you won't be destroying nature once you have finished with them.

This is a hypoallergenic cat shampoo, which means that its recipe and ingredients will produce fewer allergic reactions than products that are not hypoallergenic. So if your cat has sensitive skin this could be the ideal choice for them. It is specifically PH balanced to produce a mild shampoo that is suitable for all cats and kittens as well.
A water-based shampoo - one of nature's finest ingredients - it is 100% pet safe and free from fragrances, sulfates, colorants, and chemicals. These are typical ingredients that can irritate a cat's skin and can cause other health issues as well, so these are best avoided if at all possible. To help ease sensitive skin, soothe itching, and give your fur friend a shiny coat the shampoo brings together skin-moisturizing shea butter and nature's very own magic potion honey.
One issue is that it doesn't lather very well - due to its natural ingredients - so it's sometimes difficult to work out where you have applied the shampoo, but this is a really small point. And, it doesn't have a fragrance, in fact, your cat smells much the same - just a little fresher and cleaner - after washing. Again this is due to its natural ingredients. So if you want a fragrance, try something else, but it might affect your cats sensitive skin.
John Paul Pet Lavender Mint Shampoo
Size: 16 fl.oz | Weight: 0.64 pounds | Type: Wet | Conditioner: Yes | Hypoallergenic: No
No messy bath times
Uses less water
Concentrated to save money
Some cats don't like the aroma
Not interested in messy bath times or struggling to keep hold of your cute kitty as you spray them with water to rinse off shampoo? Then this relaxing formula might just have the answer you are looking for.
Sitting somewhere in between wet and dry cat shampoos you don't get a full-scale wet wash experience and it's not a simple water-free brush off experience. What it does do is take the best of both as it looks to keep your cat relaxed and stress-free while giving it a good clean.
So how does it work? You massage the shampoo into the fur and use a damp cloth for more sensitive areas such as the face. When done you gently rinse off the lavender mint shampoo. Make sure that you rinse thoroughly so your cat doesn't ingest any shampoo. But you won't need to use too much of the shampoo anyway as its highly concentrated botanical formula means you use less product than other brands effectively saving you time and money.
The best bit is that it imparts a light and refreshing fragrance which helps soothe your cat's senses and helps keep them calm while cleaning. Tea Tree leaf and eucalyptus oil combine with the main lavender and mint extract to soothe skin and moisturize fur while added conditioners including Aloe and Chamomile improve fur strength and help maintain a smooth coat.
To reinforce the message the shampoo is tested on humans first - that's what it says on the bottle - suggesting that it should be suitable for your cute little fur friend. More convincing is that it is Ph balanced for pets which does mean that it strikes the right balance of ingredients so it won't irritate your cat's coat and skin. And as an added bonus a portion of each sale is donated to an animal or wildlife organization.
Vet's Best Waterless Cat Bath
Best waterless cat shampoo
Size: 4 fl.oz | Weight: N/A | Type: Dry | Conditioner: Yes | Hypoallergenic: No
Waterless washing
Natural ingredients
Soothes and moisturizes skin
Only a stop-gap between baths
Is your cat a fan of bath time? Do they like being shampoo and showered? Not all cats do. Some will try their very best to avoid it if they possibly can. If this sounds like your fur friend the whole experience can be stressful and overwhelming and no owner wants that.
The answer? Use a waterless cat shampoo like this offering from Vet's Best to keep your cat happy and relaxed as you give them a dry wash. All you need to do is shake the can to mix up the shampoo and apply it directly to your kitty's coat. Then massage in the mixture from head to paw - make sure to avoid your cat's eyes - and let it air dry before wiping or brushing off any excess shampoo and hair until all of its removed. No water or rinsing to be seen. Perfect for cats who are scared of getting wet.
Ideal for sensitive skin this dry shampoo has a whole host of natural ingredients that are very similar to the Pro Pet Works Natural Organic 5 in One Oatmeal Pet Shampoo you will find in this buying guide.
Its plant-based leave-in formula includes Aloe Vera, Neem Oil, Vitamin E, and Oatmeal which are all great ingredients that gently cleanse your cat and condition and moisturize at the same time. This means that not only will your cute kitty be clean, smell good, and have a smooth soft coat to stroke, but it will also soothe any irritable dry, and itchy skin patches.
Pro Pet Works Natural Organic 5 in One Oatmeal Pet Shampoo + Conditioner
Best sensitive skin cat shampoo
Size: 17oz | Weight: 1lb | Type: Wet | Conditioner: Yes | Hypoallergenic: Yes
Organic ingredients
Hypoallergenic
Relieves dry itchy skin
Can de-shed fur
This shampoo is all about providing a healthy coat and skin for your fur friend using a host of natural and anti-irritant ingredients. Specially formulated for pets with sensitive skin and more specifically for cats - and dogs - with grass, food and flea allergies, Pro Pet Works uses a blend of ingredients that will combat all of these issues naturally.
Included in the ingredient line-up are aloe vera gel, almond oil, oatmeal, and a host of vitamins that combine to not only clean your kitty cat but also relieve dry itchy skin, help condition and moisturize and restore natural oils. Alongside these obvious plus points, there are a host of extra benefits that they can bring.
Aloe vera gel brings with it antioxidants in the shape of vitamins C and E, which is great for your cat's coat. And its also contain B12 which is good for boosting energy. To top it off it also provides 20 amino acids that help maintain healthy muscle and tissue.
Almond oil helps support skin hydration in a similar fashion to aloe vera. It contains natural vitamin E which goes a long way to keeping skin cells healthy and at the same time protects it from the sun by lessening UV damage. It's like a natural sunscreen for cats.
To boost your fur friend's skin just that little bit more the shampoo recipe includes oatmeal which not only cleans fur and skin, but soothes irritation, minimizes inflammation, and moisturizes the skin. Finally, to help keep your cats skin in tip-top condition and lessen the irritant levels even further you won't find any alcohol, sulfates, soap, or animal by-products in this shampoo.

Veterinary Formula Clinical Care Antiseptic and Antifungal Shampoo
Best antifungal cat shampoo
Size: | Weight: | Type: | Conditioner : | Hypoallergenic:
Good for sensitive skin
No chemicals or soap
Lanolin and aloe vera to moisturize and soothe skin
Not for young kittens
If you have a cat that has sensitive skin and is often itchy and sore and gets skin infections regularly then this antiseptic and antifungal medicated shampoo could just be what you are looking for.
Scientifically formulated the shampoo contains benzethonium chloride which is an anti-bacterial agent which helps fight bacterial skin infection while its other important ingredient ketoconazole is an anti-fungal agent which goes a long way to relieving bacterial and yeast infections.
The shampoo is 100% pet-safe and doesn't contain any parabens - a chemical preservative - and is soap-free with only natural cleansers included in the ingredients list. While the combination of ingredients helps fight infection it is another couple of ingredients - Lanolin and aloe vera - that provide soothing relief to keep your cat happy.
Lanolin helps moisturize infected skin to reduce itching and stop your cat from making any rash worse by constantly scratching. Plus, it helps to stop flaking so you won't find dry skin flakes all over the furniture. Aloe vera goes a long way to soothe the skin and promotes healing to help get rid of rashes quicker.
You will need to make sure that your cat - or dog as this is a pet shampoo - is over 12 weeks old before you start using it. Once your fur friend is the right age you will need to use it a couple of times a week until the skin condition clears up. When it does you can use the shampoo on a regular basis to help any rashes reappearing.
There is an accompanying antiseptic and antifungal spray which can be used alongside the shampoo to help relieve any issues. This gives more instant relief to any itching. But be warned if a rash does persist it's a good idea to take your cute kitty to the vets to get a professional opinion and see if any other treatment is needed.
MinkSheen Pet Shampoo
Best concentrated cat shampoo
Size: 128 fl.oz | Weight: 8.23 pounds | Type: Wet | Conditioner: Yes | Hypoallergenic: No
Natural ingredients
Concentrated
Gives a high sheen soft coat
Not cheap
You gotta buy big when you decide you want to invest in MinkSheen Pet Shampoo. There's no small size option here, just the long-lasting 128 fl.oz option - that's one gallon of shampoo. And, thanks to its special formula - the shampoo has a higher concentration of coconut derived detergent agent, which means you don't have to use as much as other dog shampoos - the container will yield eight gallons of shampoo. That means you are going to get plenty of washes out of this single container. If you need to wash your cat frequently - professional groomers use it as well as pet show competitors - it's well worth the investment.
A 4-in-1 shampoo concentrate, it is made from natural ingredients - including mink oil - and is great for cleaning, conditioning, detangling, and moisturizing your pet's coat. Alongside being a gentle cleansing shampoo that doesn't irritate the skin or create hot spots and a conditioner that gives a high sheen show finish that will make your cat's coat smooth and soft, it also helps take control of your cute cat's odor. And there is no doubt everyone likes a sweet smelling fur friend. A clean cat with a smooth soft coat is perfect when you want to give your kitty a cuddle.
For earth-loving cat owners, this pet shampoo is eco-friendly and its container is 100% recyclable. But on the downside if you only give your cute kitty a shampoo once or twice a year then you might want to think about looking for another - smaller-sized - cat shampoo.

How to choose the best cat shampoo
Wet or dry?
There are effectively two options when it comes to cat shampoo, wet or dry. The majority of cat shampoos involve water in some shape or form. Typically you have to lather up the shampoo with water and rinse it off with water. But as most cat owners will know cats are not always keen on water, especially when it comes to rinsing. But, if this is not a problem then wet shampoos are the best choice. If it is a problem wash less frequently. The alternative is a dry shampoo which involves no water at all. You rub in and brush off, but these are really only a stopgap to be used in between wet washes. However, if your cat really hates water this is your best option.
Good for sensitive skin
Cat shampoos are not just for keeping your fur friend clean and sweet-smelling. Cats with sensitive skin commonly get rashes that irritate the skin which leads to a lot of scratching that only makes the problem worse. If this is the case look for a shampoo that is hypoallergenic and contains ingredients such as aloe vera, oatmeal, and added vitamins. These all help soothe the skin and help relieve any itching, which in turn helps to reduce any scratching.
Natural or non-natural ingredients?
Typically the more natural ingredients in a cat shampoo the better it is for your cat and the environment. And if your cat has sensitive skin then natural ingredients are often your best choice. But, sometimes a few non-natural ingredients are called for. These are commonly found in more specialist cats shampoos that serve a more specific service ie if your cat has fleas. But for a general cat shampoo look for one with mostly natural ingredients.
Get the best advice, tips and top tech for your beloved Pets
Thank you for signing up to Petsradar. You will receive a verification email shortly.
There was a problem. Please refresh the page and try again.