Best cat food for allergies: great nutrition for sensitive stomachs
By Andy Hartup
Feeding your pet the best cat food for allergies will help to keep them happy and healthy, and assist them in living a more comfortable life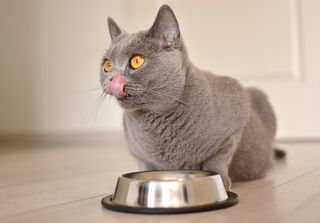 (Image credit: Getty Images)
Getting the best cat food for allergies makes a huge difference to your pet's quality of life. If your cat has been diagnosed with some kind of allergy by your vet, they will also recommend that you give them food that is less likely to irritate them or exacerbate the allergy. While there are other courses of treatment you can take for cat allergies caused by flea treatment and the environment in which they live, the process for tackling cat food allergies is fairly simple: give them the right diet to eliminate the allergen. If your cat is showing symptoms of an allergy, but you're not sure if it's caused by diet, try our reading our vet's guide to common allergies in cats and what you can do about them.
Knowing when and why to start your pet on the best cat food for allergies is key. When a cat's immune system mistakenly identifies a protein as a 'foreign object' it will attempt a response to it, which manifests as an allergic reaction. Unlike regular cat food, digestive health cat food can cut out the proteins that cat immune systems often react against, while still offering the nutrients all growing kitties need.
While raw cat food is becoming a popular choice for pet parents who have a furkid with allergies, the best diet for your cat will depend entirely on what your kitty is allergic to - which sounds obvious in principle, but is often difficult to first identify. To complicate matters, cats - like humans - can develop an allergy at any time, so the food they've been eating happily for years can suddenly start to cause reactions. If you suspect your cat is having an allergic reaction to their food, your first priority should always be to contact a veterinarian. Once you've gotten a diagnosis, check out our list of the best cat food for allergies below.
1. Royal Canin Veterinary Diet Gastrointestinal Response: Best cat food for allergies overall
Royal Canin Veterinary Diet Gastrointestinal Response
This is first-class cat food for allergic kitties, but you do need a vet prescription to order it
Type of food: Dry | Veterinary approval needed?: Yes | Good for: Vomiting, Diarrhea, Appetite Loss | Special Diet assistance: Pea-free, Sensitive Digestion
Excellent for sensitive digestion
Helps urinary system
Very well balanced
Expensive
Royal Canin is one of the leading names not only in quality cat food, but also pet food designed for specialized animal diets. The Gastrointestinal Response food, which is only available after approval from a qualified veterinarian, is perfect for cats with most types of food allergies. It's kind on the cat's stomach, while still providing excellent nutrition and good flavor. User reviews for this food type are almost universally positive, and it is proven to reduce things like vomiting and diarrhea in most of the cats that eat it.
On top of this, the Royal Canin Gastrointestinal Response dry food has a number of other beneficial ingredients that can be missing from ordinary wet and dry foods. It's rich in Omega-3, which is far better for your cat's skin. This is vital for cat allergy food, as the skin is usually where reactions manifest, and can cause excess scratching and scabbing on your cat. Royal Canin's high Omega-3 greatly helps with this, and should help your cat towards a more healthy grooming and shedding routine.
It's also good for your cat's urinary tract, and helps to prevent the formation of crystals in the bladder, which can cause infections and discomfort for your fur-baby. This is also suitable for cats that have been put on a pea-free diet.
The downside is that Royal Canin is very expensive. It's over $50 for an 8.8lb bag, which is pricey when compared to regular cat food and many other diet control formulas. It's well worth it, however, and your cat will appreciate the added benefits and kindness to stomachs that it brings.
2. Hill's Veterinary Diet Digestive Care With Chicken Canned Cat Food: Best wet food for allergies
Hill's Veterinary Diet Digestive Care With Chicken Canned Cat Food
If your cat craves wet food, or you want to balance out the dry, this is our top pick
Type of food: Wet | Veterinary approval needed?: Yes | Good for: Appetite Loss, Sensitive Digestion | Special Diet assistance: Pea-free, Sensitive Digestion
Great tasting
Easy to eat and digest
Good for cats with reduced appetite
Expensive
We all know that cats can be fickle with food. Some love wet food, some dry, some prefer a combination. And, with cats being cats, this can change from one week to another. If you're looking to manage a cat food allergy in a way that caters to your cat's whims, we suggest stocking up on both this Hill's Digestive Care tinned food, and a large bag of the Royal Canin in our top spot. This will not only allow you to give your cat more options - essential if they have lost their appetite due to allergies (or any other reason) - but it will also let you choose to feed your cat at specific times, rather than leaving a bowl of dry food out all day. Wet food retains the ritual and regularity of feeding time far better than dry, so can help your cat regain their appetite. You should not combine veterinary diet food unless you have consulted with your vet but, again, if your cat prefers a bit of both, this may be possible under the right circumstances.
This wet food can be given to fully-grown cats and to larger kittens, so is fine for cats of most ages. While it isn't quite as good as the Royal Canin dry for cats recovering from bouts of diarrhea and vomiting, it can help, and it is easily kept down by kitties with sensitive digestive systems. It's suitable for cats on pea-free diets, and is especially useful for cats with reduced appetites and the problems associated with this.
The downside is that, again, it's expensive and is only available after consultation with a veterinarian. It's available in limited flavors too, with chicken and chicken + veg stew as the two most popular options.
3. Royal Canin Feline Digestive Care Dry Cat Food: Best value cat food for allergies
Royal Canin Feline Digestive Care Dry Cat Food
If your cat doesn't need vet-prescribed food, and you want to save money, this is for you
Type of food: Dry | Veterinary approval needed?: No | Good for: Sensitive Digestion, Slower Eating, Diarrhea | Special Diet assistance: Pea-free, Sensitive Digestion
More reasonably priced
Good for sensitive digestion
Can help with over-eating
Less likely to prevent vomiting and weight loss
There are degrees of severity when it comes to digestive sensitivity. If your cat doesn't require a specifically prescribed food to manage allergies or other stomach problems, you can try them on the regular version of Royal Canin's Feline Digestive Care dry food. It's almost half the price of the veterinary diet version, and can still improve your cat's quality of life in many ways. If you suspect that your cat is intolerant to certain food types, but isn't suffering day to day, this could be the option for you. We would, as ever, recommend that you consult with a vet if you have any questions or concerns whatsoever about your cat's diet.
This version of Feline Digestive Care can be combined with wet foods, to give your kitty a more rounded (and tasty) diet so is good if your cat prefers a bit of both. What's also good about this kibble is that it's specially shaped to prevent cats from eating too fast, which can help with weight control. Appetite loss is one issue, but over-eating is quite another, and this food is suitable for cats that gain weight easily.
If you're looking for negatives with this food, they're few and far between. Again, user reviews are overwhelmingly positive, so it's a product that is loved by all kinds of cats. It is more expensive than regular dry foods, for sure, and the flavors are severely limited so your cat may not like it at all. Overall, though, it's very good for your cat and won't break your bank balance either.
4. Blue Buffalo Natural Veterinary Diet Novel Protein Alligator Grain-free Dry Food: Best for severe allergies
Blue Buffalo Natural Veterinary Diet Novel Protein Alligator Grain-free Dry Food
If your cat has multiple intolerances, you should try this advanced formula dry food
Type of food: Dry | Veterinary approval needed?: Yes | Good for: Allergies, Sensitive Digestion, Skin Problems | Special Diet assistance: Pea-free, Sensitive Digestion, Gluten/Grain-free
Excellent for allergies
Uses high-protein meats
Rich in vitamins and minerals
Very expensive
Not all cats love it
While many specialized dry foods help to support general sensitivities in cat digestion, there are a number that target specific issues that arise from these health problems. This Blue Buffalo Vet Diet dry food helps to target the causes of cat allergies specifically, thanks to a formula that cuts out a wide variety of ingredients that can cause flare-ups. It's grain-free, and doesn't contain soy or wheat, which is essentially gluten free for kitties.
More than this, it uses alligator-protein to provide essential nutrition, which is clinically proven to cause fewer allergic reactions in cats. On top of this, it comes with many other more natural ingredients to provide a rounded and balanced diet for your kitty, including Omega-3 for skin, flaxseed for coat, and various berries like cranberries to help with urinary health and immunity. This is a neat blend of natural ingredients and science, for cat owners looking to alleviate a number of symptoms arising from digestive health issues in their pet.
The problem with it, much like all veterinary-prescribed cat foods is the cost, which is among the highest in our guide at almost $60 for a 7lb bag of dry food. It's excellent food, but won't be worth the cost unless you genuinely need it for your cat's allergies. There's also no guarantee that your cat will enjoy it, and there is no wet-food companion for combo feeding.
5. Royal Canin Veterinary Diet Gastrointestinal Moderate Calorie Wet Food: Best for weight control
Royal Canin Veterinary Diet Gastrointestinal Moderate Calorie Wet Food
If your cat has a sensitive stomach, but also loves to over-eat, this is a good solution
Type of food: Wet | Veterinary approval needed?: Yes | Good for: Weight control, Sensitive Digestion, Urinary Health | Special Diet assistance: Pea-free, Sensitive Digestion
Calorie balanced food
Helps urinary health too
Easy to digest
Limited flavors
Not all cats with digestive issues are under-eaters, and Many still suffer from weight-gain, despite issues caused by their digestive system. If your cat loves their food, but still needs help with a sensitive stomach, something like Royal Canin's Moderate Calorie wet food will keep weight down while still offering the diet they need. This one is a mixture of flavors all in a single can, so can be a bit of a risk with cats who don't like specific tastes, but it seems to be near-universally loved according to owner reviews.
This food has the same secondary benefits as other Royal Canin products, which include high levels of Omega-3 for skin, hair and gastrointestinal health. It's also positive for urinary health, and is formulated to prevent the build-up of crystals within your cat's bladder. These are standard, but excellent, features of most Royal Canin foods.
You'll need a vet to sign-off on this particular food, especially in light of the fact that it is designed to control calories in your cat's diet. Even though it's intended to combat feline obesity, you're still getting a well-balanced food here that will be great for cats with sensitive stomachs. It isn't the most expensive wet food around, but nor is it cheap...
6. Blue Buffalo Freedom Indoor Kitten Grain-Free Wet Food: Best for kittens
Blue Buffalo Freedom Indoor Kitten Grain-Free Wet Food
If you suspect your young cat has a sensitive stomach, this is a good start for them
Type of food: Wet | Veterinary approval needed?: No | Good for: Kittens, Sensitive Digestion | Special Diet assistance: Grain-free, Pea-free
Balanced well for kittens
Grain-free food
Still very tasty
Not vet controlled
Not specialized for allergies
If you suspect that your kitten has a sensitive stomach, you should try them on an enhanced wet food like this Buffalo Freedom variety. While it isn't a special-diet food, and is freely available without a veterinarian prescription, it does offer some real health benefits for your young cat. It's grain-free, which can be the source of allergies in cats of all ages, and it doesn't use soy or other substitute ingredients. It's pea-free, but does give your kitten a variety of vegetables that will help them develop well into a strong, healthy adult cat.
It's made without wheat as a thickening agent, which means that the texture is a little looser than you may be accustomed to, but your kitten will find this easier to eat. While kittens can be fickle with flavor, this chicken-based item is well loved by the majority of cats, according to their owners.
If you're looking to give your kitten a good start in life, it's worth investing in more healthy cat food like this. While this is in no way guaranteed to prevent or relieve allergies in your kitten, it does provide them with a healthy immune system and is specially formulated for younger cats, who are indoors more. It is comparatively expensive when compared to other kitten foods, so it really comes down to whether or not you feel your little cat will benefit from the health benefits it brings.
How to choose the best cat food for allergies and other issues
As ever, consult with your vet before selecting cat foods that deal with specific digestive or health issues in your pet. That should be your number one priority, and you should always follow the advice given to you. If your cat needs it, they will give you permission to buy specially formulated 'veterinary diet' food that provides specialized care for digestive sensitivity and other issues. But what if you don't need a prescription?
According to Chewy, veterinarians recommend foods with higher fatty acid content for allergies, as this helps to relieve inflammation and itching caused by allergies. So, if you're shopping for non-prescription cat food you should look out for ones that contain things like Omega-3 or flaxseed. These ingredients are great for hair and skin too, so the benefits are many.
Cats are creatures of habit, and the more you switch their diets the more likely they are to discover or develop something they are intolerant of, so where possible you should stick to a brand and flavor that your cat enjoys. If you combo-feed wet and dry, you may need to choose one or the other to eliminate the number of potential proteins that your cat could have an adverse immune response to.
We would also recommend looking to cut out foods that contain things like gluten, soy, or cheaper cuts of meat. All these are things that can upset your cat's digestive system, and they can lead to your kitty developing allergies.
Finally, if you're going to treat a cat with a sensitive stomach, or with known allergies, then make sure you give them appropriate cat treats. In fact, it's often better to give them food you've cooked yourself - like plain chicken or tuna - to offer special treats and still be kind to their digestive system.
Andy is an online Editor-in-Chief, a photographer, and a cat owner of 25 years. He has owned many types of cat, rescuing some and adopting others from kittens. He currently lives with Pickle, a tortie, who loves to play with Christmas wrapping bows and eat flowers.
Get the best advice, tips and top tech for your beloved Pets
Thank you for signing up to Petsradar. You will receive a verification email shortly.
There was a problem. Please refresh the page and try again.