Best cat sofa: Six places for your kitty to sit pretty
Our cat sofa guide combines both luxury and easy maintenance that'll make your life easier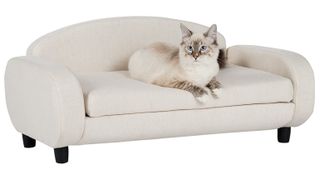 (Image credit: Paws and Purrs)
While a regular human sofa is okay for cats, nothing beats having their own personal cat sofa. After all, every pet owner out there knows the pain of loving your wonderful fur babies so very much, but not being a huge fan of the constant fur all over your furniture. That, or being used as a scratching post. Maybe both. With their own sofa, not only will fur on your furniture be a thing of the past, but their fur will be contained to one single, smaller place, making it much easier to clean up after.
Of course a cat sofa isn't there to benefit just young cats. Older cats may need orthopedic support, or a sofa that isn't too far off the ground so they don't need to jump on and strain themselves. Coupled with the option of cooling gels, or sofas that can be heated up via thermal heating or the radiator, your cat's needs should be the first priority when buying a cat sofa.
With all that in mind, finding the right sofa sounds difficult, doesn't it? That's where we come in. With our six cat sofas to choose from, you'll have the benefit of knowing which sofa will suit your feline friend's needs. If you don't think a sofa will suite your cat, maybe take a look at the best cat hammocks or maybe even our pick of the best luxury cat beds.
PetsRadar's pick of the best cat sofa
Why you can trust PetsRadar Our expert reviewers spend hours testing and comparing products and services so you can choose the best for you. Find out more about how we test.
Best overall cat sofa: Furhaven Ergonomic Luxe Lounger Contour Pet Couch
Best budget cat sofa: Zejeur's Sleeping Sofa for Cats and Dogs
Best modern cat sofa: Paws and Purrs Modern Pet Sofa
Best multi-purpose cat sofa: Contacts Cat Scratcher Sofa
Best cat sofa for senior kitties: LOAOL Memory Foam Pet Sofa
Best simple cat sofa: AmazonBasics Pet Sofa Lounger
Furhaven Ergonomic Luxe Lounger Contour Pet Couch
The best overall cat sofa
Specifications
Machine Washable Cover:
Yes
Reasons to buy
+
Comfortable sleep surface
+
Easy to clean
+
Orthopedic and Cooling Gel is optional
Reasons to avoid
-
Thin material around the mattress
Okay, so it may look a little simple at first, but how can you deny this luxurious Furhaven chaise couch when it comes with 15 different colors? Especially when one is described as 'Microvelvet Clay?' That's right you can't because, with 15 colors to choose from, you're sure to find something that'll match the decor of where you live.
Fashion aside, the design of this sofa is made with your cat's comfort in mind, with its contoured curves giving your pet more room to stretch out and find the right spot. The ergonomic design will also help in supporting your pet's back and neck, providing them with maximum comfort.
As for the mattress inside, there are more than enough options for you to choose from: orthopedic, cooling gel foam, or memory foam. This can give you choice, and you can buy all three, but we wouldn't recommend doing that. If you need all three, you may want to look somewhere else. It'll be less pricey.
The best thing about this sofa – not including the fact that it's machine washable, hallelujah! – is that it comes in all sizes, from medium to giant. While we're looking at sofas from a cat owner's perspective, this sofa is targeted at all pets, which is incredibly useful if you've got more than one fur baby that needs a place to lounge.
While we adore the simplicity and variety of choice with the Furhaven sofa, it does have some drawbacks. The material around the mattress is very thin, so durability is something to keep in mind if your cat likes to excessively chew or scratch at things.
Zejeur's Sleeping Sofa for Cats and Dogs
Best budget cat sofa
Specifications
Machine Washable Cover:
No
Reasons to buy
+
Non-slip bottom
+
Comes in a variety of different colors
+
Travel-friendly
Reasons to avoid
-
Has no protection from claws
-
Only donut ring design
Now this is what we call fluffy! Zejeur's Sleeping Sofa for Cats and Dogs may come across as strange – especially as the donut ring shape isn't the best for pets who prefer to stretch out – but trust us when we say that this product is proof that the cat sofa of your dreams shouldn't be limited by your budget.
You can place this cat sofa in any comfortable living space thanks to its non-slip bottom, meaning that even if you place this sofa on wooden or tiled flooring, you and your furry friend won't have to worry about it moving at all.
Another plus is that because of the sofa being so lightweight, it makes it the perfect product for when you're traveling and taking your pet with you. No matter the width, it's easy to secure by rolling it up and packing it to take with you – no extra space required!
As always, we love a sofa that has a variety of different colors for you to pick from. Our personal favorite is the Colorful Pink, which has a tie-dye look to it, but there are more than a few you can choose from. No matter what your home's decor looks like, Zejeur's sofa makes sure that you can leave with a purchase that suits you.
Aside from it looking amazing, the sofa is very soft and comes with a raised rim – hence looking like a donut – that helps support the neck and head of your pet. The inside of the sofa is a little deep, making it easy for your pet to curl up in and feel safe and secure. Older pets who have problems with their mobility, however, may need to give this sofa a miss.
While we love the donut ring design, it's unfortunate that this is the only design for this sofa, as it doesn't give your pet much room to stretch out, even if you choose to purchase the largest sofa. And that's not even mentioning that while the bottom of the sofa is well protected, the long lamb hair will make it all too easy for pets to chew and pull at.
Paws and Purrs Modern Pet Sofa
Best modern cat sofa
Specifications
Size:
31.5" W x 19.5" D x 15.5" H (inches)
Machine Washable Cover:
Yes
Reasons to buy
+
Modern look suits most homes
+
Soft, padded foam mattress
+
Easy cleaning
Reasons to avoid
-
Not suitable for pets weighing over 20lbs
Why should humans get all the fun of having a modern sofa? That's not fun at all! This is where the Paws and Purrs Modern Pet Sofa comes in, and while it is a little pricey, it's fashionable design and quality will make it 100% worth purchasing. Alongside your own furniture, it won't stick out like a sore thumb in comparison to other cat sofas, and will make your cat really look like part of the family with their own furniture.
It works like an actual sofa too, with a soft, padded foam 3-inch mattress included at purchase. The cover of this cushion is removable via zipper, making it easy to clean with your washing machine, as well as by hand. Unfortunately, there are only three different colors for the sofa and cover, but that seems to be a minimal fault in comparison to the modern look.
The sofa is very easy to assemble, as all you need to do is screw the legs and the back together for it to be complete. You don't need to be an expert at DIY to do that!
However, if your cat is heavier than 20lbs, we'd ask you to reconsider this sofa, as it cannot handle the weight of larger pets. Pets with mobility issues or pains like arthritis should also look somewhere else as, despite it looking great and fashionable, this sofa lacks orthopedic features, and doesn't provide thermal heating or a cooling gel. Older pets may also struggle in getting on this sofa, as while it isn't too far off the ground, the legs do make it higher than other sofas out there.
Contacts Cat Scratcher Sofa
Best multi-purpose cat sofa
Specifications
Size:
25.6 W x 14 D x 9.8 H (inches)
Machine Washable Cover:
No
Reasons to buy
+
Can fit 1-2 cats
+
Comes with ball toy
+
Suitable for lounging and scratching
Reasons to avoid
-
Not the comfiest
-
Not suitable for large cats
Sure, having a cat sofa to lounge around on is nice and all, but where's the actual fun in it? That's the sort of thinking that we're convinced shaped Contacts Cat Scratcher Sofa, which combines both the luxury of lounging around all day with the spice of giving your cat the option to play around too.
Made out of recycled cardboard with non-toxic chemicals involved in the creation, Contacts cat sofa provides a large surface area on top that curves upwards – perfect for when your cat wants nothing but to lounge all day, while giving them the head and neck support that they may need. It also helps that, depending on the size of your cat and how many cats you have, the sofa can be used as a sleeping area for one, and a play area for another, making it one of the best multipurpose sofa's.
You don't need to assemble the sofa, nor do you need to go out and fetch a ball toy as it already comes included with the product. The moment it arrives you can get it out of its box and let your cat/s go to town on it, whether that be lounging around, or playing with the ball toy in the second section of the sofa. The two sections are one of the best parts of this sofa, as it allows room for other pets to play and lounge too, making it a sofa that's specifically designed to help your cat socialize with activities.
Of course, just one look at this sofa should let you know that it isn't the comfiest thing in the world, so unless your feline friend likes to lie on hard surfaces and doesn't have any conditions that affect them physically, we'd only recommend this sofa if you're leaning towards a sofa that does more than just sit there and look pretty.
LOAOL Memory Foam Pet Sofa
Best cat sofa for senior kitties
Specifications
Size:
Medium to Extra Large
Machine Washable Cover:
Yes
Reasons to buy
+
Memory foam for added comfort
+
Soft yet durable
+
Easy to wash
Kittens are adorable – just ask anyone, but that doesn't mean we shouldn't show our older cats some love when picking a cat sofa. While your kitten will love pretty much anything, your older cat needs a sofa like the LOAOL Memory Foam Pet Sofa that'll let your cat be the most comfortable they can be.
Made of completely eco-friendly material, the LOAOL pet sofa provides active charcoal memory foam that absorbs moisture (and odors) and gently contours to the curves of your pet's body. This is very helpful for older cats as it can help reduce joint and muscle pain, as well as prevent soreness and reduce pressure points when they lie down. The mattress also has high density, which can help in providing maximum comfort.
It is also a very durable sofa thanks to the canvas cover that protects your mattress from being scratched or chewed at by your pets, meaning that no matter how rough your cat may be, you won't need to go and get a new one only days after purchasing it. But the durability isn't the only thing that makes this a hardy product, it's also completely waterproof, giving you the option to place this sofa either inside or outside - whichever works for you and your cat.
Unlike some competitors, the LOAOL pet sofa is also not high up from the ground, meaning that cats with mobility issues can easily gain access to this sofa without having to jump up to high surfaces and vice versa.
Of course, it isn't the most fashionable sofa out there and if you're looking for something that fits your home – as well as your cat's personality – then there's no shame in looking for something else. But do keep in mind that your cat's health should be a priority, so keep an open mind.
AmazonBasics Pet Sofa Lounger
Best simple cat sofa
Specifications
Machine Washable Cover:
Yes
Reasons to buy
+
Memory foam provides support
+
3 sides for a secure fit
+
Comes with a water resistant liner
Reasons to avoid
-
Lightweight makes it slippy on hard surface flooring
If you've been reading this article and have been wondering, "Okay, but what if I just want a simple cat sofa? It doesn't matter if it's an orthopedic or not, just a simple, clean, nice, cat sofa." Well, don't sweat, because AmazonBasics Pet Sofa Lounger is here to save the day, and make buying a cat sofa so easy that you won't need to second guess anything at all. It's just the perfect combination of easy comfort and an affordable price.
The AmazonBasics Pet Sofa has 3 raised sides to provide comfort and stability for your pet's head and neck. It comes in sizes small to large, with more than enough room for multiple cats to occupy the sofa if that's the sort of product you're looking for.
The cover for the mattress foam of the sofa is a grey, polyester canvas that is machine washable, and can be removed easily via the zip. The mattress foam inside is very thick, making it comfortable and reduces pressure points, which in turn can ease joint and muscular pain, making sleep easier for your treasured feline.
AmazonBasics' sofa also comes with a water-resistant liner and a durable fabric base that can withstand water damage, as well as damage from chewing and claws, though if damage does happen the product does come with a 1-year warranty. It's always better to be safe than sorry, after all.
Again, this isn't a cat sofa that will blow minds, and it fails to have a non-slip bottom so it doesn't work well in homes that has hard surfaced flooring, but if you're just in need of a cat sofa that's good on the wallet and doesn't lack in quality, then there's no better than AmazonBasics.
How to choose the best cat sofa
When choosing a cat sofa, there are more than a few things to consider: what is your cat's personality, how old are they, what's their size, and do they have a disability? Without these thoughts in mind, you risk the chance of getting a sofa that your cat just doesn't vibe with.
If you have a cat that's rather playful, then a sofa that they can both use to lounge on, as well as scratch and chew on without ripping it apart, is the way to go. That way they can get the best of both worlds. Maybe even consider getting a bigger sofa, as it can give them more room to play on their sofa with toys. Alternatively, your cat may just want to sleep on their sofa, and if that's the case then a soft, comfy sofa that can either be high or low to the ground will work just fine.
However, older felines – or those with mobility issues – should also be considered. Straining themselves to get to a sofa isn't good for them, and may cause them more strife than comfort. Get a low on the ground sofa that isn't too hard – memory foam works best – and one that is secure, preferably one with two arms and a back. Of course, a sofa bed that has too high sides could be a problem, so be aware of that before purchasing. You should also think about whether the sofa includes features such as cooling gel or thermal heating – the gel for if your cat runs hot, and thermal heating to keep your feline feeling snug.
And let's not forget the number one thing: style! Choosing the right cat sofa for your cat is good and all, but if it doesn't fit your living room then it's going to stick out like a sore thumb. Of course, if you'd rather have it outside then you should consider getting a durable, waterproof cat sofa. The possibilities are limitless.
Get the best advice, tips and top tech for your beloved Pets
Aimee Hart is deputy editor of LGBT+ video game publication, Gayming Magazine, part-time freelance writer, and a full-time animal lover. She is owned by two dogs, a cat, and a ridiculous amount of fish. None of them can escape her cuddles.