Best circulation pumps
Create a healthy and natural environment that will help your fish thrive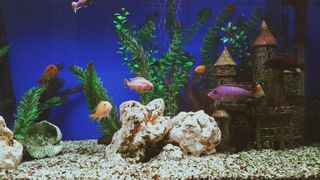 (Image credit: Getty Images)
The best circulation pumps are great at keeping your fish happy and healthy. They help keep water in constant motion, creating a more natural environment for your fish to swim in and enjoy, and you can watch any plants or decor sway with the current created. The continual movement of water also ensures that fresh oxygen is being generated, helping to make sure that your fish will flourish. Take a look at our top picks to help you select the best option for you.
Best overall
A compact pump with a strong flow rate
The VIVOSUN is a quiet, easy-to-use, and easy-to-clean circulation pump that measures a petite 4.1 x 2.6 x 3.5 inches, making it a breeze to hide or disguise in a tank. It boasts four strong suction cups, so it can be placed securely wherever you want, and it has an easy-to-access adjustable knob to help control water flow up to a max of 800 GPH. There is a five-foot power cord, so your tank will need to be near a power outlet.
Best budget option
Get 360-degree water flow for a cleaner tank
The AQUANEAT package brings you a pair of small circulation pumps suitable for freshwater and saltwater tanks. A single pump has a max water flow rate of 480GPH, ideal for 30-60 gallon freshwater tanks, and there's an 800 PGH model available for bigger tanks. Its design means there's a 360° rotation flow direction which creates natural currents and helps oxygenate the water, stirring up small particles to be picked up by a filter to help keep your tank clean.
Best multi-use buy
A multi-use pump with models for all tanks sizes
If you want more than just a circulation pump, then this offering from Marineland could be for you. It is a powerhead pump, which circulates water differently, and has an in-box conversion kit to turn it into a prop-style circulation pump. This helps create a natural water flow in your tank, which assists in keeping the water clean and oxygenated. There are four models available starting at 500 GPH for small tanks and going up to 1300GPH for large 100 gallon+ tanks.
Best energy efficient
Use less power whatever the size of your tank
A single easy-lock suction cup makes it easy to place and remove this energy-efficient circulation pump. Suitable for both freshwater and saltwater tanks, the ball and socket connection point allows you to position the pump for the preferred water flow direction. This helps simulate natural water currents, which in turn helps create a healthier environment. There are five different models, starting at 500GPH, an ideal choice for 40-gallon tanks, while the top-end model produces 1650GPH, perfect for large 120-180 gallon tanks.
Best compact pump
Small and compact pump with plenty of power
If you have a small tank this compact, but still powerful circulation pump, is a good choice. It has a secure, flexible mounting, which helps reduce noise and makes it quick and easy to install. The design of the Fluval means it is easy to reposition the pump, and coupled with the adjustable 270-degree directional flow you can create custom currents that make your fish feel at home. There are four models available, with the largest maintaining a compact size and being ideal for 90-gallon tanks.
Best large tank pump
A low maintenance pump for large tanks and aquariums
The SICCE Voyager is a range of powerful stream pumps that are suitable for freshwater and saltwater tanks and have strong magnetic support which enables them to be positioned anywhere. The starter in the range manages 800GPH, ideal for 50-100 gallon tanks, while the top end of the range 4000GPH is perfect for very large tanks. It has a 360-degree movable rotor, so it's easy to adjust flow and direction, and a self-cleaning impeller and stainless steel shaft provides tool-free maintenance.
How to choose the best circulation pump
Why you can trust PetsRadar Our expert reviewers spend hours testing and comparing products and services so you can choose the best for you. Find out more about how we test.
A circulation pump makes sure that the water in a tank stays clean and oxygenated, keeping your fish healthy. A key component of a circulation pump is its GPH (gallons per hour), which in general, refers to the flow rate of filters. The larger the GPH the bigger the tank it will work with. As a rough guide, a pump with a flow of 500 GPH is the ideal companion for a freshwater 40-gallon freshwater tank, slightly less for a saltwater tank. Also consider size, how easy it is to clean, and how it fixes to a tank.
Our top pick is the VIVOSUN 800GPH Submersible Pump (opens in new tab), a quiet, easy-to-use pump that has a max flow of 800GPH, great for most tanks below 100 gallons. If you own a large or very large tank, then the SICCE Voyager Stream Pump (opens in new tab) range is what you need. Its top-of-the-range model shifts an impressive 4000 gallons an hour.
For smaller tanks try the AQUANEAT Aquarium Circulation Pump (opens in new tab). This comes as a set of two, so you can create some custom current to keep your fish happy. There is also the compact Fluval Sea CP2 Circulation Pump (opens in new tab) that is unobtrusive but still powerful. If you are looking for a more efficient circulation pump then try out the Aqueon Circulation Pump (opens in new tab), suitable for small and large tanks.
Get the best advice, tips and top tech for your beloved Pets
Steve Jenkins is a freelance content creator and long-time journalist with more than 20 years in the industry. He has written for numerous titles covering tech to pets, with his latest faithful hound always by his side. When not walking his dog, or discussing who's best - cats or dogs? Loud guitars, AFC Bournemouth, Photoshop, and trying to save the world take up the rest of this time.
Thank you for signing up to Petsradar. You will receive a verification email shortly.
There was a problem. Please refresh the page and try again.