Best Dog Chew Toys
By PetsRadar
Save your shoes and your sofa with these brilliant chew toys that will keep your dog distracted for hours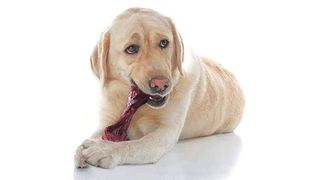 (Image credit: Amazon)
As a pet parent, we know you love your adorable canine companion, but we bet what you don't love is finding your new and rather expensive pair of trainers half chewed up and slobbered on. Thank goodness there's a way of distracting your little bundle of destruction with chew toys that will hold up far better than any pair of shoes ever could. Whether you've got a nimble little nibbler on your hands or a fully-fledged King of Carnage, our favorite chew toys have got you covered.
How to choose the best dog chew toys
As you've probably noticed, most dogs love to chew, but the last thing you want is them destroying your furniture and clothes. That's why we love the KONG Classic Dog Toy, the perfect source of enrichment that'll keep your pooch physically and mentally fit. It's our top pick for a durable and affordable chew toy that your dog will love.
If you want something that's almost indestructible, then both the VANFINE Squeaky Dog Toy and the EETOYS Dog Chew Toy will hold up well under aggressive chewing. And for those of you with light chewers on your hands, you simply can't go past the sweet as sugar Zippy Paws Skinny Pelt No Stuffing Squeaky Plush Toy, this trio of adorable woodland creatures is bound to be a hit with any hound.
PetsRadar is a website dedicated to providing expert advice for happier pets. Whether you're a parent to a dog, cat, reptile, horse or rabbit, PetsRadar offers a pathway to healthier pets and happier owners through our unique combination of trusted advice, expert guides and in-depth reviews.
Get the best advice, tips and top tech for your beloved Pets
Thank you for signing up to Petsradar. You will receive a verification email shortly.
There was a problem. Please refresh the page and try again.