Best puppy food for small breeds: help your pup grow into a happy and healthy dog
Unpack the best puppy food for small breeds to make sure your dog gets all the nutrients they need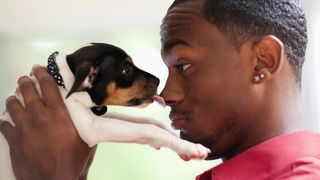 (Image credit: Getty Images)
Choosing the best puppy food for small breeds is easy. Simply choose food that has been specially created for your puppy. But you are probably thinking why does it matter. Why can't I just choose any variety from the list of best puppy food and give them smaller portions? If you do, this won't give your particular puppy the right nutrients and vitamins they need to grow properly.
Puppy food for small breeds is specially formulated to be easily digestible for smaller mouths and more palatable for delicate stomachs. But more importantly, it needs to contain the right amount of nutrients needed to help stimulate natural growth.
Smaller breed puppies have a higher metabolic rate and different energy requirements than large breed dogs, but they can't eat as much as large breed puppies for obvious reasons, they have smaller stomachs. So this means their meals will need to be smaller in size. But this also means that every meal will need to be packed with the right amount of protein, and calories to help your growing pup transform into a happy and healthy adult.
Check out our top picks of the best puppy food for small breeds on the market to help you decide what is the best option for you and your puppy.
Hill's Science Diet Dry Dog Food Small Paws for Small Breeds
Best overall puppy food for small breeds
Reasons to buy
+
High-quality protein
+
Added mineral and vitamins
+
Extra small kibble
A growing puppy needs the right food to help it grow into a happy and healthy adult dog. This offering from Hill's brings together the perfect blend of ingredients that will support your fur friend's growth all the way through to adulthood.
To make sure that your dog stays smart and has a keen eye for catching a ball, DHA from fish oil is used to assist with healthy brain and eye development. A balanced diet of minerals and vitamins is added to the puppy food to help promote strong bone growth as your puppy grows. It will also ensure that your pet puppy will possess a powerful set of teeth to let them crunch and chew all of their favorite foods and flavors.
To build lean muscle and help keep your puppy fit and active throughout its first years and beyond, high-quality protein is a must on the ingredients list. To promote a strong immune system and help keep your pet pooch strong and sturdy, clinically proven anti-oxidants are combined with vitamin C and vitamin E.
On the flavor front, classic puppy food favorite chicken is combined with whole grain wheat, corn, pearl barley, and brown rice to produce a tasty treat that most puppies will love. Extra small kibble makes sure that it will be easy for your puppy to digest these succulent snacks. But if your fur friend is sensitive to grain, you will want to try a different grain-free puppy food.
Purina Pro Plan Small Breed Chicken & Rice Puppy Dry Dog Food
Best budget puppy food for small breeds
Reasons to buy
+
Added vitamins
+
Real chicken
+
Caters for small and toy breeds
+
Omega-6 to nourish skin
Generic meat ingredients in puppy food are a no-no and are not a recommended ingredient for any small growing dog. But, you will have no such worries with this puppy food from Purina. Its main ingredient is real chicken, which is mixed with a host of other natural ingredients, including cornmeal, brewers rice, whole grain wheat, and a mix of essential vitamins. This helps provide the nutritional building blocks needed for the healthy growth and development of your fur friend.
The specially formulated puppy recipe uses live probiotics for improved digestion while anti-oxidants help towards stronger immune health. It also targets the right nutrition for small breeds to make sure that your pet pooch gets the food that is right for them. DHA, a derivative of fish oil is included in the recipe to help improve brain and vision development and improve heart health as well.
Like all good puppy foods, calcium is another added ingredient along with a selection of essential minerals that help build strong bones and teeth. The fatty acids found in Omega-6 and added vitamin A will nourish your puppy's skin and help give a shiny coat that will undoubtedly impress other owners.
It is high in protein to meet the needs of highly active small dogs, and you can choose from 6lb or 15lb bags for small breeds. Buying bigger quantities helps save money, so if you have the room to store it, get yourself a big bag. Toy breed owners can take advantage of the Purina Pro formula with 5lb bags perfectly sized for even smaller stomachs.
Blue Buffalo Natural Puppy Small Breed Dry Dog Food
Best two-part puppy food for small breeds
Reasons to buy
+
Omega 3 and 6 fatty acids
+
Good for sensitive stomachs
+
Extra vitamins and minerals
+
No chicken/poultry by-product
+
Natural ingredients
Reasons to avoid
-
Not completely grain-free
To boost your puppy's health and get an extra hit of vitamins and minerals, Blue Buffalo includes what it calls LifeSource Bits. These are antioxidant-rich kibble which is mixed in with the standard kibble to create a unique two-part puppy food. To make sure they preserve their potency, these nutrients are processed at a lower temperature than the rest of the ingredients.
Formulated to give your puppy the best possible start in life, this natural dog food eschews chicken or poultry by-product meals, corn, wheat, soy, artificial flavors, or preservatives. It is made with high-quality natural ingredients that are enhanced with vitamins and minerals. The recipe boasts protein-rich, deboned chicken. wholesome whole grains and an essential selection of garden veggies and fruit.
The chicken provides high-quality protein to help build and maintain healthy muscle tissue in your puppy while the grains, veg, and fruit provide essential nutrients to help your dog grow and keep them healthy. DHA and ARA provide important fatty acids – found naturally in mother's milk – to support cognitive function and retinal health. Added calcium and phosphorus nurture strong teeth and healthy bones, while Omega-3 and Omega-6 fatty acids provide healthy skin and a shiny coat.
The natural collection of ingredients make it an ideal choice for puppies with a sensitive stomach. But, be warned, even though this recipe doesn't contain any artificial flavors or the more commonly used grains such as corn or wheat, it still isn't completely grain-free. On the flip side, if you know your dog is only intolerant to wheat or corn, then the natural ingredients in this puppy food could be what you are looking for.
Wellness Complete Health Natural Dry Small Breed Dog Food
Best high-quality puppy food for small breeds
Reasons to buy
+
Natural ingredients
+
Real fish and meat
+
Essential oils for brain development
Reasons to avoid
-
Not completely grain-free
To enjoy a lifetime of health and happiness, your pup needs to avoid a poor diet. It needs a well-balanced diet with good-quality ingredients, and this dry food looks to provide that. It has a strong focus on natural ingredients that look to deliver a well-balanced solution that will help your dog thrive.
There are no meat by-products, fillers, or artificial preservatives here. The recipe focuses on real deboned turkey and salmon as its main ingredients to support growth and development. It does also contain oatmeal, so it's not completely grain-free. But, its supplementary ingredients are all targeted at ensuring the well-being of your growing pup to give them whole-body health.
The meat and fish provide high-quality protein, which is perfect for giving your dog plenty of energy to tear around your home. The salmon contains the essential oils needed to help improve the heart, eyes, and brain. Spinach and blueberries ensure that there are plenty of antioxidants in your pup's diet to help them build a strong immune system to help fight off any unwanted diseases. Flaxseed combined with essential Omega fatty acids helps ensure that your dog will have healthy itch-free skin and a great-looking coat.
As you might expect the focus on high-quality ingredients provides the perfect recipe for a happy and healthy puppy, but you will have to pay a little extra for the pleasure. But if you want your pet pooch to get the best, we are sure you'll be happy to pay.
Merrick Grain Free Canned Wet Dog Food
Best tinned puppy food for small breeds
Reasons to buy
+
Real meat
+
Grain-free
+
Added vitamins and minerals
Reasons to avoid
-
Doesn't last as long as dry food
We all know that dogs can't talk, but if you could ask them whether they preferred wet or dry food, the answer would more than likely be wet food. It has a more intense flavor and a more natural texture than dry food. And when it says it has real meat in its recipe, it has real meat in its more natural form, something that your puppy will love.
Chicken and beef are the two mouthwatering flavors that your dog can choose from here. Both are grain-free recipes so you won't find any wheat, rye, or rice on the ingredients list. But what you will find is a selection of fruit and veg including sweet potatoes, carrots, peas, and Granny Smith apples in a tasty gravy to enhance the feeding experience and add a little variety and excitement to dinner time.
Like dry food, wet food is tasty and nutritious but the ingredients alone cannot give a growing puppy everything they need to ensure they will be healthy and strong when they become fully grown. A carefully selected collection of vitamins, minerals, and supplements make sure your fur friend will get the essential nutrients that they need.
DHA from fish oil helps brain development, antioxidants support strong immune systems, while Omega-6 and Omega-3 fatty acids are included to ensure great looking, healthy skin and coat. Plus leading levels of glucosamine and chondroitin promote healthy hips and joints. The perfect combination for an active and excitable puppy.
Wellness Core Natural Grain Free Dry Dog Food
Best grain-free puppy food for small breeds
Reasons to buy
+
Grain-free
+
Lots of fruit and veg
+
Small sized kibble
Reasons to avoid
-
More expensive than grain food
A lot of puppy food contains wheat, rye, barley, oats, maize, and rice, which are all perfectly safe for a dog. However, not all dogs can tolerate grain in their diet, so if your puppy regularly has an upset stomach, you may want to think about trying your fur friend with grain-free puppy food.
A lack of grain doesn't mean that your puppy's food will be any less tasty it will simply have different ingredients that dogs will still love. Topping the list for this grain-free puppy food is turkey – a meaty dog favorite. But instead of grain making up the rest of the recipe, your pet pooch will be getting a tasty selection of fruit and veg instead. To get your dog drooling, peas, broccoli, carrots, parsley, apples, blueberries, kale, spinach and sweet potato all help complete the recipe.
These contain plenty of natural nutrients and vitamins to help boost your pet pooch's growth and development. But they are not the perfect combination by themselves. To pep up the recipe for a growing dog optimal levels of protein, fats and carbohydrates are added to compensate for the lack of grains.
To promote whole-body health taurine and protein are included to improve heart health, prebiotics and probiotics for a healthy digestive system, and Omega fatty acids are included to encourage healthy skin and a shiny coat. The smaller-sized kibble is specifically made for small breed dogs to aid easier digestion and comes with added DHA for healthy brain and eye development. Everything a puppy with a sensitive stomach could need.
How to choose the best puppy for small breeds
Why you can trust PetsRadar Our expert reviewers spend hours testing and comparing products and services so you can choose the best for you. Find out more about how we test.
When choosing dog food for a puppy there a few key factors that you need to consider. The two big questions are, should you feed your dog wet food or dry food? And, should you go grain-free or not?
Wet and dry food both have their pros and cons. Wet food has a more intense flavor and is easier for your dog to chew and swallow. It has a higher water content, which can be beneficial for certain dogs.
Dry food is not so easy for small breeds to chew, but then some dogs do love to crunch and it can help improve gum health. For owners, it has the distinct advantage of a longer shelf life and makes a lot less mess when feeding. The ideal scenario is to try both and see what your puppy likes most and what works best. You could give your pup a mix of both to keep them and you happy.
A lot of puppy foods contain grains such as wheat, rye, barley, oats, maize, and rice which some dogs will be intolerant of. So, if your dog has a sensitive stomach and struggles with puppy food with a rice recipe then definitely switch to a grain-free option to help settle your pup's stomach.
Finally, think about size and ingredients. Kibble needs to be small to make it easy for your pup to digest. Too big and they won't want to or will struggle to eat it. And, if your puppy food contains meat by-products (check the label) think about switching to real meat as the main ingredient recipe to help your pup grow strong and healthy.
Get the best advice, tips and top tech for your beloved Pets
Steve Jenkins is a freelance content creator and long-time journalist with more than 20 years in the industry. He has written for numerous titles covering tech to pets, with his latest faithful hound always by his side. When not walking his dog, or discussing who's best - cats or dogs? Loud guitars, AFC Bournemouth, Photoshop, and trying to save the world take up the rest of this time.