Best Christmas gifts for cats: Great holiday presents for your feline friend
Our guide to the best Christmas gifts for cats ensures nobody will be left disappointed on the big day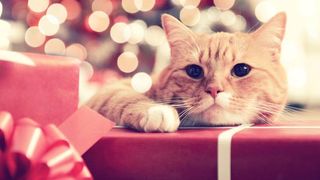 (Image credit: Getty Images)
If you're looking for the best Christmas gifts for cats, then you've definitely come to the right place. We've sifted through dozens of items to identify "purr-fect" presents for you feline friend. What's more, this guide takes into account a cat's different needs: some of the gifts are more suited for active cats, for instance, while others will satiate a moggy's desire to curl up in comfort and have a much-needed, quiet nap!
Certainly, these gifts will look great once they are unwrapped. They are also within the budget of most cat owners. The idea is that you'll be able to find something that will match your cat's personality while also feeling as if you're giving them something extra special. There's even a great gift that a cat could wear to make them look more festive!
We've also looked at personalized presents – those that can bear your cat's name so that there is no mistaking who it's intended for. And if you're not quite certain what will light up your cat's eyes, then consider the goody box packed with gifts that we've chosen. It contains a great assortment of gifts that will see a cat occupied right through the holiday period. PetsRadar wishes you all a very happy Christmas!
PetsRadar's pick of the best Christmas gifts for cats
Why you can trust PetsRadar Our expert reviewers spend hours testing and comparing products and services so you can choose the best for you. Find out more about how we test.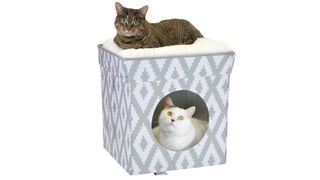 Kitty City Large Cat Bed and Stackable Cat Cube
Best overall Christmas gift for cats
Size: 16.5 x 16.5 x 19.25 inches | Color: Grey, Tan, White | Weight: 7.25 pounds | Material: Polyester
Machine washable mat and pillow
No tools required assembly
Easy to fold and store
Two nap areas
Not really sturdy when stacked
Do you want to get something that you and your cat will both love for Christmas? Then this Stackable Cat Cube from Kitty City could just be what you are looking for. It's a practical, functional, good-looking and comfortable indoor home that might not boast the traditional trappings of Christmas but it is a holiday gift that your pet puss will thank you for all year round.
It is really easy to assemble - no tools required. Simply unfold the sturdy sides and place the lid on top. To stow away simply whip off the top, push in the sides and fold down flat. Put the folded cube inside the lid for easy storage or a simple low level cat nap space.
The cube measures 16.5-inch square and 19.25-inches tall - including the 5.5 inch top. So plenty of room for all cats and a 9.5-inch opening gives easy access to a warm, private hideaway where your pet puss can have a peaceful undisturbed nap on the fleece base mat.
If the inside isn't the choice of the day the lid comes with a cushy comfortable polyester pillow that provides another place for your pet puss to take a quick nap. When the pillow and mat need a clean you can throw them in the washing machine without any worries.
The modular design means that a single cube could just be the beginning of a more impressive cat condo. The single cubes are stackable - but only two high any higher and they become unstable and unsafe. So you can choose whatever combination you want. Alternatively, invest in a large - double-sized - condo for more napping space and combine with a single cube to create a cat condo palace. The perfect present for the holidays.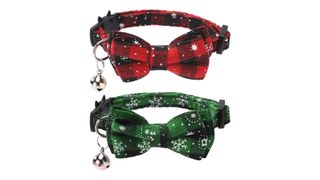 Lamphyface Christmas Cat Collar Breakaway with Cute Bow Tie and Bell
Best budget Christmas gift for cats
Size: 8-11 inch | Color: Red, Green | Weight: 3.21 ounces | Material: Cotton
Two colors and two patterns
Ringing bell
Good price
Adjustable collar
Two patterns very similar
With the holidays fast approaching, what better time to grab a cute designer cat collar to give the pet puss in your life a hot fashionable look that will make the neighbourhood cats green with envy?
This set of budget-friendly collars from Lamphyface will let your fur baby join in the festive fun and provide you with an unmissable photo opportunity. Dress them up, sit them on your lap and get the ultimate holiday selfie.
This set of collars are made from a durable, strong, high-quality cotton fabric that makes them long-lasting, scratch resistant and machine washable. Designed using classic plaid you get the choice of two colours and two patterns. Choose from classic holiday red or green and then choose which pattern you want. One pattern offers simple stars and snowdrops while the other option introduces snowflakes into the pattern. Both are very similar but the choice is yours.
Ideal for most cats - and even small dogs - the collar is fully adjustable. It measures ⅜ inch wide and will fit necks from 8 - 11 inches. When measuring your cat's collar size remember to stick a couple of fingers under the tape measure to give them enough room, you don't want it too tight.
A cute plastic cat shaped safety release buckle makes the collar easy to take on and off for owners, but makes sure that it stays on. The bowtie is movable, meaning that you can slide into your purrferred position and a little ringing bell means that you can find your pet puss wherever they may be.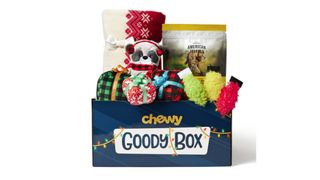 Goody Box Holiday Toys, Treats & Blanket for Cats
Best one-off Christmas box for cats
Size: 12 x 10 x 6 inches | Color: Assorted | Weight: 3 pounds | Material: Assorted
Assorted gifts
Grain-free treats
7 plush toys
Cozy holiday themed blanket
Not for kittens
New toys? New treats? Not quite sure what gift to get the cat in your life for Christmas? Then this limited-edition adult cats only goody box from Chewy could be just the ticket to light up their holiday. So what's in the box? A whole bunch of seasonal swag hand-picked by pet parents for pet parents. So there's sure to be something that your fur baby will love.
You'll get nine gifts specifically crafted for cats. There's a cozy Holiday Nordic Fair Isle Cat & Dog Blanket which incorporates a contemporary snowflake pattern in red and white. But you need to be gentle when washing the blanket and it will need a wash eventually. Note you cannot iron it, but don't worry your cat won't care if it has a few creases.
There's three different kitty plush toys. There are three Holiday Christmas Lights Plush Cat Toys filled with catnip that come in three colors. These are the smallest of the plush toys that you get in the goody box. Next, there are another three plush toys - again filled with catnip - in the shape of presents in two different sizes. Finally on the toy front there is a cute catnip stuffed winter themed raccoon plush toy. It comes with its own earmuffs, a colour matching scarf and big tail that your pet puss will love to get to grips with.
To keep your pet puss purring there's a two ounce bag of American Journey 100% Chicken Freeze-Dried Grain-Free Cat Treats. Made with just one ingredient - real, USA-sourced deboned chicken breast - they are free from corn, wheat, soy, carrageenan, salt, sugar or artificial preservatives.
With so many gifts to enjoy there's always a photo opportunity to be had. Unfurl and hang the Happy Holidays banner, throw a few toys and treats in front of it and you'll have a memory for life.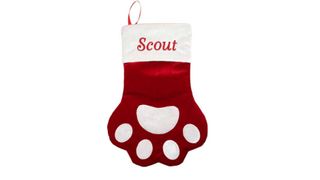 Frisco Paw Holiday Personalized Dog & Cat Stocking
Best stocking Christmas gift for cats
Size: 13.5 x 9.5 x 0.25 inches | Color: Red, Green Plaid, Red Plaid | Weight: N/A | Material: Velvet
Personalise with cats name
Three color options
Six different thread color choices
Made from soft velvet
Can't purchase without adding name
This is one gift that will definitely keep on giving this holiday season. Stockings are traditionally hung for Santa to fill with presents and this specially designed stocking for cats means that your pet puss gets to join in the holiday fun. And the best bit is that it can be used for the next holiday and the holidays after that. Every year It can be hung up on Christmas Eve ready to be filled with gifts and treats.
There will be no mistake who the stocking belongs to as your fur baby can have their name proudly embroidered across the cuff for Santa to see. You can choose up to nine characters, which should accommodate most names.
But there are a few conditions. By default only the first letter will be a capital and if you want to add a two word name you need to remember a space will be included. So this effectively leaves you with eight letters for the name. But, on the plus side, the second name will have a capital as well as the first.
Adding your cat's name is just one of a bunch of customization options that will make this bespoke gift even more personal. Made from a soft to the touch velvet you can choose from three colors: Red, Green Plaid and Red Plaid.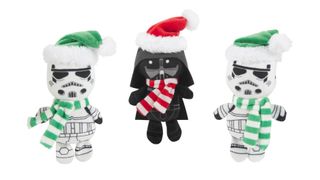 Star Wars Holiday Darth Vader & Stormtrooper Plush Cat Toy
Best plush toy Christmas gift for cats
Size: 7 x 3 x 2.5 inches | Color: Black, White, Red, Green | Weight: 3.7 ounces | Material: Polyester
Star Wars characters
Set of three
Stuffed with catnip
Holiday outfits
Not ideal for cats 6 months or younger
Love Star Wars? Get ready to introduce the baddest man in the universe and his trusty Stormtroopers to your fur baby this holiday season. Darth Vader and his iconic servants of the Empire aren't quite so scary, especially when you see the cute Christmas outfits these plush toys are decked in. This set of three sees Darth Vader take center stage wearing a little red Santa hat and a candy cane scarf to set the holiday tone. Keeping him company are two Stormtroopers decked in holiday green hats and matching scarfs.
Packed with plush and measuring 7 x 3 x 2.5 inches they are the perfect size for your pet pussy to unleash its natural hunting instincts and grab, chew, and kick. Or if in a more sedate mood they can just cuddle and use them as a comfort toy. But the lull isn't likely to last long as each Star Wars character is stuffed with catnip and crinkle paper for even more playtime excitement.
Catnip is a plant that cats often go crazy - be warned not all cats love it, especially very young kittens. But if you know your pet pussy is a fan of the leaf then these tough durable polyester toys are definitely one for your holiday shopping list.
If the legendary characters of the Dark Side can't tempt you can look to the Light side with a whole host of famous faces from Disney, Marvel and Pixar. Get your hands on Donald Duck, Mickey Mouse, Iron Man, The Hulk, Spiderman, Woody, Buzz Lightyear and many more.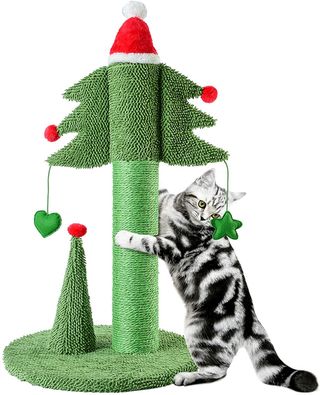 BOLUO Christmas Tree Scratching Post
Best scratching gift for Christmas
Size: 7.5 to 20.9 inch | Color: Red, Green | Weight: 6.92 pounds | Material: Sisal rope
Easy to assemble
It's different heights make it suitable for all
Covered in natural fibrous sisal
It's a little expensive
At this time of the year, we usually try and encourage cats to step away from the Christmas tree, worried that they'll attempt to climb up and send it toppling over. By providing your feline friend with their own tree, however, you should be able to provide a sufficient distraction – in this case, while satiating their urge to scratch as well!
As you can tell from the photograph, this amazing looking item is a scratching post shaped like a Christmas tree, complete with a dangling heart and star. The post is covered in natural sisal rope (a material made from the Agave sisalana plant). That means it more than stands up against the best cat scratching posts you'll likely consider the rest of the year.
As well as its lovely design, topped off with a Santa hat, this toy also includes a second post, again covered in sisal rope. Both are attached to a sturdy base that has been designed to support the weight of a cat up to 18 pounds. The manufacturer says it can even handle cats that decide to leap up towards the top.
The branches of the tree are made from a soft, comfortable cloth, and they come attached to the top part of the pole. This forms one of just five components (the hat, main pole, secondary pole and base being the others). As such, assembly is simple – taking mere minutes at most – which is sure to be a bonus on a busy Christmas morning.
How to choose the best Christmas gifts for cats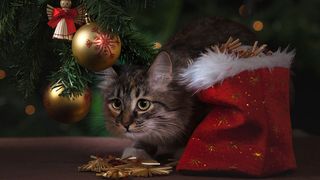 Practical and fun - or both
Cats might not appreciate that it's the holidays but they will love a gift, but what type of gift should you get them? No-one knows your cat better than you so you will have a good idea of what they like and what you would like to buy them.
Should it be practical like a cat bed or a new blanket, or why not something more fun like a cat toy that they can play with or its very own stocking you can cram with different gifts ready for the holiday.
If you're feeling generous, why not spoil the cat in your life and get them more than one gift. Get them something practical, get them something fun and why not get them some special treats.
The price is right
Before you set out to purchase a present for your - or someone else's - fur baby set yourself a budget. This makes it easier to decide on the gift that you choose. Of course you can still spend a little more than your budget, but deciding before you buy helps keep an eye on those hard-earned dollars.
Personalise it
Personalising a gift makes it more special. It makes it unique and shows that you have put some thought into the present that you have purchased. It's a great way to make a gift that might not seem particularly special by itself more interesting and thoughtful. Try adding the cat's name or a simple message such as 'I love you' or how about every cat's favorite saying 'Meeeooow'. Whatever you choose it will make the gift more meaningful.
Get the best advice, tips and top tech for your beloved Pets
Steve Jenkins is a freelance content creator and long-time journalist with more than 20 years in the industry. He has written for numerous titles covering tech to pets, with his latest faithful hound always by his side. When not walking his dog, or discussing who's best - cats or dogs? Loud guitars, AFC Bournemouth, Photoshop, and trying to save the world take up the rest of this time.