Best advent calendars for cats 2023: Countdown to Christmas
Treat your feline friend to the best advent calendars for cats and count down the days to fun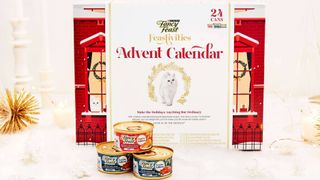 (Image credit: PURINA)
Moggies don't have a concept of Christmas but the best advent calendars for cats will can still get them into the festive spirit. Just as you're never too old to have one, so our cats can countdown to Christmas with one of their own classic calendars – some made all the sweeter by containing up to 24 treats or toys.
Some advent calendars for cats are rather lavish and we look at a few of those premium products in our guide. We also ensure there are some great calendars to suit all budgets while concentrating on those that contain food or a toy, mainly because a cat is going to be far more receptive to these than any which simply contain pictures.
With that in mind, here you'll find advent calendars containing food made from quality ingredients such as turkey, as well as meals or treats that are natural, grain-free and designed to fit into a wide range of diets. We've also been sure to pick advent calendars that contain well-made toys. Just because your cat can have a regular supply of toys in the run-up to Christmas doesn't excuse them from quickly falling apart.
So let's take a look at what is on offer in 2021 including an advent calendar that you can fill yourself and reuse year after year. Don't forget that, come the big day itself, you may also want to round things off with one of the best Christmas gifts for cats. Time to get into the festive spirit!
PetsRadar's pick of the best advent calendars for cats
Why you can trust PetsRadar Our expert reviewers spend hours testing and comparing products and services so you can choose the best for you. Find out more about how we test.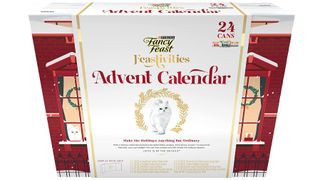 Purina Fancy Feast Gravy Lovers
Best overall advent calendar for cats
Breed size: All | No of treats: 24 | Weight: 3 ounces (per can) | Flavors: 9
24 cans of cat food
Limited edition festive flavors
Grain free options
Heavy
Can't hang
Do you really want to spoil your pet puss this holiday and show them just how much you love them? Getting your hands on this Fancy Feast Feastivities Advent Calendar from Purina will demonstrate just how cherished they are. It doesn't mess about with bite-size treats or small plush toys; it goes all out and offers 24 three-ounce cans of top-quality cat food.
You get a variety of classic and festive flavors, in fact there are nine different flavours on offer, so your pet puss won't be getting the same old flavor every day you crack open a new window in the countdown to Christmas.
Watch your cat try the upmarket Medleys, which include Tuna Florentine, Salmon Primavera, and Chicken Tuscany, or chow down on an old favorite in Classic Beef and Chicken Pate. Indulge them with a fish fest with Creamy Delights Tuna Feast and Gravy Lovers Whitefish and Tuna.
But when it comes to the lead up to the big day, there are a couple of limited edition festive flavors in Yuletide Turkey Feast With Sweet Potato and Tomato in Gravy and a non-meat choice in Hearthside Salmon Platter With Pumpkin and Spinach to enjoy. Healthy, hearty, and full of natural goodness – but not all are grain-free.
Be warned, this is no lightweight advent calendar, weighing in at over 4.5lbs when fully laden. Definitely not an advent calendar that you can hang on the wall door or anywhere else. But it is designed to neatly fold open to create a sturdy standing position and reveals the classic 24 windows you find in traditional advent calendars. Each one is big enough to hide a small can of cat food behind it and reveal its own festive feline-related message.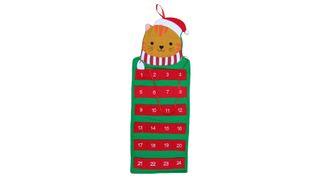 Cat Pet Advent Holiday Calendar
Best reusable advent calendar for cats
Breed size: All | No of treats: None | Weight: n/a | Flavors: n/a
Good quality heavy felt
You choose treats and toys
Decent size pockets
No treats or toys
Want an advent calendar where you get to choose the treats? No one knows your cat better than you, what they like and what they don't like. If your pet puss has a delicate and sensitive stomach, you don't want to be trying treats that will upset them. But it's not all about treats, how about toys? Your cat will love both, so why not mix it up and give them something that will keep them entertained to complement the treats?
This cute Cat Pet Advent Holiday Calendar provides the perfect base for you to create your own custom calendar. It comes empty, so you can fill it with your pet puss's preferred treats, toys, and anything else that you know your cat will love. But you do get a fun fish marker that you can pop into a pocket, as a reminder of the date and the building excitement as the holiday fast approaches.
Made from good quality, heavy felt with strong stitching, this adorable cat design is built to last for this holiday season and many more to come. Measuring 29 inches long by 11 inches wide, the top is dedicated to a cute cat face wearing a Santa hat and a candy cane scarf.
Down below are 24 numbered pockets perfectly placed in six rows of four. Each pocket is 2.5 inches wide and 2 inches deep, big enough for a big treat, a handful of small treats, or a small cat toy in the pocket just waiting to entertain.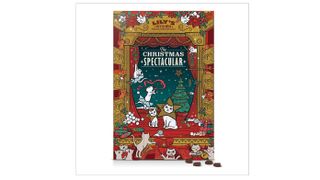 Lily's Kitchen Christmas Cat Advent Calendar
Best for natural ingredients
Breed size: All | No of treats: 24 | Weight: 1.48 ounces | Flavors: Chicken and Shrimp, Chicken and Liver, Turkey and Cranberry
Natural ingredients
Grain-free
Three tasty flavours
Charming illustrations
Not cheap
What does your pet puss want for Christmas? We're pretty sure a selection of tasty treats will be high on their wishlist. But you don't want them to just have any old snack, you want to get them something special, something healthy, something that'll keep them and you happy. And, that's exactly what you get with this cute advent calendar from Lily's Kitchen.
Their mission is all about creating delicious, wholesome food for pets with plenty of tasty natural ingredients that help your fur friend get a balanced, nutritious diet and stay in tip-top condition. What more could you want to make sure that you and your fur friend have a happy holiday?
Adopting the classic advent calendar style, you get a simple 24 window design under the grand guise of 'The Christmas Spectacular'. Decorated with a host of charming and lovable cat illustrations, behind each of the 24 windows of the magical cat theatre you'll find a small heart-shaped tasty chicken or turkey treat.
The chicken treats come in two tasty flavors. The Chicken with Shrimp is bursting with Omega 3 which is purrfect for helping keep your cat's coat as soft as velvet. The Chicken and Liver are enriched with Taurine which is great for the brain, nerves, eyes, heart, digestion, and immune function and development.
In keeping with the holiday spirit, the Festive Turkey Treats come with a side of sweet cranberry to pump up the flavor and give your pet puss a taste of a traditional Christmas dinner.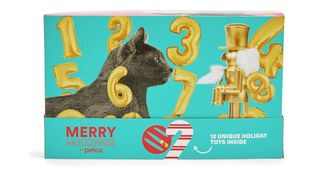 Merry Makings 12-Days of Thrills Cat Toy Advent Calendar
Breed size: All | No of treats: None | Weight: n/a | Flavors: Catnip
12 toys
Perfect companion for classic advent calendars
Filled with catnip
Cute designs
No treats
This advent calendar doesn't offer the traditional countdown to Christmas with 24 windows to pop open, but what you are getting is a box of 12 Christmas-themed toys that will keep your pet puss entertained across the holidays and into the new year. So what's in the box?
There's a couple of soft and small pom-poms in the classic holiday colors of green and red, ideal for batting, kicking, and chasing. A couple of tinsel textured balls help up the excitement levels, and a couple of red and green fluffy rope toys give your pet puss something to have a good chew on.
Elsewhere, there are three candy cane style sweets, a couple of hollow plastic balls, in red and green of course, and a cute mouse wearing a Santa outfit. All the plush toys are stuffed with hard to resist organic catnip, making them even more irresistible. The toys are recommended for all life stages, but it's worth noting that kittens don't react to the lure of catnip until they get to around six months old.
The box doubles up as the advent calendar with each of the 12 windows opening to reveal suggestions that you and your cat can take part in such as 'Cuddle up together for a holiday move'. Wise words.
If 12 treats aren't enough, then why not match up this Merry Makings 12-Days of Thrills Cat Toy Advent Calendar with a traditional 24 treat advent calendar such as the Lily's Kitchen Christmas Cat Advent Calendar in this guide? We are sure your cat will thank you for the extra treats and toys.
Alternatively, why not purchase the Cat Pet Advent Holiday Calendar and use the toys to fill half of its 24 pockets and fill the rest with treats? Your pet puss will get the best of both worlds and you'll be helping them stay fit and healthy.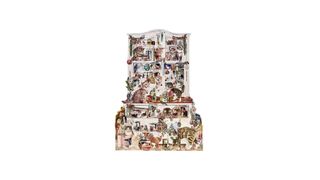 Alison Gardiner Designs Mischievous Cats Advent Calendar
Best illustrative advent calendar for cats
Breed size: All | No of treats: None | Weight: 2.11 ounces | Flavors: n/a
Well made
Traditional Victorian artwork
24 windows
No treats
Cat lovers, count down the days to the Christmas holidays with cats, cats, cats, and more cats with this mischievous cats advent calendar from Alison Gardiner Designs. This isn't a calendar that reveals daily tasty treats for your pet puss, it's a calendar for owners to embrace and enjoy.
Why not use your imagination and recreate the scene behind each window with your very own pet puss and reward them with a treat that you know they will love. Mix it up with different treats and throw in a new toy occasionally to keep your pet puss happy. They'll soon catch on as you head to the calendar every morning – every day will be their lucky day.
Made from a quality card, it measures 12 inches in height and 16 inches in width. This isn't a tiny advent calendar that will go unnoticed. The design is from the hand of a British-based designer and illustrator who is most well-known for her Christmas and heritage collections and her traditional advent calendars.
It is overflowing with vintage Victorian artwork on the outside, so it looks good before you even start the countdown to Christmas. Dusted with glitter to add a little sparkle, behind each of the 24 windows you will find cute illustrations of cats playing, cats posing, and cats being generally mischievous while joining in the festive fun.

If you are loving the design and style of this holiday advent calendar, check out the rest of the range. They don't feature a lot of cats, but they do embody the traditional spirit of the holidays and, of course, look good too.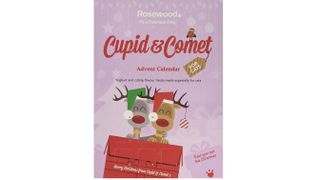 Rosewood Cupid and Comet Christmas Advent Treat Calendar for Cats
Best catnip-flavored advent calendar
Breed size: All | No of treats: 24 | : 24 | Weight: 70g | Flavors: Yoghurt and Catnip
Lots of tasty treats
Cute packet design
Easy to hang
No treat variety
With two cartoon reindeer adorning the cover of an advent calendar that could so easily appeal to kids, this one has cute written all over it. It is firmly aimed at felines, however, and your cats are sure to look forward to what's in store for them each day in the lead up to Christmas.
Looking like a classic calendar, each of its 24 peel back cardboard doors hides a yoghurt and catnip-flavored treat that the maker says will be suitable for all cats aged three months and over. In that sense, this isn't an advent calendar that is high on variety but most purchasers say their pets love the taste and that's really what matters most.
Each of the treats are made of sugar, vegetable oil, whey, natural yoghurt powder and three percent catnip. That provides four percent protein and 38 percent fat. Since all of the treats only amount to 70 grams in total, it's an advent calendar that could be attached to the wall. Indeed, there's a hanger ready to be punched out of its back for this very purpose.
All in all, it's a lovely, healthy product that won't cost the Earth and, while the image on the front isn't perhaps as eye-catching as some other advent calendars, it definitely worth considering.
How to choose the best advent calendar for cats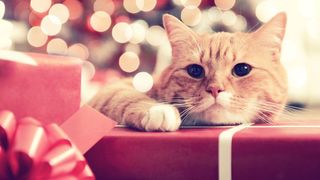 Toys or treats?
Advent calendars are typically stuffed with treats or packed with toys. So before you buy, simply choose what you think is best for the fur baby in your life.
If they are on a diet or have allergies, then it's a good idea to avoid treat- or snack-based calendars. The alternative is to find a calendar that has a host of toys that will keep your cat entertained and give them plenty of exercise. A lot of plush toys are stuffed with catnip, which a lot of cats love. But it is worth noting that kittens don't typically react to catnip until they reach around six months old.
Consider dietary requirements
What's in the treat? If you want to treat your fur baby with some tasty snacks over the holidays, it's important that you check the ingredients list. Ask yourself the following questions before you buy: Does it contain natural ingredients? Does it contain artificial preservatives and colors? Does it contain real meat and vegetables? Is the treat grain-free? Is it by-product-free? Is it a flavor your feline friend will love? If you are happy with your answers, then it's time to buy.
Classic or custom?
The classic advent calendar is a simple cardboard design with 24 windows that start the countdown to Christmas. If you are happy with this, it's simply a matter of picking one with a design you like and toys or treats your fur baby will love.
But if you fancy trying something different, why not try a calendar packed with cat food, or a 12-day calendar to celebrate the twelve days of Christmas that kicks off on December 25th – a perfect companion for the more traditional 24-window advent calendar. If you want to create a custom calendar, look at getting one that is empty, just waiting for you to choose the treats you know your cat will love.
Get the best advice, tips and top tech for your beloved Pets
Steve Jenkins is a freelance content creator and long-time journalist with more than 20 years in the industry. He has written for numerous titles covering tech to pets, with his latest faithful hound always by his side. When not walking his dog, or discussing who's best - cats or dogs? Loud guitars, AFC Bournemouth, Photoshop, and trying to save the world take up the rest of this time.