How to cover up 'dog smell' with electronic air fresheners
Want to cover up the ubiquitous 'dog smell'? These air freshening gadgets can help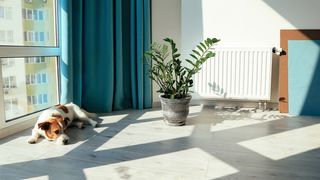 (Image credit: Getty)
As much we love our four-legged friends, dog smell isn't always the best thing, and we don't necessarily want our homes to smell like them. This is why we've come to the rescue with a guide to the best home fragrance devices to banish any hints of Eau d'Dog.
On this occasion, we're going to focus on electronic devices, rather than sprays. Although several brands have produced aerosol air fresheners to tackle dog odors, the beauty of plug-in air fresheners is their ability to release a controlled amount of scent over a longer period of time – rather than a short, sharp burst of chemical-laden fragrance.
How to deal with dog smells
We've chosen gadgets that will tackle the type of unavoidable odors that are part and parcel of having a dog. It's important to remember that more serious odor-related issues might need a different approach, such as the deep-cleaning of carpets, furniture, and upholstery. There can be many possible causes of pet smells, which is why it's worth taking a moment to think about the reason for the pet odors you're noticing.
Washing your dog too often can lead to a condition known as canine seborrhea, a (slightly pongy) build-up of sebum and yeast on the skin. If your dog is prone to flatulence, then maybe consider switching to one of the best dog food brands, or take a look at our guide to the best dog food for allergies. Possible causes include indigestion caused by eating too quickly (anti-gulp food bowls can help with this) or minor stomach conditions, many of which can be easily treated with prebiotics.
Finally, make sure you're well up to speed on how to wash a dog bed, or any surface they sleep on – we guarantee these surfaces will have an invisible coating of skin cells, saliva, and other the pong-producing particles our canine companions carry around inadvertently.
The best plug in air fresheners for dog smells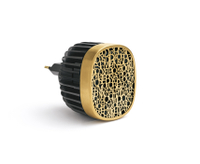 Diptyque Electric Wall Diffuser - Selfridges - £90
More art than air freshener, this is Diptyque's first compact plug-in diffuser. And it's beautiful, with a latticework-inspired exterior covering the internal mechanism. It also works differently to most plug-in products, relying on a tiny fan to disperse fragrance produced by tiny scent beads contained in the replaceable cartridges. There's no option to tweak the scent level, although you could argue it's not needed – turning on this hi-tech home fragrancer simply requires the lightest touch of the exterior casing. The compact, plug-in design and method of fragrance dispersal (via beads of fragrance, rather than oil or water) means zero chance of leaks or spills - a godsend for anyone with clumsy canines likely to knock over reed diffusers, or bump into plug-air fresheners containing small, spill-prone jars of scented oil.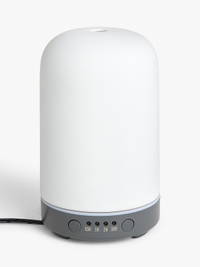 John Lewis & Partners House Ultrasonic Diffuser - John Lewis - £50
We love this stylish diffuser, which will fragrance your home for up to three hours, and can be illuminated with seven different colors. Ultrasonic diffusers like this one are brilliant for pet-filled households, infusing both rooms and soft furnishings with long-lasting, top quality scent. A quick science lesson: this type of diffuser contains a small water tank to which drops of fragrance oil (between five and 10, ideally) are added. This water is then vibrated, using ultrasound, at a frequency that causes the oil-infused water molecules to turn into an ultra-fine mist. The result? A cleaner, purer scent, and one that will last longer, permeating various hard and soft surfaces in a way other air fresheners fail to do.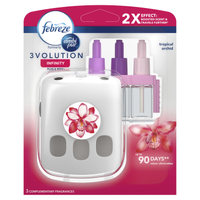 Ambi Pur 3Volution Plug In Air Freshener Diffuser - Sainsbury's - £4
Pongier pets will often require a more targeted approach. In the past, the vast majority of air fresheners designed specifically to eliminate (not simply mask) stronger odors have come in aerosol form, but Ambi Pur's 3Volution plug-in is one of the few exceptions to the rule. It's designed to be used with Febreze refills, the key ingredient in which is cyclodextrin – a donut-shaped molecule that traps molecules and locks them away for good. Another essential ingredient is sodium citrate, which eliminates odors by balancing out their PH.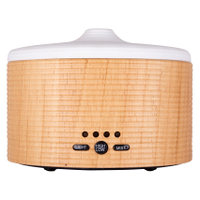 Neal's Yard Remedies Maya Diffuser - £60
Another brilliant ultrasonic diffuser, the wood-effect Maya is perfect for pet owners who want a fragrance diffuser that doesn't need to be hidden behind a plant pot. You'll be able to choose between one, two, or three-hour fragrance programs, and the large tank means you'll enjoy up to six hours of scent before you need to refill the water. It's worth pointing out that you can use any type of fragrance oil in diffusers like this one – just don't make the mistake of thinking you've got to use the (often overpriced) oils produced by the brand that makes the diffuser.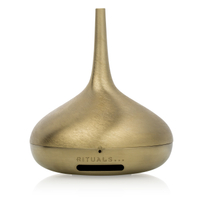 Rituals Perfume Genie - £99
If you're a subscriber to the belief that air fresheners should be smelled but not seen, this one's for you. Rituals' slimline Perfume Genie looks more like a beautiful sculpture than a scent-slaying mean machine. This sleek diffuser, which plugs in via a mains plug or USB, and doesn't require any water, is also incredibly hi-tech, designed for use with the bespoke Genie app, which allows you to tweak the strength of your scent and program the Genie to turn on or off at certain times. If you've got Alexa and Google Assistant-compatible smart home devices, you'll be able to use voice commands, too. There are 12 different scent cartridges available, priced between £35 and £37, and each one will provide around 270 hours of fragrance.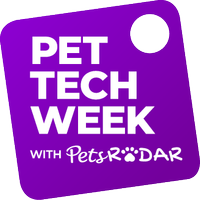 Pet Tech Week on PetsRadar
Pet Tech Week is brought to you by PetsRadar.com. Throughout this week we'll be showcasing the new tech that will make your pets happier and healthier. Whether you want a smart cat flap, a canine camera or the best vacuum cleaner for pet hair, we've got you covered.
Get the best advice, tips and top tech for your beloved Pets
Tamara Hinson is a freelance writer who grew up with huskies but unfortunately now has a husband who is allergic to dogs. Luckily she has a neighbour who lets her dog-sit her Maltese terrier and a nearby greyhound rescue centre where she can walk the residents.