How to cover up 'dog smell' with electronic air fresheners
Want to cover up the ubiquitous 'dog smell'? These air freshening gadgets can help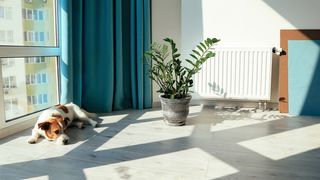 (Image credit: Getty)
As much we love our four-legged friends, dog smell isn't always the best thing, and we don't necessarily want our homes to smell like them. This is why we've come to the rescue with a guide to the best home fragrance devices to banish any hints of Eau d'Dog.
On this occasion, we're going to focus on electronic devices, rather than sprays. Although several brands have produced aerosol air fresheners to tackle dog odors, the beauty of plug-in air fresheners is their ability to release a controlled amount of scent over a longer period of time – rather than a short, sharp burst of chemical-laden fragrance.
How to deal with dog smells
We've chosen gadgets that will tackle the type of unavoidable odors that are part and parcel of having a dog. It's important to remember that more serious odor-related issues might need a different approach, such as the deep-cleaning of carpets, furniture, and upholstery. There can be many possible causes of pet smells, which is why it's worth taking a moment to think about the reason for the pet odors you're noticing.
Washing your dog too often can lead to a condition known as canine seborrhea, a (slightly pongy) build-up of sebum and yeast on the skin. If your dog is prone to flatulence, then maybe consider switching to one of the best dog food brands, or take a look at our guide to the best dog food for allergies. Possible causes include indigestion caused by eating too quickly (anti-gulp food bowls can help with this) or minor stomach conditions, many of which can be easily treated with prebiotics.
Finally, make sure you're well up to speed on how to wash a dog bed, or any surface they sleep on – we guarantee these surfaces will have an invisible coating of skin cells, saliva, and other the pong-producing particles our canine companions carry around inadvertently.
The best plug in air fresheners for dog smells
Get the best advice, tips and top tech for your beloved Pets
Thank you for signing up to Petsradar. You will receive a verification email shortly.
There was a problem. Please refresh the page and try again.