2020's funniest cat videos: 5 of the most hilarious kitties on the internet this year
We round up some of the best cat comedy 2020 has to offer with these great cat videos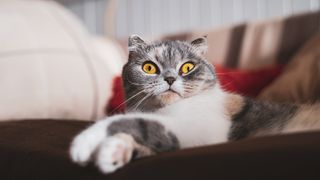 (Image credit: Getty Images)
Cats do the funniest things, and cat videos have been great online entertainment for years with 2020 being no exception. From clumsy and crazy cat fails to kitties' brutally honest reactions to their owners' actions, we've picked out some of 2020s funniest cat videos. Enjoy!
1. Funny Cat Fails 2020
There's a reason why cats have nine lives, and this video shows you why. This compilation of the clumsiest cats will have you in hysterics. From cats destroying kitchens to jumping fails and those kitties who just do it on purpose, enjoy five minutes of kitty destruction from across the globe.
2. Cat can't stand owner's terrible singing… and neither can we!
We don't blame this kitty for getting terribly upset with their owner's awful high-pitched singing. The poor cat looks traumatized throughout every rendition, and even gets violent at one point. We'd have had enough too if we were forced to listen to that every day…
3. Cats smelling strange things
These cats' reactions to smelling different things is hilarious. It would be great if cats could talk, but their faces speak a thousand words. Watch owners place different food items in front of their kitties and get the most disgusted reactions from them.
4. Determined cat squeezes through tiniest of holes
One cat owner tested their kitty's determination as they watch him attempt to pass through a cutout hole, each time making the diameter progressively smaller. At what point will this kitty give up and just how small a hole can this cat contort his body to get through? Find out below…
5. Cats waking up their owners 2020
If you're a cat owner you probably know what it's like trying to sleep when your cat is awake, it's almost impossible. Watch this hilarious 2020 compilation of cats waking up their owners. While some do it gently with their cute paws, most prefer to launch themselves on top of their owner's face, to ensure they're definitely awake…
Get the best advice, tips and top tech for your beloved Pets
Sarah is a freelance writer and marketer, covering a variety of topics from lifestyle and fitness to sustainability and travel. When she's not writing for PetsRadar or other websites, she can be found looking after her pet chickens or relaxing with a cuppa and a cute doggo snoozing on her lap!