Five top cat apps – play with your cat on your phone or tablet
By Sophie Benson published
Upgrade your feline playtime with our top five cat apps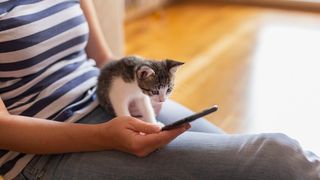 (Image credit: Gettyimages)
Our selection of the top five cat apps will let you and your cat and embrace technology, ensuring he or she never gets bored by the usual feather toys and laser pointers.
Play is important for cats on many levels. It reinforces their natural instincts, provides exercise (especially important for indoor cats), relieves stress and anxiety which can otherwise lead to behavioral problems, and it can help you and your feline friend bond.
Life can be busy, so if you don't have the time to play with your selection of the best cat toys, cat apps can be a great addition. Plus, you can set up your phone or tablet before you leave the house to keep them occupied – ideal if your cat can be destructive in your absence. And on the topic of destruction, a phone or tablet is a lot more difficult to break than a catnip mouse or a fluffy toy on a wire, so you'll get hours of fun without the clean-up. Explore our top five cat apps to keep your cat entertained.
1. Go-Cat Cat Fishing
Developed by cat food brand Purina, Go-Cat Cat Fishing is designed to help your cat embrace their natural instincts. All you need to do is press 'start' and your cat can swipe at the screen and catch fish to their heart's content. Three different levels provide the option for one, two, or three fish at a time to test your cat's reflexes and skills. Bright, fun and completely free, it's available for Apple and Android.
2. Paint for Cats
This may be a list of apps for cats, but owners get something out of this one too. You start the fun by choosing a color palette, then it's time to let your cat play. They get to play catch with a rainbow-colored mouse as it runs across the screen, and with each swipe, bat and pounce, your cat 'paints' onto the canvas, creating their very own masterpiece. Once your purring Picasso has finished, you can save, share and even print their unique artwork. Priced at £1.99/$1.99 and available for iPad, this app promises hours of fun and creativity.
3. Mouse for Cats
We all know that cats like to chase mice but – thankfully – they tend to be low in supply. That's where Mouse for Cats comes in. Free and available for both iOS and Android, it's a virtual manifestation of a classic game of cat and mouse. Brightly colored mice whizz across a range of backgrounds throughout a series of increasingly difficult levels. As an added bonus, this app has multi-touch functionality, so more than one cat can play at once.
4. Cat Alone
Does your cat like a little variety from day to day? Then Cat Alone could be just the thing. Choose from a laser pointer, a finger, cockroaches, flies, ladybirds and butterflies, and your cat will be happy chasing them around the screen. Custom sounds add an extra layer of interest to this app, which costs £.099/$0.99 and is available for both phones and tablets for iOS and Android. Cat Alone 2 is also available, with even more options to choose from, including spiders and feathers.
5. Cat Playground
Available for Android, Cat Playground rolls many different games into one app, and at £1.59/$1.99 it's a real bargain. Your cat can choose from chasing mice across the screen, playing a round of whack-a-mole, going fishing, and chasing a laser. The all-in-one approach saves space on your phone or tablet and means there's plenty of fun to be had, whatever your cat is in the mood for.
Get the best advice, tips and top tech for your beloved Pets
Thank you for signing up to Petsradar. You will receive a verification email shortly.
There was a problem. Please refresh the page and try again.