Five top cat apps – play with your cat on your phone or tablet
From painting to fishing, these fun cat apps have plenty of options to keep your feline friend amused for hours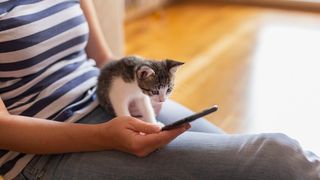 (Image credit: Gettyimages)
Cat apps may sound like a silly gimmick, but believe it or not, they can be a fantastic way of providing your feline friend with the mental stimulation they need to stay happy and healthy. While staying physically fit is important, cats also have a need for their minds to be challenged and apps are a great way of doing this.
It's fantastic to have a selection of the best cat toys on hand, but sometimes you're not always going to be free to play with your cat. Perhaps you have chores around the home that need to be done or you spend several days a week at the office, whatever the case, cat apps can step in and help to keep your kitty occupied when you have other things to attend to.
There are several reasons why cat play is so important. On top of the mental and physical enrichment it provides, regular playtimes of around 20 minutes twice a day can help to relieve stress and anxiety, banish boredom, reduce the likelihood of problem behaviors and help you and your little one bond if you're choosing to engage in play together.
With life being so busy these days, cat apps offer the same kinds of benefits as the best automated cat toys as you can set them up on your tablet before you leave home so that your feline friend has something to engage with while you're gone. As well as being great for them, it'll also help reduce the risk of them getting into mischief while you're away, which is a nice perk for you!
To help you get started on your cat app journey, we've rounded up a few of our favorites below. Let's check them out...
1. Go-Cat Cat Fishing
Developed by popular cat food brand Purina, Go-Cat Cat Fishing taps right on into your cat's natural instincts, so it's sure to be a big hit! Once you press 'start' a fish will be released and your kitty can immediately start swiping the screen trying to catch it.
We love that there are three different difficulty levels, so you'll actually be able to advance your cat up to two or three fish at a time once they've mastered the first level. This is a great game for testing your cat's reflexes and best of all? It's completely free! Find it on Apple and Android.
2. Paint for Cats
Okay, so confession time: we are so in love with this app! That's probably because although it's tailored for cats, we pet parents get to choose the color palette before our kitty starts to create their masterpiece - you gotta love being able to get in on the fun.
This app works by releasing a rainbow-colored mouse that runs across the screen and every time your feline friend swipes or bats it, paint from the mouse gets splashed onto the screen, creating one very cool image on the canvas at the end of it all.
And best of all? Once your purring Picasso has finished, you can save, share and even print their unique artwork. Priced at £1.99/$1.99 and available for iPad, this app promises hours of fun and creativity.
3. Mouse for Cats
We all know that cats like to chase mice but – thankfully for us – they don't catch anywhere near as many of them as they'd like too! The good news is, Mouse for Cats can let them catch mice to their hearts content without you having to clean up the mess.
Free and available for both iOS and Android, it's a virtual manifestation of a classic game of cat and mouse. Brightly colored mice whizz across a range of backgrounds throughout a series of increasingly difficult levels. As an added bonus, this app has multi-touch functionality, so more than one cat can play at once.
4. Cat Alone
If your cat loves variety, then this is the app for them. Cat Alone comes with a wonderful array of choices from laser pointers and ladybirds to butterflies and cockroaches - we know, that last one doesn't sound overly appealing but we promise your kitty will love it.
You can customize the sounds on this app, so you don't have to worry about going crazy listening to the same one and once your cat is bored of what Cat Alone has to offer you can access a whole lot more fun with Cat Alone 2.
While the app isn't free, it won't set you back much. It's available for iOS and Android and costs £.099/$0.99, which is well worth it given the hours of entertainment it's sure to provide your feline friend with.
5. Cat Playground
Available for Android, Cat Playground rolls many different games into one app, and at £1.59/$1.99 it's a real bargain. Your cat can choose from chasing mice across the screen, playing a round of whack-a-mole, going fishing, and chasing a laser. The all-in-one approach saves space on your phone or tablet and means there's plenty of fun to be had, whatever your cat is in the mood for.
Get the best advice, tips and top tech for your beloved Pets