Dog Vs Cat: Cute 'Ninja' Kitten Shows Doberman Who's Boss
It's the age old question that always divides opinion but who do you think will win in this cute video of Dog Vs Cat?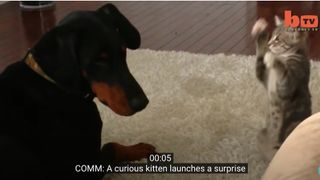 (Image credit: Jessica Manning)
We all know that there are plenty of Dog Vs Cat videos out there but we can guarantee that none are as adorable as this one!
The star of the show, a curious yet mischievous two-month old kitten named Sophie, was found at a gas station in British Columbia, Canada, where she had sadly been abandoned by her previous owner.
Soon adopted by customs officer Jessica Manning and her boyfriend Ryan Onsowich, Sophie's introduction to their three-year-old Doberman, Bishop, was caught on camera where she can be seen attempting to lay down some ground rules as they start to get acquainted.
In the video, you can see this cute kung-fu kitten bust out her best moves, continuously booping Bishop gently, without claws, on the nose.
And, being patient in nature, Bishop behaved like a true gentleman and didn't put up a fuss despite Sophie's uncertainty and persistence in bouncing around playfully in front of him.
"Sophie has a lot of attitude - but she's a cuddle monster. Bishop's behaviour has been excellent - I couldn't have imagined he would be so patient. He just wanted to make friends with her but she's still getting to grips with him", explained Jessica.
And this well-mannered pooch certainly caught the viewer's attention, too.
"I'm truly impressed by the dog's patience! Owner has trained [him] well!", said Vikas Sheth.
Luis Fernando Lopez commented "Dogs are the best and that kitten is just pure cuteness".
There's certainly no denying that these two will grow to form a strong bond and become the best of buddies in no time!
Get the best advice, tips and top tech for your beloved Pets
Chloe is a freelance writer, editor, and proofreader, who has more than ten years' experience in creating animal-focussed content. From National Geographic to Animal Planet, Chloe's passion for creating fact-filled features all about wildlife and the environment is evident. But it's not just wild animals that Chloe's fascinated by. Having written more than 75 articles for PetsRadar - and having her very own four-legged friend by her side - it's no wonder that her love of dogs (and, of course, cats) has grown exponentially.
Her website, www.chloemaywrites.com, and social media pages - @ChloeMayWrites on Instagram, Facebook, and Twitter - showcase her knowledge through daily facts and trivia tidbits. For example, did you know that snails have teeth?!