Pet parents are building stylish cat bedrooms - complete with bird-watching TV
Pet owners have been creating cat bedrooms with serious cat-titude in unused spaces around the home.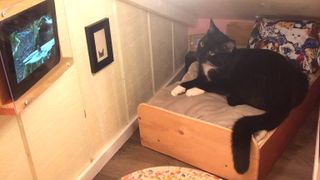 (Image credit: Twitter / @CinnamonBear)
Whether you've got a space under the stairs or in a cupboard, the cat bedroom is officially becoming one of social media's favorite DIY trends.
A recent Tweet, posted by user @CinnamonBear9 and loved by over 49,000 people to date, shows just how creative you can get even in the tiniest of spaces.
The doting pet parent's cat bedroom is built into a hole in the wall that is then secured by an outer layer of wood. Inside, it has everything a fancy feline could want in life.
Here is the bedroom we finished for our cat this weekend. He actually goes in to nap and watch birds on YouTube :) More pics coming #tinyhome #cats #catbedroom pic.twitter.com/k54OPBVZVGApril 13, 2021
This includes a tiny toy bed that is often seen across social media and transformed into the best cat bed.
Of course, it wouldn't be complete without matching miniature covers that complement the pet owner's own bedspread, finished off with a patterned cat-print pillow.
The room features a functioning light, a basket of cat toys, a scratching pole, a mat, yarn balls, a seat and even cat-themed portraits on the walls and bedside table.
Most impressive of all, however, has to be the tablet television complete with bird-watching Youtube videos for cats.
Writing on Twitter, the savvy pet parent said, "Here is the bedroom we finished for our cat this weekend. He actually goes in to nap and watch birds on YouTube :)"
Many commenters have gone wild for the idea across Twitter, with some viewing the cat bedroom as so stylish they wish it was built for them.
"That is so cool. Can I apply to be your cat? ;)" wrote one user.
Twitter user @J9 said: "I feel like a failed cat mom. How could I not have thought of this?! Now I know what I'm doing this weekend... building my cats' bedrooms I didn't even know they needed in the bedroom they already act as if they own."
The viral post showcasing the trend appears to be one of the first to emerge on Twitter, but it looks to have originated on Pets TikTok for both cats and dogs.
Johnathan Lower, aka @thehomeprojectguy, created a stylish modern retreat for his dog complete with a portrait of his golden retriever and TV installed on the wall.
Meanwhile, home improvement duo @newlybuild_newlyweds treated their fortunate feline to not one but two cat bedroom makeovers.
The first included a stylish blue and white checkered apartment, followed by a stunning pink cat-stencilled wall complete with handy shelving filled with portraits of the family.
If you fancy trying out the DIY trend out for yourself, you can find plenty of inspiration to create your very own stylish cat bedroom by checking out the transformation below.
Get the best advice, tips and top tech for your beloved Pets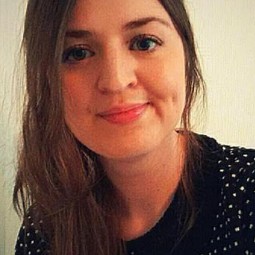 Ashleigh is Digital Editor on PetsRadar. With over 8 years of experience in print and digital media, she has acted as an editorial lead on a variety of projects, with animal themes a keen interest. As an avid animal lover, you can often find Ashleigh checking out the newest trends in animal care or looking at cute cat videos on TikTok.