Cats lock woman out of her own bathroom and the Internet can't stop laughing
Cat owner Julee Balko got more than she bargained for when her cheeky pets locked her out of her own bathroom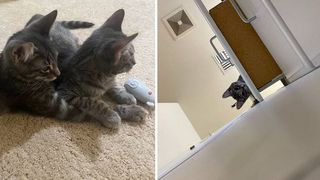 (Image credit: Twitter / @misplacedcomma2 )
As every owner knows, cats are freelance feline thinkers and can pull some pretty amazing stunts, including, as it turns out, locking their owner out their own bathroom.
Whether they're helping humans retrieve their keys or brazenly stealing from the neighborhood, our feline friends are perfectly capable of using their considerable powers both for us and against us, as novelist Julee Balko found out when her two gray tabby kittens decided to have a little quiet fun.
On her Twitter account @misplacedcomma, Julee wrote, "Our cats opened the bathroom cabinet drawer, thereby blocking the bathroom door from opening."
"I took this picture by sticking my phone under the door. Trying with a hanger to close the drawer so I can open the door. A dog would never do this."
The tweet, which was accompanied by a hilarious photo of an unrepentant kitty, has been retweeted over 20,000 times and liked almost 150,000 times.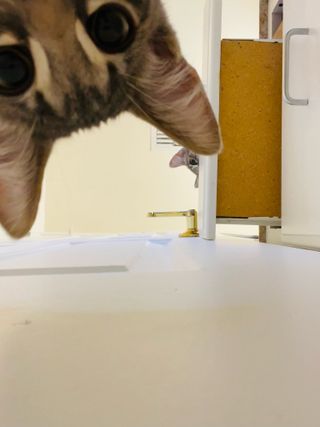 Julee was unable to take the door off to release her mischievous moggies as the hinges were on the inside.
She did eventually manage to release them – but there's no news on how long it took her to forgive them!
"After an hour of bending hangers, tools, sticks, weird-shaped pliers, and basically anything we could shove through the crack of the door we successfully got the drawer closed and door open," she said.
"Cats were disappointed the game was over. Humans were happy and taped the drawers shut."
Sharing a picture of her dog lying quietly on the floor, she also added, "My dog watched the whole thing and pretty sure she rolled her eyes. And cursed them for delaying her walk."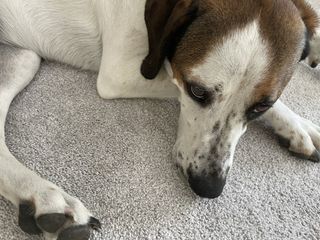 Delighted commenters shared their own stories of moggy mayhem, with several admitting that they'd had to fit child locks on their fridges and cupboards to repel feisty felines.
Others were impressed by the cats' resourcefulness, commenting "[Cats] are smooth-brained agents of chaos", and "Ha! Total cat move."
Other commenters disagreed with Julee's comment that a dog would never have pulled this kind of stunt, relating tales of how their dogs had locked them out of everything from cars to the entire house.
Although Julee and her husband have fostered over 30 cats and dogs in the past, this naughty pair are the first felines they've owned. She has confirmed that she has now ordered child locks and is considering a catflap in the bathroom door!
With two lively, inquisitive kitties in the house as well three children and her long-suffering pooch, there's clearly never going to be a dull moment from now on.
Get the best advice, tips and top tech for your beloved Pets
Sara is a freelance journalist and copywriter of many years' experience with a lifelong love of animals. She's written for a range of magazines and websites on subjects varying from pet care to travel. A horse rider since the age of five, she's currently a full time pet slave to horse Blue and gorgeous, goofy English Springer Spaniel Olly. Adorable Olly has a huge sense of adventure and no sense of direction, keeping Sara on her toes.