'Did Pudgy the dog die?' Social media users voice concern over TikTok star's disappearance
Fans of social media star Pudgy the dog only have one question on their lips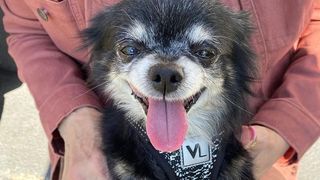 (Image credit: @pudgywoke/ Instagram)
One pooch's months-long absence from social media has left millions of worried fans asking one, poignant, question: did Pudgy the dog die?
TikTok users would love to see a fresh video featuring one of its biggest doggy stars but they're now left fearing the worst after a series of Tweets posted by Pudgy's owner left fans in the dark.
Fears were initially raised on 26 April 2021 when owner, Malachy James, posted a message on Pudgy the dog's Twitter account @pudgywoke. "Staying overnight at the animal hospital," it read. "I'll update everyone tomorrow."
This was followed by another Tweet: "Just checked into the other animal hospital that has a neurologist, back with updates ASAP."
But, sadly, that was the last message ever left on the account, leaving more than 12.4 million TikTok users and 13,600 Twitter followers desperate for news.
Staying overnight at the animal hospital, I'll update everyone tomorrow.April 26, 2021
Just checked into the other animal hospital that has a neurologist, back with updates ASAPApril 26, 2021
Pudgy the dog is certainly missed. As well as building up a following on TikTok and Twitter since December 2020, he also had 446,000 fans on Instagram, again under the handle @pudgywoke.
With his distinctive bark and undoubted cuteness, a long-haired chihuahua quickly became a social media star on TikTok. Aged around 11 or 12-years-old, Pudgy would leave fans in stitches both with his antics and odd "owa owa"-sounding barking. Indeed, "owa owa" became a catchphrase which went viral, helping to attract more and more followers.
As if to prove his popularity, the original post, dubbed "macaroni", has been viewed over 2.4 million times, attracting more than 412,000 times. The latest video, however, has been watched more than 9.3 million times.
Comments ask about his whereabouts and, presuming the worst, leave their sincere condolences.
But then it's certainly been quite the ride for Pudgy in 2021. Having escaped from an abusive home and found wandering the streets by a friend of Malachy's brother, he was renamed after the dog which made its debut in the cartoon Betty Boop in 1934.
It was then that TikTok influencer Malachy looked to share Pudgy with the world, never imagining how big he'd become.
"Pudgy is a very sweet and loving dog even though his image may seem hectic to individuals who are just discovering his most popular TikToks," Malachy told Yahoo! Movies' In the Know.
We can only hope that he is alive and well and that Malachy is keeping quiet until he can deliver positive news.
Get the best advice, tips and top tech for your beloved Pets
David Crookes has been a journalist for more than 20 years and he has written for a host of magazines, newspapers, websites and books including World of Animals, BBC Earth, Dogs and Canines, Gadget and The Independent. Born in England, he lives in a household with two cats but he's also keenly interested in the differences between the huge number of dog breeds — in fact, you can read many of his breed guides here on PetsRadar. With a lifelong passion for technology, too, he's always on the lookout for useful devices that will allow people to spend more time with their pets.