Does the first ever Christmas song for dogs get the paws up from pooches?
The Christmas song for dogs 'Raise the woof' is reviewed by our in-house canine correspondent and others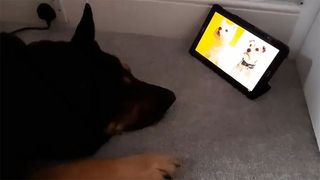 (Image credit: Dave Harfield)
The Christmas song for dogs 'Raise the Woof' has been hitting the headlines, so we thought it was about time we saw what our canine companions made of it. The song with its reggae beats, squeaks, owner commands and high frequency whistles is specifically designed to entertain and energize our barking brethren. It is based on scientific research from vets and animal behaviorists, but is it a top 10 howliday hit with our discerning doggies?
It should be, the sounds it contains were vetted(!) from a collection of 500 different noises by a team of 25 dogs to ensure only those that got them interested were included. You can see the video below.
(WARNING: before you try this song out on your own dog, we should tell you it does contain the command 'Walkies' and if your dog is like most of the dogs we know, this can be a very specific trigger word!)
Before we get to the dog's reactions, we should know what we are looking out for. How do we know if the dog is definitely digging the disco beats? According to the dog food company behind the song, "Signs that dogs are enjoying the track include alertness, trying to discover where the sounds are coming from, head cocking, or moving their ears to get a better listen, as well as tails wagging."
So now we know what to look out for, let's see how our furry friends react.
The Christmas song for dogs: Our four-legged friends give feedback
Our first reviewer is our very own freelance canine correspondent and retired police dog, Vinnie. He's used to spinning his own discs as he gets around on a specialist dog wheelchair, donated by the excellent Pawsome Pensions, so how did he react? It kept Vinnie's attention, despite a muted response. He was definitely interested and gave it the paws up overall, commenting on his twitter feed that 'I liked the squeaky toy bits…'
A much more animated response came from Nox the Alsatian. The song had him barking along, chasing his tail and rolling around on the floor!
When it was featured on UK TV show This Morning, it definitely had watchers woofing and even got otherwise lazy dogs up off the sofa:
However, not all dogs had such a positive reaction to it, as these two dogs (and a cat) prove:
Want the song for the canines in your life? It's streaming now on Spotify, Apple Music and YouTube or you can help out mental health charity Dudes & Dogs by purchasing the limited edition vinyl version.

Get the best advice, tips and top tech for your beloved Pets
Jamie Middleton is a freelance editor and writer who has been editing and creating content for magazines and websites for over 20 years. As well as writing about the pets he loves, he has helped create websites about tech and innovation like TechRadar.com, Innovate UK and TechSPARK, written programmes for music festivals, books on inventions and architecture, TV listings magazines, and edited publications about cars such as Lexus, Toyota and Jaguar. In his spare time he writes fiction books and poetry - or at least he does when he is permitted to by his cat Pirate, who enjoys the warmth of laptops too much to allow being creative to get in the way.