Dog food recalled following 28 fatalities, says FDA
28 deaths and toxin discovery triggers recall of dog food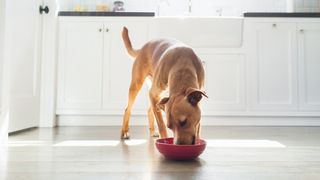 (Image credit: Getty)
Several varieties of dog food recalled after 28 dogs die and eight more fall ill, the US Food and Drug administration (FDA) announced last week.
It's been revealed that certain varieties of the pet food, which is manufactured by Midwestern Pet Foods Inc, had been found to contain "potentially fatal" levels of aflatoxin - a toxin that is produced by a mould called Aspergillus flavus. This toxin can grow on corn and other grains, which are common ingredients in dog food, and can be present even if not visible.
The FDA report claimed that ingestion of the toxin can cause pets to experience symptoms of "sluggishness, loss of appetite, vomiting, jaundice, and/or diarrhoea". It also explained that in the severest of cases, it can be fatal for some pets.
The varieties that are currently being recalled include Sportmix Energy Plus and Sportmix Premium High Energy, both the 50- and 44-pound bags. As a precaution, the 31- and 15-pound bags of Sportmix Original Cat Food are also being recalled.
Pet owners have been urged to seek medical advice from their veterinarian if they have recently been feeding their pet any of the varieties that are being recalled, especially if they are showing any of the mentioned symptoms.
There is an ongoing investigation into the number of products that have been contaminated.
The recalled products list can be found here.
Get the best advice, tips and top tech for your beloved Pets
Chloe is a freelance writer, editor, and proofreader, who has more than ten years' experience in creating animal-focussed content. From National Geographic to Animal Planet, Chloe's passion for creating fact-filled features all about wildlife and the environment is evident. But it's not just wild animals that Chloe's fascinated by. Having written more than 75 articles for PetsRadar - and having her very own four-legged friend by her side - it's no wonder that her love of dogs (and, of course, cats) has grown exponentially.
Her website, www.chloemaywrites.com, and social media pages - @ChloeMayWrites on Instagram, Facebook, and Twitter - showcase her knowledge through daily facts and trivia tidbits. For example, did you know that snails have teeth?!