Check in on New York's most exclusive hotel... for dogs
Every dog has its day at D Pet Hotels – a luxury resort for pampered pooches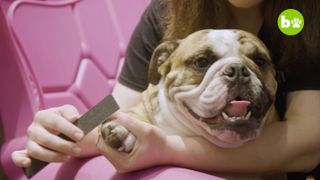 (Image credit: Barcraft/YouTube)
It's so exclusive, you'll need four paws to check in at New York's luxurious D Pet Hotels. Located in New York's affluent Chelsea neighbourhood, this luxury resort admits moneyed mutts for overnight boarding and day care as well as providing chef-prepared meals, chauffeur-driven rides, opulent spa treatments and grooming services.
It's a vision to behold – you might even feel a little jealous of your puppy pal. With no kennels or cages in sight, your dog won't want to come home after spending the night. Suites start at $84, where your hound will be provided with an orthopaedic dog bed, 32" flat screen TV and 24 hours of care.
For $120, you can treat your pup to a Sensational Suite, where your pampered pooch will be catered to with the added comfort of raised day bed (complete with mattress). If that doesn't sound plush enough for your beloved fur baby, there is always the Uber Suite where the canine clientele are treated to a full-sized double bed, 42" flat screen TV and plenty of space for a truly authentic home-like experience.
"New Yorkers are busy. A lot of New Yorkers have chosen not to have children and their dog is their child. And with that, here at the hotel, we work to create a home away from home for dogs," Kerry Brown, the hotel's co-owner explains.
For those busy New Yorkers, the hotel offers doggy day care - and it is reserved for only the canine elite (well, those well-behaved pups who pass their temperament test!).
"Our clients can spend thousands of dollars with us and really it is just to make sure their dog gets the very best of the best."
And what's better than being treated just like one of the family? Plus, your pup could be playing fetch with the stars:
"We have got a pop star princess who uses us to a famous movie actor," Kerry reveals.
Get the best advice, tips and top tech for your beloved Pets