Foxtrot the dog accepts Nobel Peace Prize
That is, on behalf of the of the UN World Food Program, one of the largest aid organizations in the world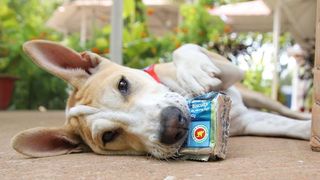 (Image credit: @humanitarian_pup)
A rescue dog called Foxtrot has accepted the Nobel Peace Prize on behalf of the World Food Program, and it has caused a storm of excitement on Instagram. Yes, his human masters had their own things to say, but as official spokesdog for the organization, Foxtrot has taken it on himself to express his thanks.
The Norwegian Nobel Committee stated, "The World Food Programme has made a strong contribution towards mobilizing UN Member States to combat the use of hunger as a weapon of war and conflict." And Foxtrot was quick to agree.
On hearing the news, the official mascot was as excited as his human friends at the organization, saying, "Woweee, I was so excited to hear that the @worldfoodprogramme was awarded the Nobel Peace Prize today," on his own personal Instagram account.
As official mascot, Foxtrot has his own ID card, office, and food bowl. Well, he thinks he has an office, but it turns out he does have to share it with humans. Since becoming a fully paid up member of the World Food Program, it has been Foxtrot's job to bring a smile to those who are suffering, and a quick browse through his Instagram account shows he's up to the task:
So how does a young rescue dog like Foxtrot help refugees from Rohingya in Bangladesh? Well he explains this on his own blog: 'You may wonder what a pup like me, with no opposable thumbs and terrible all-round coordination, could possibly do to help in an operation like this."
"One of the jobs I like the most is making sure no one gets too stressed out. Working in an emergency can take a lot out of a person, but if I see someone looking like they need some stress relief, I run up to them with a toy in my mouth and push my head against their leg."
He adds: "Humans are simple creatures, and it's amazing how well this works in relieving tension."
Foxtrot know about stress himself, as he was rescued as a half-starved puppy from a deserted beach by World Food Program staff before being made into their mascot. With so much pictorial evidence of him guarding food rations and playing with those recovering from malnourishment, there is no doubt that Foxtrot deserves a claim to the prize. Especially as it was clear he needed to help out the head of the World Food Programme, David Beasley, in expressing their joy at being given the prize, whose first reaction to the news was, "Holy mackerel. It's the first time in my life I've been without words."
If there's one thing that Foxtrot's own personal blog and social media presence proves, it's that he's not shy at telling you what he thinks as he helps spread the important messages behind what the World Food Programme wants to achieve. We'll leave him with the last word:
"Thank you so much for all your support and for joining me and my colleagues in doing everything we can to keep food on families' tables as we work toward a more peaceful and inclusive world."
Get the best advice, tips and top tech for your beloved Pets
Jamie Middleton is a freelance editor and writer who has been editing and creating content for magazines and websites for over 20 years. As well as writing about the pets he loves, he has helped create websites about tech and innovation like TechRadar.com, Innovate UK and TechSPARK, written programmes for music festivals, books on inventions and architecture, TV listings magazines, and edited publications about cars such as Lexus, Toyota and Jaguar. In his spare time he writes fiction books and poetry - or at least he does when he is permitted to by his cat Pirate, who enjoys the warmth of laptops too much to allow being creative to get in the way.