Watch: Kitten playing in a baby bouncer is simply adorable
This adorable clip of Meep the kitten playing in a baby bouncer will melt your heart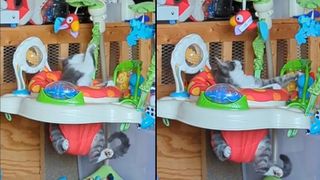 (Image credit: Reddit / @SpookyPie20)
It's a well-known fact that kittens are playful and always fighting for attention, but it's not often you find that your feline friend has taken over the baby's chair. This viral post of Meep the kitten playing in a baby bouncer will instantly melt your heart.
Posted on Reddit, the 30-second clip starts off with the caption, "My kitten uses the bouncer more than my kid. His name is Meep and does this on his own...even at 3 a.m."
It then shows the excitable kitten sat snugly in a colorful baby bouncer, happily playing with one of the hanging toys above.
It's no surprise that this cute clip quickly went viral, garnering over 38.4k views, and received plenty of reactions.
One user commented from the viewpoint of the kitten, "Meep: I'm the baby! Gotta love me!", while another gushed, "Can I take a second to say how adorable Meep is!?!! His toe beans peeking there is super cute."
Other users compared lovable fur babies to children and shared their own feline experiences with children's toys.
"Meep is such a sweetheart!" wrote user @bye_Nillu. "My late cat Sven loved when I took him in my arms and bounced him around like a baby, it seemed to calm him down."
While another netizen mentioned, "Our cat used to LOVE the fisher price door toy for toddlers. She would swing at the hanging parts, hit the buttons, and the door open repeatedly. She would only do it at night. The first time she did it we thought that we had an intruder!"
Of course, the majority of comments were focused on how cute Meep looks bouncing away, with his legs peeking out of the seat.
Adorable Meep proves that you don't need the best cat toys when you have an exciting baby bouncer to play with instead – even at 3am!
Get the best advice, tips and top tech for your beloved Pets
Cynthia Lawrence is freelance lifestyle journalist. Starting off her career in national magazines, she moved to digital and e-commerce publications. When she's not reviewing exciting products, she is obsessed with home interiors and her neighbour's cat!