Mikey the talking cat sends social media into meltdown
"Aren't you the cat who got almost six million likes for saying 'nothing'?"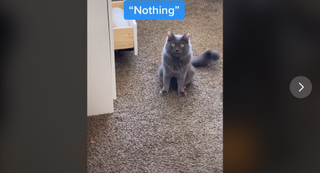 (Image credit: TikTok: @mikeymoments)
Most cat owners feel they can communicate with their feline friends, but they don't expect them to start using recognisable words and having full-blown conversations! Especially not to explain away being caught red-handed trying to get into somewhere they are not meant to be.
Well, meet Mikey, the star of an incredibly popular TikTok post, where he is spotted trying to get into a drawer where his favourite biscuits and toys are kept. The hilarious video sees Mikey nonchalantly saying 'Oh, hi Mom' as he's discovered, before being asked by his human friend what he thinks he's doing, only for him to dismiss the accusation with the squeaky reply 'nothing'.
When pushed that he actually was doing something naughty, he seems to reply 'nuh-uh' – it's a pretty impressive bit of chatty interaction and guaranteed to bring a smile to your face:
In a later post, Mikey's owner posted "Aren't you the cat who got almost six million likes for saying 'nothing'?" Well, in fact, it's over that now, currently standing at 6.4million likes and his over half a million followers are still tuned in waiting for his next pronouncements. Sadly, this Nebelung kitty has currently switched back to his native language, but that's not to say he's not still endearingly cute.
You can watch out for any further words of wisdom from Mikey and enjoy his mission on both Instagram and TikTok where he's made it his mission to 'spread love and joy'. And, what's stopping you from enjoying his further exploits? Nothing!
Get the best advice, tips and top tech for your beloved Pets
Jamie Middleton is a freelance editor and writer who has been editing and creating content for magazines and websites for over 20 years. As well as writing about the pets he loves, he has helped create websites about tech and innovation like TechRadar.com, Innovate UK and TechSPARK, written programmes for music festivals, books on inventions and architecture, TV listings magazines, and edited publications about cars such as Lexus, Toyota and Jaguar. In his spare time he writes fiction books and poetry - or at least he does when he is permitted to by his cat Pirate, who enjoys the warmth of laptops too much to allow being creative to get in the way.