Pet Tech Week day five: Pet tech for fun
It's Friday, so it's time to look at some gear and gadgets for games and fun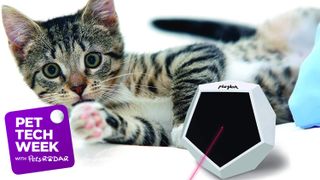 (Image credit: Playdot)
Why dedicate a whole day of Pet Tech Week to toys? Mostly because fun is what having a pet is all about, but also because play is a very important part of your pet's well being. As well as helping the two of you bond, play also alleviates stress, burns calories, and can even teach your pet new behaviors.
However, even the most attentive owners sometimes get too busy to play with their pets, so we've provided some solutions to this problem to suit owners of cats and dogs alike. There's a roundup of the best ball throwing machines for dogs for those too busy to play fetch, and another showcasing the best automatic laser cat toys that offer some low-effort ways to keep a cat captivated.
You might not have realized that your smartphone can keep your cat amused as well as your kids, but we've assembled a list of the top 5 cat apps for Apple and Android that will provide plenty of entertainment for you both. If you want some time out for yourself, you'll probably enjoy a look at seven hilarious working-from-home pet interruptions.
WIN, WIN, WIN
Head over to Twitter today for some great pet tech prizes. Cat owners can grab themselves one of five PetSafe Dancing Dot Laser Toys, while dog owners could wind one of five PetSafe Kibble Chase Dog Treat Toys.
GIVEAWAY! Win a @petsafe Dancing Dot laser cat toy and Kibble Chase! To enter, follow us and @petsafe and retweet this post. Deadline for entries today at 5pm. Winner announced tonight. #petsradar #petteachweek #giveaway #pettech #prize #competition pic.twitter.com/7RdvMLLNOZOctober 23, 2020
Get the best advice, tips and top tech for your beloved Pets
Dave has over 20 years experience in publishing during which he launched many successful magazine titles including How It Works, All About Space and All About History. He's also pet parent to a retired police dog called Rebel, who can't work anymore due to a health condition. When's not busy trying to amuse a boisterous, three-year-old German Shepherd, Dave's the Editor on PetsRadar.