Do your houseplants hold hidden dangers for your moggy? Here are the plants cats are allergic to
There are some plants cats are allergic to and some which are lethal to them. Find out which could endanger your pet...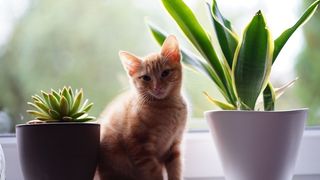 (Image credit: Getty)
You may not realize it, but there are some plants cats are allergic to. While this isn't a problem if your furry friend isn't intent on chewing everything in sight, others are that bit more inquisitive. We love them for it, but in some cases it can pose potentially serious issues. So just like having a good knowledge of the five human foods that are poisonous to cats, it pays to know which plants pose a danger to your moggy.
One of the biggest offenders in the plant kingdom is the lily. Whether it's an Easter Lily or a Tiger Lily, the consumption of any part of this plant breed can lead to fatal kidney failure, with the FDA reporting that death could come in as little as three days.
Even if your cat isn't prone to eating them, you still need to watch out. An act as simple as brushing against them could potentially cause the ingestion of fatal toxins, so they will need to be taken away from their reach of – either out of the house entirely, or into an area where they aren't able/are forbidden to go.
Aside from lilies, other types of plants and flowers that could cause issues are chrysanthemums, dumb canes, sweet peas, poppies, cornflowers, irises, marigolds, ferns, ivy and delphinium. For complete peace of mind, it is probably best that if you're a cat owner, you keep none of these breeds of plant inside your home – or garden, if your cat likes to venture outdoors.
Signs of cat poisoning can include increased thirst, vomiting, panting, difficulty breathing and seizures. Needless to say, should you become concerned for the welfare of your cat, either because you've noticed these symptoms, or because you've become aware of them coming into contact with some of these forbidden plants, you should immediately contact your nearest vet.
A full list of flowers and plants cats are allergic to can be viewed in various places online for – we recommend this guide from Cats Protection in particular.
Get the best advice, tips and top tech for your beloved Pets
Steve writes and proofreads buying guides, news stories and advice for Pets Radar, drawing on his lifelong experience as a pet owner. Currently sharing his house with two cats and a dog, he draws on the many highs and occasional lows of pet ownership he has borne witness to in his writing. He has worked in publishing for 15 years as an editor, sub editor and writer on a range of titles, such as SciFiNow, How It Works, All About History, Real Crime and Horrorville. You can follow him on Twitter @stevewright22