Revealed! The top Christmas foods owners give their dogs
We list the top Christmas foods dogs get to enjoy during the holidays, and let you know which ones are safe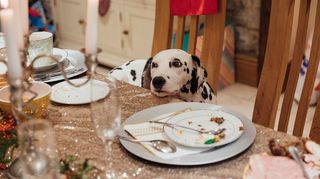 (Image credit: Getty Images)
The holidays are a time of delicious foods, some of which can be enjoyed by your dogs! That's right, while pet safety at Christmas includes avoiding toxic foods, there are some Christmas foods your dog can enjoy. Whether you don't want to finish something on your plate or just want to give your pup a treat, there are quite a few foods you can pass on to your furbaby.
A survey conducted by Vet's Kitchen found that one of the most common foods pet owners were feeding their dogs at Christmas was the brussel sprout (probably because they didn't want it themselves). But owners admitted to several more sneaky treats, including turkey (which is perfectly safe for dogs), and pigs in blankets, which probably isn't the best.
We get it, you've eaten your third plate and your dog's eyes are especially wistful, so you lean over and give them some table scraps. Just make sure whatever you're giving your dog is safe for them! We've got you covered below, so read on.
Not all human food is safe for dogs to eat. Even dog-safe meat like chicken or turkey is dangerous if given with the bone in, as this is a serious choking hazard for dogs. Even if they do not choke on the bone, it can perforate their stomach, so keep bones way out of reach.
Make sure to read this article by one of our veterinary writers all about what you need to know to safely share your food with your dog. This will help ensure that you only share safe food this holiday season, and avoid any stomach upsets or dangerous situations that will likely result in vet visits. Vet's Kitchen was pleased to find that Christmas chocolate was last on the list of food items pet owners are giving their dogs, and rightly so. Chocolate is toxic to dogs and shouldn't be given to them no matter how persuasive their puppy dog eyes can be.
The full list of doggy leftovers being served up at Christmas by owners is as follows:
Turkey
Pigs in Blankets
Crisps or savoury snacks
Sprouts
Biscuits
Parsnips
Cream
Smoked Salmon
Mince pie (dangerous for dogs)
Christmas chocolate (dangerous for dogs)
While some of these foods are okay and will not pose a risk to your dog, if you're unsure, it's best to stick to treats that are made specifically for pups!
And this isn't the first time that a vet warns dog owners over Christmas dog treats. Fiona from Vet's Kitchen said: "We all love to treat our adorable and irresistible pets but remember that sometimes they're not the best advocates for their own health. At the Vet's Klinic, particularly over the festive period, we have an influx of poorly puppies who've poisoned themselves from eating too much chocolate or been injured internally by a bone fragment. Trips like these can be distressing to both pets and owners, plus they can wrack up a nasty vet's bill at a time of year that's already tight."
Get the best advice, tips and top tech for your beloved Pets
Sarah is a freelance writer and marketer, covering a variety of topics from lifestyle and fitness to sustainability and travel. When she's not writing for PetsRadar or other websites, she can be found looking after her pet chickens or relaxing with a cuppa and a cute doggo snoozing on her lap!