12 best pet Christmas stockings: Gifts for your furry pals
We raid Santa's sleigh for the best pet Christmas stockings to give your furry friends the best festive period ever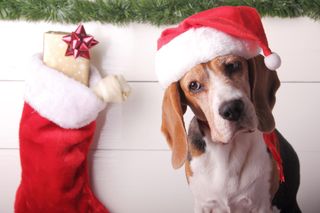 (Image credit: Sadeugra Getty Images)
When it comes to Christmas gifts, pet Christmas stockings are an ideal purchase for the pet in your life. Often arriving with a mixture of toys and edible surprises, they help make life a lot easier when it comes to finding the perfect present for your cat or dog, ensuring you don't break the bank, and give them plenty of variety
The chances are that your pets will be grateful whatever you buy for them, but that doesn't mean you should just settle for the cheapest option – as you will see from this list, there are plenty of pet Christmas stockings out there that are worth your time. Whether it's ones filled with the best dog treats, not to mention exciting games and toys, there are plenty of stockings available delight them with. Here's our selection of the best pet Christmas stockings available this festive period...
Best pet stockings for Christmas in the US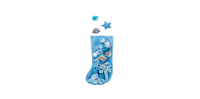 Frisco Holiday Stocking Variety Pack
Treat your kitty this Christmas with this bumper stocking filled with 25 different treats and toys. They will get toys such as pompoms, balls, chasers, plushies, and more that will give them hours of fun. Some of the toys are stuffed with catnip for an extra-special Christmas treat that will make your cat feel loved this holiday season.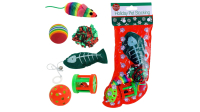 Whether you have an indoor cat or an outdoor cat, they will love you for the treats inside this Christmas stocking for pets. It includes six different toys, including a fish hanging toy, metallic crinkle ball, multi-colored soft toys, and a wheel and bell that will target boredom and keep them entertained over the holidays.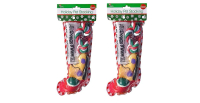 Sub-Gift Christmas Stocking for Dogs Pack of 2
Your four-legged friends will have a very merry Christmas this year with this pet Christmas stocking filled with four different dog toys. It features a rubber squeaky 'doggy news' newspaper toy, a squeaky yellow boot, a Christmas tennis ball, and a Christmas rope toy. Each of these treats will provide hours of fun over the festive period and beyond.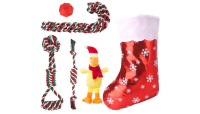 BINGPET 5 Pack Christmas Dog Rope Toy with Stocking
If your dog loves to chew toys then this is the perfect Christmas gift for them. This Christmas stocking for pets includes five different toys, including three rope toys, a squeaky toy, and a chew ball. The Christmas-themed treats will make them feel included in the festivities, and will keep them occupied so they don't come sniffing out your turkey dinner!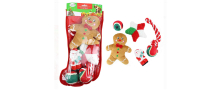 Midlee Toy Filled Christmas Dog Stocking Gift Set
Spoil your dog this Christmas with this luxury toy-filled stocking featuring five fun toys. Your furry friend will get a gingerbread man and star plushie, a vinyl Santa, and a Christmas-themed tennis ball with rope. These toys are super-cute and make the perfect gift for medium to large dogs who love to play.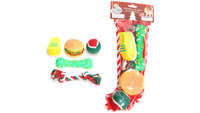 Momoni Premium 5 Piece Dog Christmas Stocking Set
It's easy to overthink things when it comes to toys for dogs, which is why we think it's great that Momoni goes back to basics for this stocking set. Containing a ball, some rope, a bone, and a couple of other toys, contained within is everything you need to make your dog's Christmas day a great one.
Best pet stockings for Christmas in the UK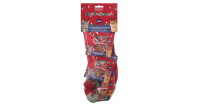 Cupid & Comet Christmas Dinner Cat Stocking
This cat Christmas stocking is jam-packed full of treats that your felines will love, giving them their very own cat Christmas dinner. It includes a salmon starter, turkey main course, and cat cheese treats for dessert. The treats are said to last well past Christmas day, so they'll keep your cat happy throughout the entire festive period. The stocking also has two plush toys for your kitty to play with on Christmas morning.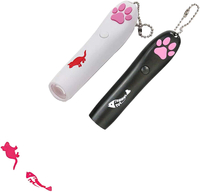 Legendog Christmas Stocking Gift for Cats
For cats who love to play, this Christmas stocking includes 16 different toys that are bound to keep them entertained throughout the festive season. You'll get a variety of treats that all cats will enjoy, including a catnip toy, colorful crinkle balls, a fairy cat teaser wand, fluffy mice, and more. This is the perfect treat for both indoor and outdoor cats that will make them feel a part of the Christmas fun.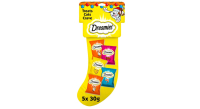 Dreamies Christmas Cat Stocking
What cat doesn't love treats? The Dreamies stocking is the perfect gift for your kitty this Christmas, containing five different 30-gram Dreamies treat pouches, including chicken, salmon, cheese, beef, and more. Your cat will be spoiled for choice and won't be disappointed with their meal on Christmas day when you give them this stocking.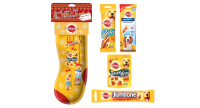 Pedigree Christmas Dog Stocking
This stocking is like a selection box for dogs, filled with Pedigree treats they'll love. The stocking includes a variety of treats, such as Dentastix, a beef-flavored Jumbone, chicken Tasty Bites, and Rodeo Chicken Twists. Perfect to keep your doggos happy while you're eating your turkey.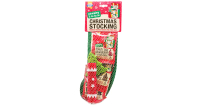 Armitage Good Boy Pawsley Christmas Dog Stocking
A fun-filled dog stocking full of toys and treats. Surprise your pup this Christmas with this Armitage stocking, which includes Choc Drops, beef bones, and turkey and cranberry-flavored bones so they can feel a part of the festive spirit. They also get a Christmas tree and Christmas cracker toy to play with after dinner.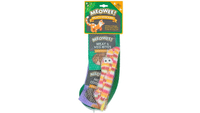 Paradise Pets Christmas Cat Stocking
You'll want to make sure your cat has a purrfect Christmas, and what better way to make sure this happens with this stocking from Paradise Pets? Coming with a felt wand for them to chase you with, along with a couple of bags of treats that they're bound to love, we're sure you'll be their flavor of the month should they find this under their tree.
Building your own pet Christmas stockings
If you want to create your own Christmas stockings for pets, then you can pick out all of your cat or dog's favorite treats and toys to include. If you need some inspiration you can check out some of our buying guides for the best dog toys, and the best cat toys. And if you want to let your pets indulge a little bit this Christmas, check out our articles on the healthiest cat treats and Christmas dinners for dogs!
Get the best advice, tips and top tech for your beloved Pets
Sarah is a freelance writer and marketer, covering a variety of topics from lifestyle and fitness to sustainability and travel. When she's not writing for PetsRadar or other websites, she can be found looking after her pet chickens or relaxing with a cuppa and a cute doggo snoozing on her lap!