The healthiest cat treats revealed
Picking the healthiest cat treats will help keep your kitty slim and fit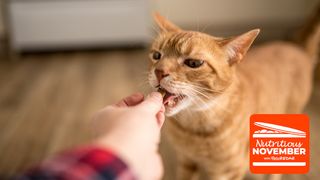 (Image credit: Getty)
Choosing the healthiest cat treats can have a huge impact on a felines weight and overall health. It may be alarming to discover that almost 60% of cats living in the United States are considered to be overweight or obese - so choosing the purr-fect snacks can make a big difference.
It's estimated that the average cat requires just 200 calories a day with no more than 10% of this amount being attributed to treats. That's why it's so important to pick their treats wisely instead of cutting them out altogether when it comes to helping your cat to lose weight.
It may come as a surprise to learn that some of the healthiest treats you could give your furry feline is actually human food… and no, we're not saying that you can share your meals with them as some human foods are poisonous to cats.
On the list of vet-approved human foods that cats can eat is chicken, tuna, and even eggs. It's important to understand exactly which human foods cats can eat and the benefits they will provide your podgy moggy.
Other healthy cat treats include Temptations Tasty Chicken Flavor Cat Treats, Blue Wilderness Soft-Moist Cat Treats, and Greenies Feline Dental Cat Treats.
As vet Catherine Barnett DVM explains, "overweight cats are more likely to develop joint pain… diabetes… skin infections and urinary tract infections. Fortunately weight loss can help prevent these problems."
It's important to ensure that you help your cat to lose weight in the right way. A vet's guide to healthy weight loss for cats has some of the best tips.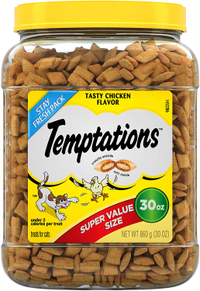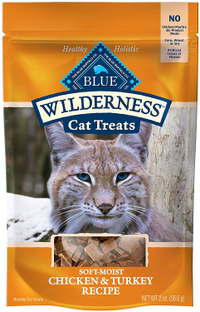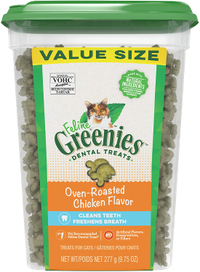 Get the best advice, tips and top tech for your beloved Pets
Chloe is a freelance writer, editor, and proofreader, who has more than ten years' experience in creating animal-focussed content. From National Geographic to Animal Planet, Chloe's passion for creating fact-filled features all about wildlife and the environment is evident. But it's not just wild animals that Chloe's fascinated by. Having written more than 75 articles for PetsRadar - and having her very own four-legged friend by her side - it's no wonder that her love of dogs (and, of course, cats) has grown exponentially.
Her website, www.chloemaywrites.com, and social media pages - @ChloeMayWrites on Instagram, Facebook, and Twitter - showcase her knowledge through daily facts and trivia tidbits. For example, did you know that snails have teeth?!